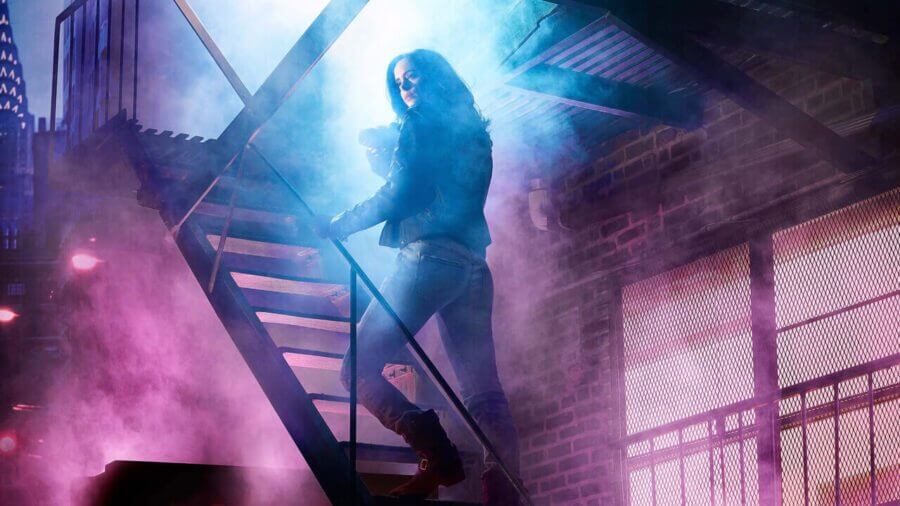 "It's 5 o'clock somewhere and I need to update my resume. Would you put 'day drinking' under experience or special abilities?" The alcoholic, super-powered private eye is returning for season 3! Here's everything we know so far about season 3 of Jessica Jones.
Jessica Jones was a smash hit when the first season released back in 2016.  The show took a massive dip in form for season two but hopefully, season three will see a great return to the Jessica we loved in season one. The private eye is a member of The Defenders and was the 2nd hero to get a series for Netflix. Jessica Jones is the last Defender standing after all the recent cancelations for the Marvel shows.
After freeing herself from the clutches of Kilgrave, Jessica Jones decided to become a Private Investigator. She's grumpy, an alcoholic and can throw 300-pound men across the room single-handedly. She is not a woman to be messed with. When a few of her cases start connecting to her past, Jessica is left with a choice. Runaway, or face the demons of her past head on?
Article Continues Below...
---
What to expect from Season 3
Jessica spent most of season 2 trying to help her long-lost mother Alisa Jones. After leaving a trail of destruction and dead bodies Alisa was forced to go on the run. In the finale, this concluded with Jessica's best friend shooting Alisa in the head and killing her.
Now the bonds of friendship have been broken between Jessica and Trish our new villain could be introduced this season. In the comics 'Patsy Walker' the character of which Trish is based on became the superhero Hellcat. In this instance, Hellcat may be introduced as a villain and later becomes a hero.
Jessica Jones may even be more vulnerable now than ever before with the death of her mother. The remnants of Kilgrave may worm its way into the head of Jessica once again.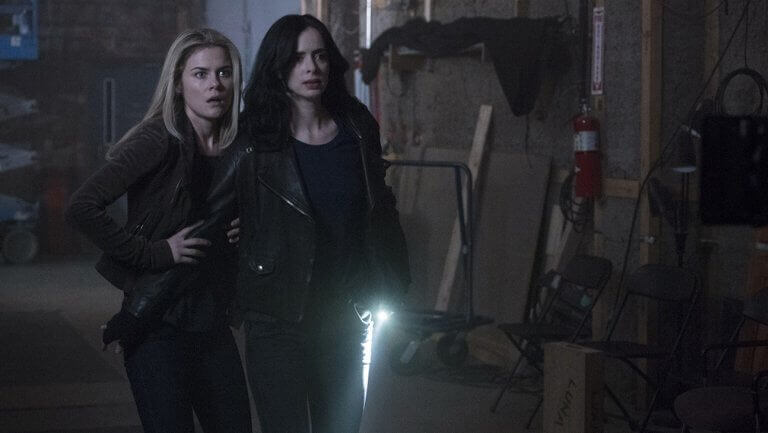 ---
The Cast
The core cast has all been confirmed to return:
| Role | Actor/Actress | Where have I seen them before? |
| --- | --- | --- |
| Jessica Jones | Krysten Ritter | Breaking Bad, Big Eyes, Don't Trust The B- in Apartment 23 |
| Trish Walker | Rachael Taylor | Transformers, The Loft, Red Dog |
| Malcolm Ducasse | Eka Darville | Mr. Pip, The Sapphires, Bernard and Huey |
| Jeri Hogarth | Carrie-Ann Moss | The Matrix, Fido, Memento |
| Oscar Arocho | J.R Ramirez | 24, Power, Emily Owens M.D. |
New cast members have been announced for Season 3. If the roles are recurring or only for on episode we're uncertain.
| Role | Cast Member | Where have I seen/heard them before? |
| --- | --- | --- |
| Char | Rachel McKeon | One Dollar | Gone | A Dim Valley |
| Carmen | Cyndi Melendez | This Is Us | Law & Order: Special Victims Unit | The Diggers |
| Andrew Brandt | Matt Weis | Manifest | Elementary | Goodland |
---
Where is production up to?
Filming on Jessica Jones Season 3 concluded some months ago. Lead actress Krysten Ritter released a photo on her Instagram of the casts finale table read for the series finale. 
 

 

View this post on Instagram

 

Taken a few weeks back at the table read for our SERIES FINALE. I love these people to the moon and back. It has been a dream to play Jessica alongside my amazing cast and the best crew in the business for these past 5 years. I am so grateful for every second of it. We have THE BEST fans. You guys mean the world to me and I appreciate you beyond words. The final season of #JessicaJones is coming later this year and I am proud of how we complete JJ's journey. I can't wait for you all to see it. Stay tuned and more to come. 💪🏻🖤 (Also my creator/ showrunner/ partner/ bff @melissa.rosenberg is totally wearing a #krystenknitter original ☺️☺️) @rachaelmaytaylor @ekadarville @carrieannemoss @netflix @marvelsjessicajones @marvel
The series is currently in post-production. This means all the added effects for sound and visual effects will now be added into the editing process. Most recently the cast has been seen promoting the upcoming final season.
 

 

View this post on Instagram

 

Jessica Jones 3 press day! – Me and the baby bump got dolled up in this sweet vintage @gucci jacket – @ilariaurbinati @amynadinemakeup @pamwiggy 🤰🏻
---
Will Luke Cage make an appearance?
We can't rule anything out but we think this is a big fat no. Unless it was already written into the script, it would have been too late to write in Luke Cage after the show's cancelation.
Will any of the Defenders make an appearance?
Second verse same as the first.
---
Is there a trailer?
We can expect the full trailer to drop soon but Netflix has announced the release date for the final season!
---
When is the release date?
The final season of Jessica Jones arrives on Friday, the 14th of June!
---
Will Jessica Jones be canceled after season 3?
If you haven't heard by now we are sadly breaking the news to you that Jessica Jones is the last of The Defenders to be officially canceled. This means we'll receive no more seasons of the kick-ass private eye.
---
Are you excited for season 3 of Jessica Jones? Let us know in the comments below!