Netflix in November 2021 began releasing weekly hourly data for the top 10 movies (English and Non-English) as well as TV shows (English and Non-English). Sadly, the Netflix top 10 site is not the easiest to browse when wanting to find out how well a particular show has done. Below, we've built a title search that allows you to find out how well a show has performed globally with the available hourly data. 
All data is sourced from Netflix's Top 10 data site. New data releases every Tuesday around 8 PM GMT.
Note: Netflix top 10 data begins from July 4th, 2021 and currently goes up to November 19th, 2023
---
Outer Banks Top 10 Hours and Nielsen Overview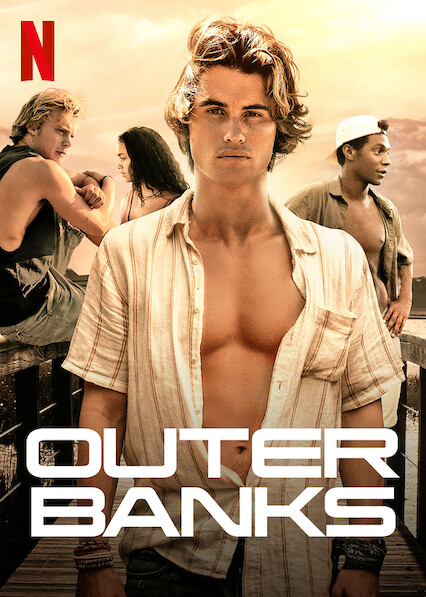 Netflix Original TitleFirst added to Netflix:
April 15th, 2020
Description:
On an island of haves and have-nots, teen John B enlists his three best friends to hunt for a legendary treasure linked to his father's disappearance.
Language:
English
Runtime: Number of Weeks in Official Netflix Global Top 10s:
23
Total Hours in the Official Netflix Global Top 10s:
964,410,000 Hours
Number of weeks in Nielsen top 10s:
13
Total Hours/Minutes from Nielsen Top 10s:
244.45 Million Hours (14,667 million minutes)
---
Official Netflix Top 10 Data
Outer Banks: Season 1
| Week Period | Hours Viewed(M) | Rank | Week in Top 10 |
| --- | --- | --- | --- |
| July 25th, 2021 to August 1st, 2021 | 26,240,000 | 4 | 1 |
| August 1st, 2021 to August 8th, 2021 | 45,080,000 (+72%) | 2 | 2 |
| August 8th, 2021 to August 15th, 2021 | 30,390,000 (-33%) | 3 | 3 |
| August 15th, 2021 to August 22nd, 2021 | 20,300,000 (-33%) | 3 | 4 |
| August 22nd, 2021 to August 29th, 2021 | 13,860,000 (-32%) | 5 | 5 |
| February 19th, 2023 to February 26th, 2023 | 35,100,000 (+153%) | 4 | 6 |
| February 26th, 2023 to March 5th, 2023 | 34,050,000 (-3%) | 4 | 7 |
| March 5th, 2023 to March 12th, 2023 | 16,140,000 (-53%) | 10 | 8 |
Outer Banks: Season 2
| Week Period | Hours Viewed(M) | Rank | Week in Top 10 |
| --- | --- | --- | --- |
| July 25th, 2021 to August 1st, 2021 | 100,160,000 | 1 | 1 |
| August 1st, 2021 to August 8th, 2021 | 105,330,000 (+5%) | 1 | 2 |
| August 8th, 2021 to August 15th, 2021 | 51,600,000 (-51%) | 1 | 3 |
| August 15th, 2021 to August 22nd, 2021 | 31,800,000 (-38%) | 1 | 4 |
| August 22nd, 2021 to August 29th, 2021 | 20,790,000 (-35%) | 2 | 5 |
| August 29th, 2021 to September 5th, 2021 | 12,910,000 (-38%) | 6 | 6 |
| February 19th, 2023 to February 26th, 2023 | 23,860,000 (+85%) | 7 | 7 |
| February 26th, 2023 to March 5th, 2023 | 27,750,000 (+16%) | 6 | 8 |
| March 5th, 2023 to March 12th, 2023 | 16,360,000 (-41%) | 9 | 9 |
Outer Banks: Season 3
| Week Period | Hours Viewed(M) | Rank | Week in Top 10 |
| --- | --- | --- | --- |
| February 19th, 2023 to February 26th, 2023 | 154,970,000 | 1 | 1 |
| February 26th, 2023 to March 5th, 2023 | 99,000,000 (-36%) | 1 | 2 |
| March 5th, 2023 to March 12th, 2023 | 44,580,000 (-55%) | 4 | 3 |
| March 12th, 2023 to March 19th, 2023 | 25,950,000 (-42%) | 4 | 4 |
| March 19th, 2023 to March 26th, 2023 | 16,880,000 (-35%) | 7 | 5 |
| March 26th, 2023 to April 2nd, 2023 | 11,310,000 (-33%) | 10 | 6 |
---
Nielsen Top 10 Data
| Week Start | Week End | Nielsen Rank | Episodes | Raw Minutes | Converted Hours |
| --- | --- | --- | --- | --- | --- |
| July 26th, 2021 | August 1st, 2021 | 1 | 20 | 1,423 million minutes | 23.717 million hours |
| August 2nd, 2021 | August 8th, 2021 | 1 | 20 | 2,100 million minutes | 35.000 million hours |
| August 9th, 2021 | August 15th, 2021 | 1 | 20 | 1,160 million minutes | 19.333 million hours |
| August 16th, 2021 | August 22nd, 2021 | 1 | 20 | 736 million minutes | 12.267 million hours |
| August 23rd, 2021 | August 29th, 2021 | 2 | 20 | 483 million minutes | 8.050 million hours |
| August 30th, 2021 | September 5th, 2021 | 7 | 20 | 252 million minutes | 4.200 million hours |
| February 13th, 2023 | February 19th, 2023 | 10 | 20 | 282 million minutes | 4.700 million hours |
| February 20th, 2023 | February 26th, 2023 | 1 | 30 | 3,154 million minutes | 52.567 million hours |
| February 27th, 2023 | March 5th, 2023 | 1 | 30 | 2,214 million minutes | 36.900 million hours |
| March 6th, 2023 | March 12th, 2023 | 2 | 30 | 1,227 million minutes | 20.450 million hours |
| March 13th, 2023 | March 19th, 2023 | 4 | 30 | 722 million minutes | 12.033 million hours |
| March 20th, 2023 | March 26th, 2023 | 8 | 30 | 556 million minutes | 9.267 million hours |
| March 27th, 2023 | April 2nd, 2023 | 9 | 30 | 358 million minutes | 5.967 million hours |