Netflix Original Marvel Series Release Schedule (2018-2020)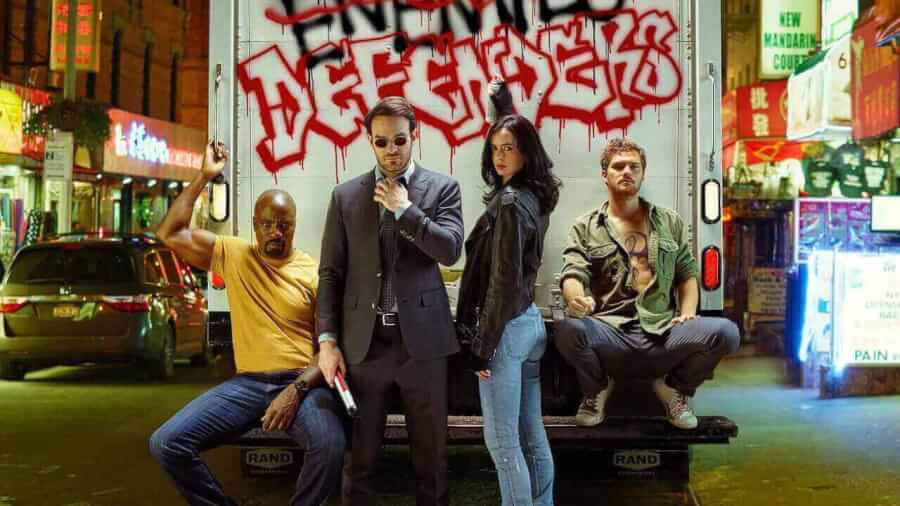 Welcome to the upcoming Marvel series guide to The Defenders on Netflix. We've got all you need to know about the upcoming Marvel series that'll arrive exclusively on Netflix including Daredevil, Jessica Jones, Iron Fist and Luke Cage. We'll also look at how we got to this moment too. Here's the Marvel series release schedule for the end of 2018, 2019 and into 2020.
Over 112 episodes have been released across the six different series since 2015. Up until 2017, Netflix released two seasons a year but upped it to three in 2017 and that's since continued in 2018 too.
Timeline of the Marvel Series So Far
Just for a quick recap, here (in order of release) is the previous Marvel/Netflix titles to release.
Daredevil (Season 1) April 2015
Jessica Jones (Season 1) November 2015
Daredevil (Season 2) March 2016
Luke Cage (Season 1) September 2016
Iron Fist (Season 1) March 2017
The Defenders (Season 1) August 2017
The Punisher (Season 1) November 2017
Jessica Jones (Season 2) March 2018
Luke Cage (Season 2) June 2018
Are the Marvel series leaving Netflix?
There have been some rumours floating around that Netflix will be losing the Marvel series thanks to Disney moving away from Netflix. This is hogwash. Although Disney does own the titles, they've been exclusively provided to Netflix and Disney pulling out of Netflix only covers the theatrical releases.
Note: This guide excludes ABC Marvel shows such as Agents of SHIELD, Agent Carter, Cloak & Dagger and Inhumans.
---
Iron Fist: Season 2
Status: Confirmed
Release Date: End of 2018
Danny Rand has had the hardest run of any of The Defenders so far. Let's just say the first season was received fairly poorly and his subsequent appearance in The Defenders season 1 wasn't too well received either. Nevertheless, Danny Rand or Iron Fist will be returning for his second solo outing which has been confirmed to come before the expected Daredevil Season 3. We're not sure what happened in the release schedule but we're happy that once again, three seasons of Marvel shows will be released on Netflix in 2018.
Now that Danny Rand is back in the city, it's not immediately clear where Iron Fist will be going next. Simone Missick is confirmed to be appearing in Iron Fist who has previously been known for her time in Luke Cage which recently wrapped up season 2.
---
Daredevil: Season 3
Status: Confirmed
Release Date: Expected Early 2019
The COO of Netflix has said that it will be 2018 'at the earliest' and it looks like it's slipped thanks to Iron Fist taking up the last available slot of the year on Netflix. We do know it's far into production and therefore will be the next show to release after Iron Fist. In which case, you can expect it in the first quater of 2019.
Daredevil is the series which kickstarted The Defenders and his third outing will be more than any other of The Defenders. Will they introduce another villain who will get his own spinoff like they did with The Punisher?
---
The Punisher Season 2
Expected: Mid to late 2019

The Punisher was a smash hit success. After not even being on the original slate of Marvel shows for Netflix his appearance in Daredevil was enough to warrant his own solo outing. As a result, the calls for a second season came instantly and Netflix obliged. Although there's no official release date, we're expecting it to arrive in 2019 thanks to all of the other series having either now been released or still in production. Not much is known about the series but we're tracking all the changes here.
---
Jessica Jones Season 3
Status: Confirmed
Release Date: End of 2019/2020

Although season 2 didn't quite live up to the standards of the first season, Netflix clearly saw reason to give Jessica Jones yet another solo adventure. Lots of new details were revealed about one of the most curious of The Defenders and although we didn't see Luke Cage return in season 2, we're holding out for that relationship to rekindle in season 3. Given the timelines at the moment, we're expecting Jessica Jones to come out at the end of 2019 at the absolute earliest.
---
Luke Cage Season 3
Status: Not Confirmed
Release Date: ??
Luke Cage obviously only just wrapped so hasn't received an official nod as to whether it'll return but one of the actors has hinted that it's in the works although he said it'd be 'within the next 10 years'.
---
The Defenders Season 2?
The Defenders was initially called season 1 but has since changed to a miniseries or limited run series. This means that only one season was planned. That's a shame as while The Defenders wasn't perfect, it certainly could be perfected for future seasons.
We're updating this release schedule everytime a new series drops or information regarding one of the shows are announced so keep heading back. What Marvel series are you looking forward to next? Let us know in the comments below.