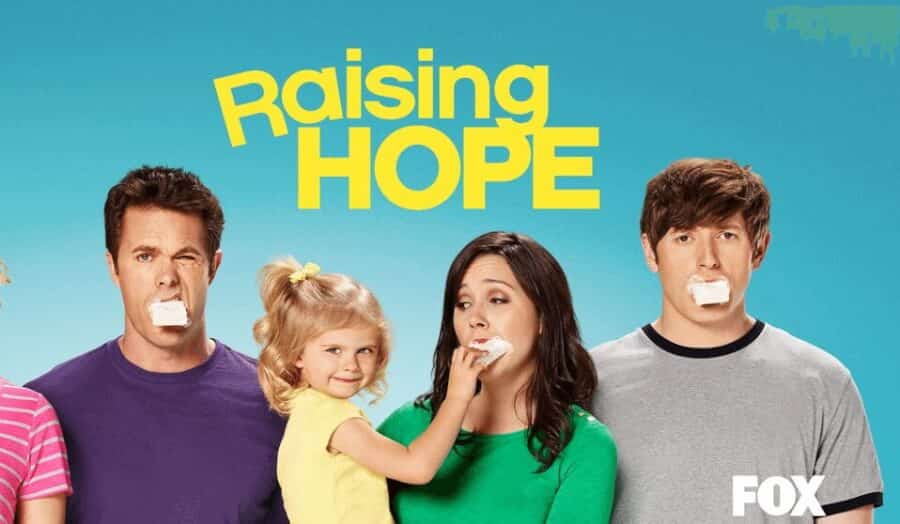 All four current seasons of Raising Hope will be leaving Netflix over the next couple of months as the FOX contract with Netflix comes to a close but we have news below on where it's moving to and a saving grace as well. 
The FOX comedy which stars Lucas Neff, Martha Plimpton, Garret Dillahunt and Shannon Woodward depicts a family having to raise a child after the mother has been sentenced to death. The series while a comedy also has plenty of heartfelt moments and quickly grew a big fanbase but sadly was canceled after season 4. In all, 88 episodes were produced for the series and eventually wrapped up in 2014.
When is Raising Hope leaving Netflix?
Because each of the seasons are renewed on different dates, different seasons will be removed on different dates. Here's a breakdown of the leaving schedule:
Season 1 to be removed September 20th Confirmed
Season 2 to be removed October 5th
Season 3 to be removed October 8th
Season 4 to be removed October 7th
The main saving grace here is that Raising Hope was actually canceled after the fourth season meaning you can currently watch the complete collection before it's scheduled to be removed.
If you do like re-watching Raising Hope, Hulu has announced that Raising Hope will be one of the titles that will be joining its service now that the Fox contract with Netflix has lapsed. The Fox contract was not renewed this year after Netflix cited cost as one of the main reasons. Fox will instead place most of their content on Hulu which they co-own.
We've got a full list of FOX shows leaving Netflix where we'll update as and when we get new dates.
Will you miss Raising Hope on Netflix? Let us know in the comments down below.