Netflix in November 2021 began releasing weekly hourly data for the top 10 movies (English and Non-English) as well as TV shows (English and Non-English). Sadly, the Netflix top 10 site is not the easiest to browse when wanting to find out how well a particular show has done. Below, we've built a title search that allows you to find out how well a show has performed globally with the available hourly data. 
All data is sourced from Netflix's Top 10 data site. New data releases every Tuesday around 8 PM GMT.
Note: Netflix top 10 data begins from July 4th, 2021 and currently goes up to December 3rd, 2023
---
Elite Top 10 Hours and Nielsen Overview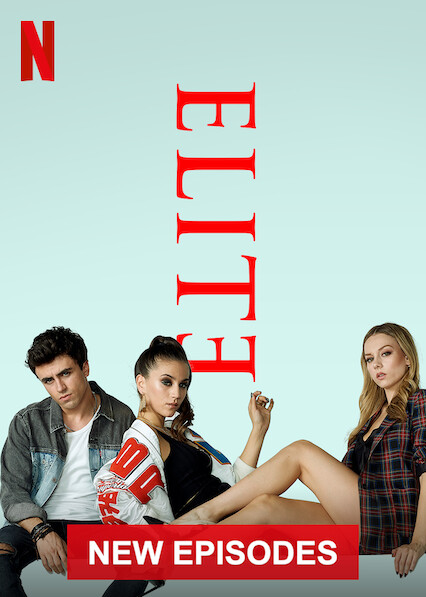 Netflix Original TitleFirst added to Netflix:
October 5th, 2018
Description:
When three working-class teens enroll in an exclusive private school in Spain, the clash between them and the wealthy students leads to murder.
Language:
Spanish
Runtime: Number of Weeks in Official Netflix Global Top 10s:
21
Total Hours in the Official Netflix Global Top 10s:
501,870,000 Hours
Number of weeks in Nielsen top 10s:
1
Total Hours/Minutes from Nielsen Top 10s:
2.85 Million Hours (171 million minutes)
---
Official Netflix Top 10 Data
Elite: Season 1
| Week Period | Hours Viewed(M) | Rank | Week in Top 10 |
| --- | --- | --- | --- |
| June 27th, 2021 to July 4th, 2021 | 10,530,000 | 6 | 1 |
| April 10th, 2022 to April 17th, 2022 | 10,110,000 (-4%) | 9 | 2 |
Elite: Season 3
| Week Period | Hours Viewed(M) | Rank | Week in Top 10 |
| --- | --- | --- | --- |
| June 27th, 2021 to July 4th, 2021 | 10,200,000 | 7 | 1 |
Elite: Season 2
| Week Period | Hours Viewed(M) | Rank | Week in Top 10 |
| --- | --- | --- | --- |
| June 27th, 2021 to July 4th, 2021 | 10,140,000 | 8 | 1 |
Elite: Season 4
| Week Period | Hours Viewed(M) | Rank | Week in Top 10 |
| --- | --- | --- | --- |
| June 27th, 2021 to July 4th, 2021 | 38,720,000 | 1 | 1 |
| July 4th, 2021 to July 11th, 2021 | 21,780,000 (-44%) | 2 | 2 |
| July 11th, 2021 to July 18th, 2021 | 14,240,000 (-35%) | 4 | 3 |
| July 18th, 2021 to July 25th, 2021 | 9,410,000 (-34%) | 7 | 4 |
| July 25th, 2021 to August 1st, 2021 | 6,920,000 (-26%) | 10 | 5 |
Elite: Season 5
| Week Period | Hours Viewed(M) | Rank | Week in Top 10 |
| --- | --- | --- | --- |
| April 3rd, 2022 to April 10th, 2022 | 51,380,000 | 1 | 1 |
| April 10th, 2022 to April 17th, 2022 | 67,390,000 (+31%) | 1 | 2 |
| April 17th, 2022 to April 24th, 2022 | 29,490,000 (-56%) | 2 | 3 |
| April 24th, 2022 to May 1st, 2022 | 14,890,000 (-50%) | 4 | 4 |
| May 1st, 2022 to May 8th, 2022 | 9,490,000 (-36%) | 10 | 5 |
Elite: Season 6
| Week Period | Hours Viewed(M) | Rank | Week in Top 10 |
| --- | --- | --- | --- |
| November 13th, 2022 to November 20th, 2022 | 36,870,000 | 2 | 1 |
| November 20th, 2022 to November 27th, 2022 | 48,270,000 (+31%) | 1 | 2 |
| November 27th, 2022 to December 4th, 2022 | 22,440,000 (-54%) | 3 | 3 |
| December 4th, 2022 to December 11th, 2022 | 13,400,000 (-40%) | 5 | 4 |
Elite: Season 7
| Week Period | Hours Viewed(M) | Rank | Week in Top 10 |
| --- | --- | --- | --- |
| October 15th, 2023 to October 22nd, 2023 | 21,100,000 | 6 | 1 |
| October 22nd, 2023 to October 29th, 2023 | 37,100,000 (+76%) | 1 | 2 |
| October 29th, 2023 to November 5th, 2023 | 18,000,000 (-51%) | 3 | 3 |
---
Nielsen Top 10 Data
| Week Start | Week End | Nielsen Rank | Episodes | Raw Minutes | Converted Hours |
| --- | --- | --- | --- | --- | --- |
| June 21st, 2021 | June 27th, 2021 | 10 | 31 | 171 million minutes | 2.850 million hours |