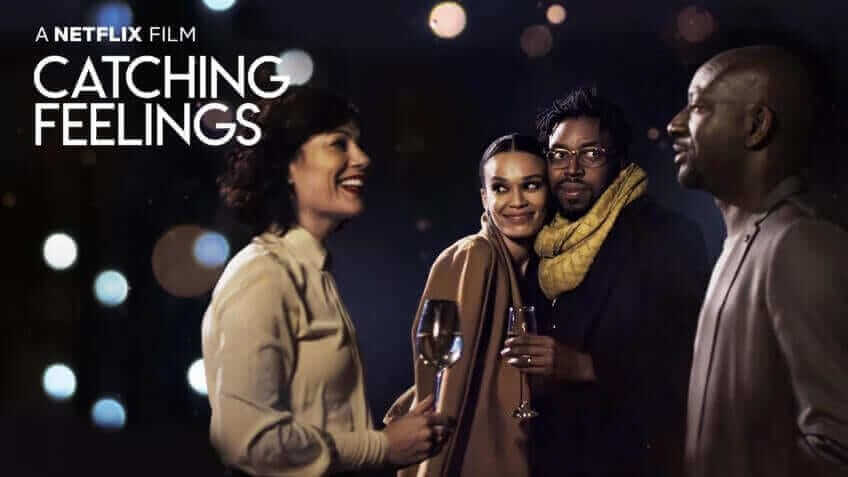 Catching Feelings, a new Netflix Original movie from South Africa is now available on Netflix as of May 18th, 2018. Here's what you need to know about the movie before and after diving in including the cast list and movie soundtrack.
Although we can't say it's the first South African Netflix Original given that Trevor Noah released his standup first, we do believe it's the first ever Netflix Original movie from the region.
https://www.youtube.com/watch?v=02r_CsbecLI
Article Continues Below...
---
What's Catching Feelings about?
The movie is a dark romantic comedy that follows an urbane young academic and his beautiful wife, as their lives get turned upside down when a celebrated and hedonistic older writer moves into their Johannesburg home with them.
Netflix also describes the movie as emotional and irreverent.
---
How are the reviews?
Mixed. Over on IMDb, it has amassed a score of 6.4 out of 10 albeit from only 35 reviewers. We'll update this accordingly once Rotten Tomatoes and Netflix reviews start pouring in.
---
Catching Feelings Cast
Kagiso Lediga (also the writer and director) as Max Matsane
Pearl Thusi as Samkelo
Akin Omotoso as Joel
Andrew Buckland as Heiner
Some of the cast members have been promoting the new movie on social media today:
https://twitter.com/KagisoLediga/status/997441006789451777
---
Catching Feelings Netflix Soundtrack
The movie features a selection of songs from South Africa but also from other parts of Africa too. We've listed them as they appear in the credits below.
Chimanga – Dorothy Masuka
Let Me Live – Mpho Pholo & Moneoa Moshesh
Lenyora – Philip Tabane
Mama Liza – The Movers
Ngud (Ilala Vuka) – Kwesta featuring Casper Nyovest
Mahlalela (A.K.A Lazy Bones) by Letta Mbulu
Noma Themba – Letta Mbulu
Voice Inside – Lerato Moiloa
Joburg Girl – MXO
Ngubani Gama Lakho – MXO
Jungle Fever – MXO
Bring Back the Love – MXO
iZolo – MXO
Soweto Disco – The Movers
Why are you here – Ishmael Osekre
UNH! – Philip Tabane
Vidala Para Mi Sombra – Juana Pires Rafael and Ariel Zamonsky
100KMACASETTE by Okmalumkoolkat
Monsieur Bon Bon – Ebenhaezer Dibakwane
Mpahlenkulu – Mabiza and Zah
I Need You – David Kibuuka
Have you seen Catching Feelings yet? What did you think?