What's on Netflix is excited to release its brand new features on the Messenger platform. You can now interact with our site through the Facebook Messenger app to help find your next Netflix binge. Here's a list of the new features and how to get started. 
Over the past 5 years, What's on Netflix has helped millions of Netflixers find out about the latest seasons of their favorite shows and detailed what's new and what's coming soon to Netflix. In an effort to expand our service, we're rolling out some new features to Messenger. Here's what's new.
Daily updates of the new additions
The first thing our new bot does is to alert you daily of the brand new movies, TV series, documentaries and stand-up specials arriving on a daily basis.

Netflix Roulette Feature
We've also got a feature that allows you to find a brand new movie, TV series or documentary based on the full Netflix library. Simply select whether you're looking for a new movie, series or documentary and we'll pick a random title out of the hat. Don't worry about foreign titles as we've excluded them from the roulette and will look to doing a separate roulette just for international titles soon.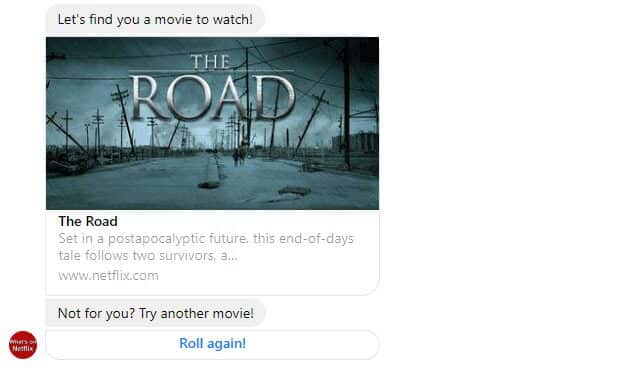 For those who are looking for the roulette function on our site as is, we'll have an update regarding that shortly!
Search What's on Netflix
Wondering when season x of your favorite show is coming to Netflix or what's coming out next month? Our bot will answer your questions with links to relevant articles on our site.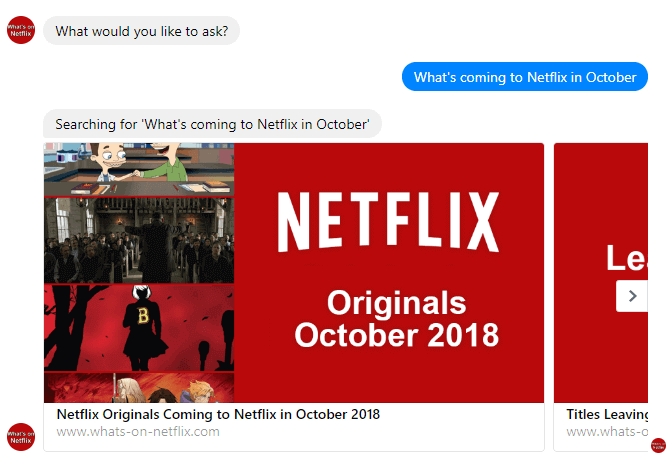 How to get started
It's super simple to get started with the What's on Netflix bot, either follow our direct link or search for the bot in the discover section on your Messenger app.
Let us know how you get on with the new bot and any feedback or features you'd like added.