Firefly Lane is coming to an end on Netflix, and it'll be doing so much quicker than expected. Dubbed "The Final Chapter," season 2 part 2 will land on Netflix globally months faster than initially expected on April 27th, 2023. 
Firefly Lane, for those unfamiliar, is the feel-good drama series helmed by Maggie Friedman based on the book by Kristin Hannah. Katherine Heigl, Sarah Chalke, and Ben Lawson headline the cast.
After being renewed for a second season, it was announced that season 2 would, in fact, be the last season consisting of a "supersized" 16 episodes. The first 9 of those episodes dropped onto Netflix globally on December 2nd, 2022.
Following the release of the second season on Netflix in December 2022, the show spent five weeks in the global top 10s picking up 132.90 million hours between November 27th and January 1st, 2023. Season 1 also saw a bump in viewership for two weeks.
---
What to Expect from Firefly Lane Season 2 Part 2
In terms of what we can expect from the final batch of episodes, let's quickly recap the ending of season 2, part 1.
Concluding with a cliffhanger, Kate noticed a large rash on her chest while getting ready for bed and ultimately got diagnosed with stage 3 breast cancer.
A Season 2 Part 2 teaser could be found at the end of episode 9 that gives a sneak peek ten years into the future of Johnny's wedding, but the question is, is it Kate's second wedding, or is Tully gearing up in all-white for a reason?
---
Firefly Lane Season 2 Part 2 will release in April 2023 instead of June 2023
The second batch of the episode was initially announced to be released on Netflix globally on June 8th, 2023. That's over six months of waiting for the new episodes, but thankfully, Katherine Heigl updated us on February 17th that the final batch of episodes would be released earlier than expected.
In a Tweet, the actress said:
"Firefly Lane returns to Netflix on April 27! That's right, our premiere got moved up so you can catch our fabulous retro hair sooner. So prepare to cancel all your plans and ignore your responsibilities until you finish binging the entire season!"
The updated release date can also now be found on the show's official page on Netflix: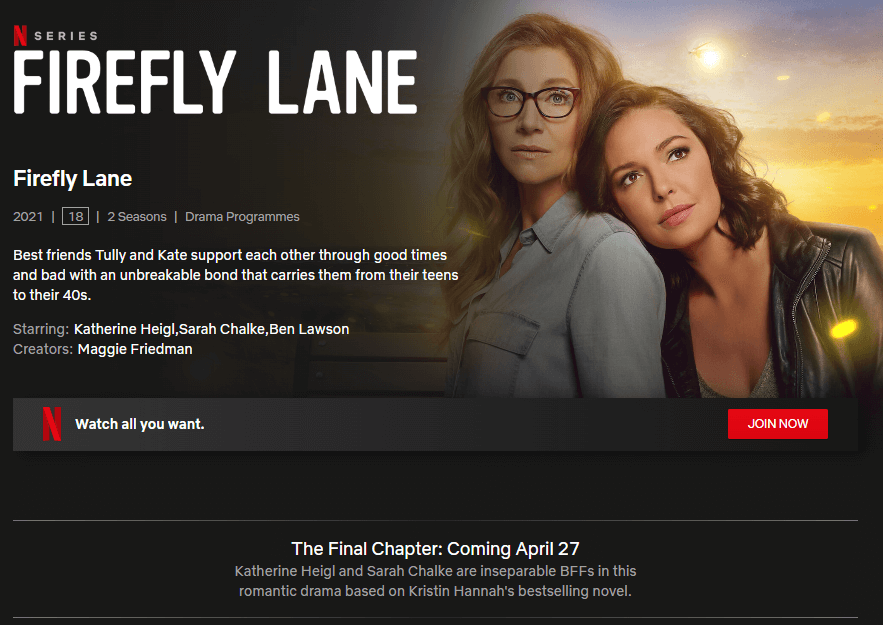 ---
Episode Writers and Directors for Final Season of Firefly Lane
As we previously revealed, here's a breakdown of the episode writers and directors for the remaining seven episodes of the show:
Episode 210

Written by Savannah Dooley
Directed by Monika Mitchell

Episode 211

Written by Barbara Johns
Directed by Monika Mitchell

Episode 212

Written by: Marissa Lee
Directed by Sarah Wayne Callies

Episode 213

Written by Michael Ross and Davah Avena
Directed by Sarah Wayne Callies

Episode 214

Written by Maggie Friedman and James Ford Jr
Directed by Winnifred Jong

Episode 215

Written by: Becky Hartman Edwards & Emily Ellis
Directed by Winnifred Jong

Episode 216

Written by Maggie Friedman
Directed by Michael Spiller
For more on the Netflix Originals scheduled to hit in April 2023, keep it locked here on What's on Netflix.
---
Are you looking forward to the final season of Firefly Lane coming to Netflix in April 2023? Let us know in the comments down below.