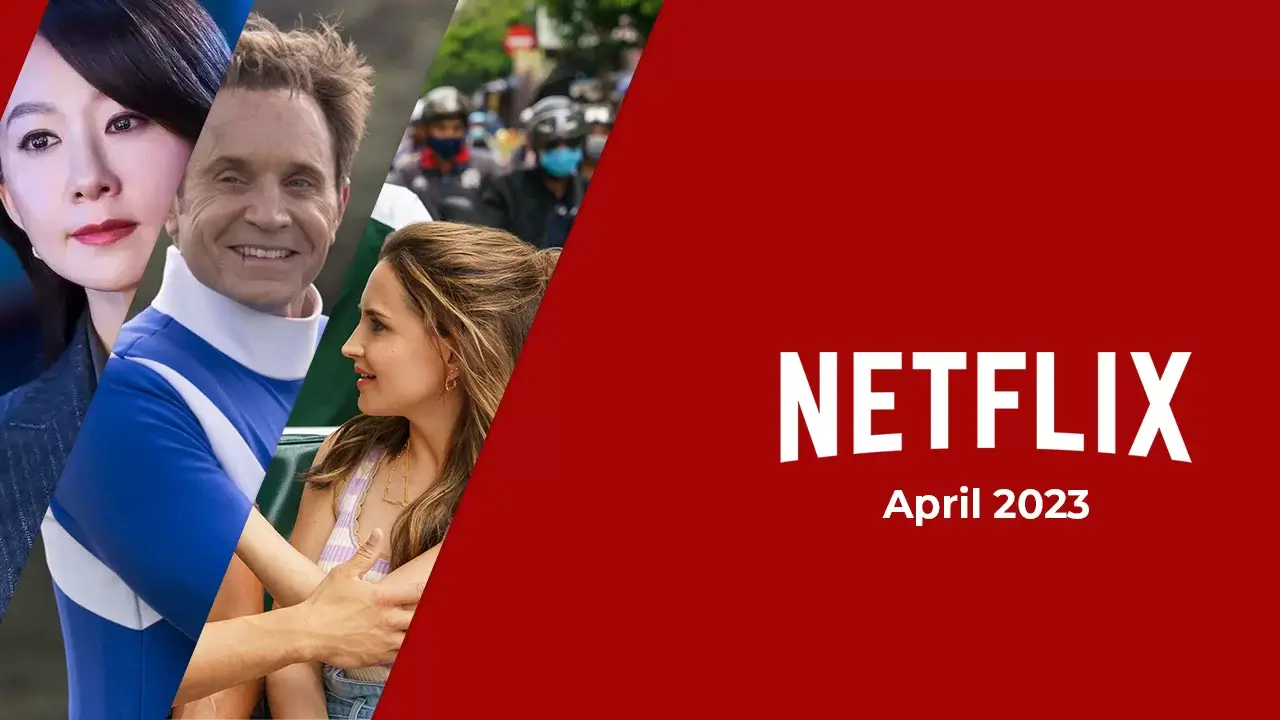 Welcome along to your early look at the Netflix Originals that are planned to hit throughout the month of April 2023. We'll be previewing all the new Netflix Original movies and series scheduled to hit throughout the month.
For more previews of what's coming soon to Netflix, keep it locked here at What's on Netflix. Missed any of the March 2023 Netflix Originals? Go back and check them out here.
---
English Language Netflix Originals Coming in April 2023
Mighty Morphin' Power Rangers: Once & Always
Coming to Netflix: April 19th
Celebrating its 30th anniversary, a stand-alone special episode of Mighty Morphin' Power Rangers will drop ahead of Cosmic Fury coming to Netflix in Fall 2023.
---
A Tourist's Guide to Love
Coming to Netflix: April 27th
Steven Tsuchida will direct this new romantic comedy movie that stars Rachael Leigh Cook as Amanda and Scott Ly as Sinh.
The movie revolves around a travel executive accepting an assignment to go undercover and learn more about the Vietnam tourist industry. While there, she finds that she not only falls in love with the country but an expat tour guide.
---
Non-English Language Netflix Originals Coming in April 2023
Queenmaker
Coming to Netflix: April 14th (date subject to change)
Language: Korean
Among the huge roster of new Korean dramas coming to Netflix in 2023 is Queenmaker.
Per Netflix, here's what you can expect from the new series that will star Kim Hee Ae, Moon So Ri, and Ryu Soo Young:
"Two women join forces, Hwang Do Hee, a skilled career woman, who hasn't come down from her 12 centimeter stilettos for 12 years, and the labor rights lawyer Oh Seung Sook aka "crazy rhinoceros." Oh Seung Sook is the president of the women's workers association, leader of the Worker's Solidarity with Rights foundation, and a popular YouTuber with little interest in authority. However, the "Queen Maker" Hwang Do Hee is determined to make Oh Seung Sook the mayor of Seoul."
---
Hunger
Coming to Netflix: TBA
Language: Thai
The first Thai movie of 2023, which is written and produced by Kongdej Jaturanrasamee.
Described as a culinary film, this movie is about a woman in her twenties called Aoy running her family's local stir-fried noodles restaurant in the old quarter of Bangkok. One day, she is invited to leave the family business and join team Hunger, the number one luxury Chef's table team in Thailand, led by Chef Paul.
---
Other Netflix Originals Coming in April 2023
Running for the Truth: Alex Schwazer (Season 1) – Italian courtroom docuseries. Date subject to change.
What will you be checking out on Netflix in April 2023? Let us know in the comments down below.