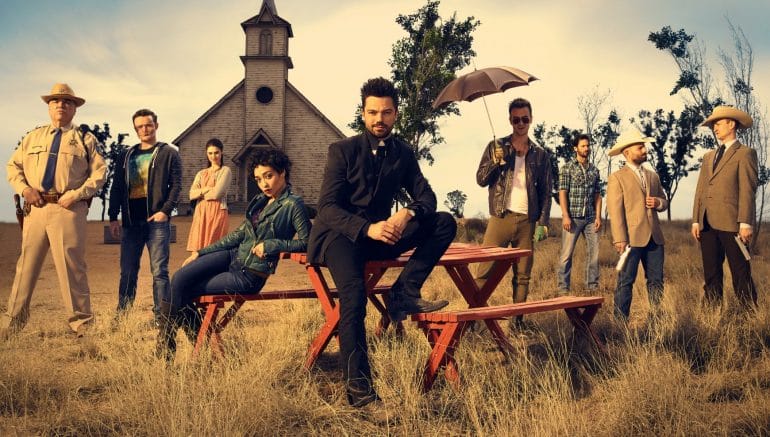 Is AMC's hit show Preacher on Netflix? The two seasons of the show are currently out in the wild and many will be looking to Netflix, who holds a lot of AMC shows from both the present and the past, to stream the first two seasons of Preacher. Let's take a look at whether you can find it streaming on Netflix.
The series is a TV remake of the comic series produced by DC Comics of the same name. It's one of the darker tales in the DC universe as it tells the story of a Preacher who after a supernatural event, enlists the services of a vampire, plus his new found powers to ultimately find God.
AMC has big plans for the show since it first aired in May 22nd as it was renewed almost instantly with an additional three episodes and it looks to have many years ahead of it thanks to great writing, fantastic characters and of course, AMC's signature quality.
In the United States, the series sadly isn't streaming on Netflix and doesn't appear to be in the future either. Instead, AMC has opted to put its show on its own platforms and added it to its exclusive add-on that's only on Hulu. Hulu currently holds only the first season though with the second likely coming shortly before the third season begins airing on AMC. This is likely going to be the case for the lifetime of the show so don't expect it to join Netflix.
In the United Kingdom, you'll have no luck streaming it there as Amazon Prime has snapped up the rights exclusively being the only place you can watch it. It holds the first season and new episodes arrive on Tuesdays shortly after the US air date on AMC. This deal seems to be in place for the foreseeable future so Amazon is the only place to view it there.
For alternatives in the meantime, check out Longmire if you particularly like the location of the series. Hemlock Grove and Stranger Things will give you your fix of supernatural elements and of course, most of the catalog from The CW will give you your vampire fixes such as Supernatural, The Vampire Diaries and The Originals.
Would you like to see Preacher come to Netflix? Let us know in the comments below.