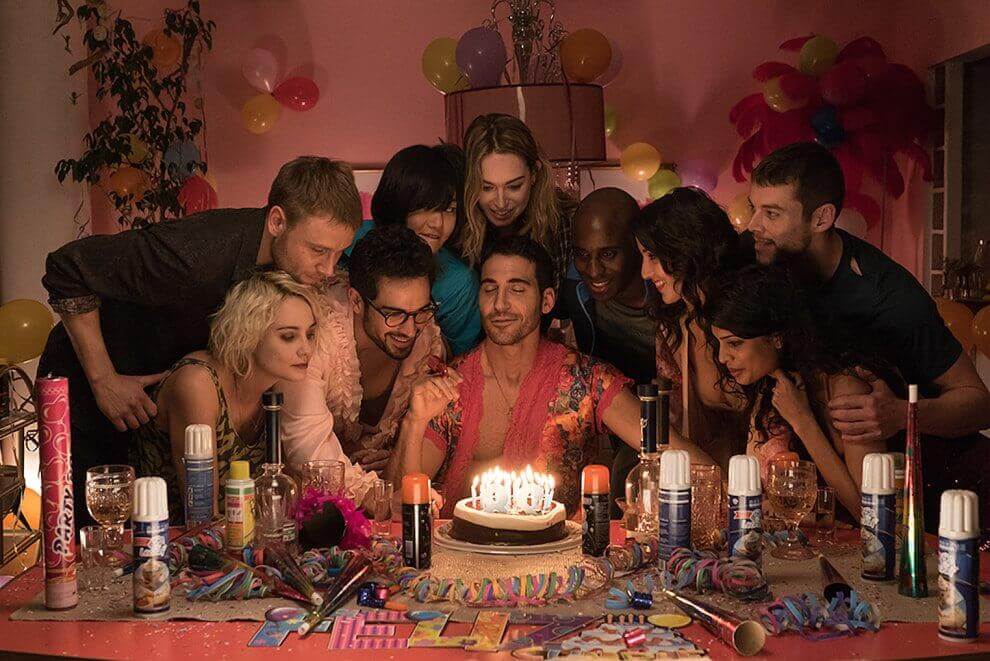 We're just weeks away from season 2 of Sense8 releasing on Netflix and there's plenty to talk about. After a stunning Christmas episode which highlighted some of the changes we can expect for season 2, anticipation is now on a different level for the full season 2. We've got all the news regarding, trailers, posters, casting, release dates and futures seasons below.
Here's everything we know about the full season 2 of Sense8:
Christmas Episode Takeaways
The two-hour special Christmas episode that landed on Netflix on December 23rd gave us a glimpse as to what to expect in the new season. 'Whispers' is now known to the whole group as the enemy but our villain seems intent on using Will as the link to the rest of the group.
Article Continues Below...
We follow up with Lito who is still facing the fallout from him being outed as gay. Naomi is also still on the run from the authorities and is using any means necessary to escape capture. Relationships also develop a little more with Kala and Wolfgang as well as Riley and Will.
Most importantly, the group is becoming stronger as they begin to realise their power and therefore are a greater threat to the people hunting them.
We also have a proper introduction, as well as a cleverly disguised nod, to the new actor who's playing the role of Capheus who is now played by Toby Onwumere for reasons we'll get into later.
---
Release Date for Season 2 of Sense8
It was announced alongside the Christmas episode that the full season of Sense8 would be coming on May 5th, 2017. Ten episodes are confirmed to be coming for season 2 of the show. This is down from 13 for the first season.
---
Season 2 Full Trailer Breakdown
The latest trailer for the full season of Sense8 came on 10th April 2017 with some brand new footage giving us hints to what's to come from season 2 of the show. We'll let you watch first then we'll break it down on the other side.
The trailer is on purposely vague throughout most but there are a few takeaways. Will Gorski who spends much of the Christmas episode in fear and hiding obviously manages to break away from his link with Mr Whispers.
Sun Bak continues her prison sentence after being thrown under the bus by her brother. Capheus home looks to be experiencing a severe drought which could cloud his judgement in season 2. Most importantly, we see our cast altogether numerous times throughout which reinforces that their connectivity is growing.
Finally, at 1:25, we see a new guy-fawked masked figure who is handing one of our Sensates a thumb drive. Given Naomi's technical prowess, it could be her that's receiving the thumb drive but what's on it?
---
Season 2 Cast & Director Changes
So far, the second season has been plagued with negativity leading to one person's role being completely dumped and given to someone else. As reported by Deadline, Aml Ameen has been completely replaced by the Wachowski's after an alleged tension between Lana and Aml. Further reports are of anti-LGBT actions by the actor.
Further changes have come at the top too, Lilly Wachowski (formerly Andy Wachowski) would be taking an extended absence off from Sense8 leaving Lana completely in control of the show.
Otherwise, the cast has mainly stayed the same with almost everyone on board with season 2.
---
Season 2 Plot
After a dramatic ending leading to Riley being rescued by her sense8 companions, we're left with the cast sailing off into the distance. The team will no doubt have to face even bigger threats as their collective power grows and the institute that's following them doubles their effort to gain their power.
---
Season 2 Locations
The show is known for its globetrotting nature with scenes being filmed all around the world. Just last week, they were in Chicago filming additional scenes. Confirmed locations for season 2 so far include Mexico City, Seoul, South Korea; Mumbai, India, and Reykjavik, Iceland. The trailer
---
Will there be a season 3?
Before we stated that season 3 is in doubt but given how successful the Christmas episode was and the rough journey to season 2 are now smoothed out, it's highly likely that the show will be renewed for a third season. The directors haven't been listed for any other projects so it's likely they'll continue solely focusing on Sense8.
We'll have a more in-depth look at the possibility of season 3 once season 2 releases on May 5th.