Season 2 of You will be back on Netflix by the end of the year and we've got everything you need to know about the second and potentially the final season below including its expected release date, who's returning and who's new in the cast and some juicy first details on season 2. 
You is a Netflix Original Thriller series based on the novel of the same name. Created by Caroline Kepnes, You debuted on the Lifetime network in America. Lifetime was responsible for the production of the first season and has since changed hands to Netflix who are now the sole company responsible for the thriller series.
The story follows book store manager Joe Goldberg and his obsession with aspiring writer Guinevere Beck. After meeting Beck and deciding she is the woman of his dreams, Joe will stop at nothing to manipulate events and supplant the people in her life to ensure he is in hers. With a deadly obsession comes a deadly motivation and it's not long before those that stand in between Joe's love for Beck enter the firing line.
---
Has You been renewed on Netflix for season 2?
Official Netflix Renewal Status: Officially renewed (last updated: 28th December 2019)
It's important to look back at where the show came from. You wasn't originally intended to be a Netflix Original. Instead, it was a show from Lifetime. Lifetime had already released season 1 of You back in September 2018 to a small audience. The series was instantly renewed by Lifetime. All good right? Well, not quite. Lifetime had made the decision in a short space of time to drop the show and many of its other scripted shows to focus on movies. That's where Netflix comes in.
Netflix picked up the show as a global Original and released the first season to the world on December 26th and will also be honoring the second season release too.
First season of @CarolineKepnes "You" tv adaption is on Netflix now. I loved how it turned out; watched it as it was released ep by ep but might rewatch it on Netflix before season 2 drops. The book was really good and this tv show was surprisingly good also. I recommend both 😉 pic.twitter.com/Fb3zbhri7h

— Coopik 💜 (@kcoopik) 27 December 2018
Production began on season 2 on February 15th, 2019 with the first table read.
seeing Joe with Love AND Candace makes us happy being single. YOU S2 in production! pic.twitter.com/IXDNVtt9op

— YOU (@YouNetflix) February 15, 2019
---
What to expect from the second season of YOU?
Joe Goldberg having murdered the former love of his life Guinevere Beck has fled New York for pastures new in the city of Los Angeles. It's not long before Joe finds his new obsession in aspiring chef and health guru Love Quinn. But with Joe's past constantly looking over his shoulder how can he hide his troubled past from his new flame?
The bodies left behind in New York won't stay hidden forever, but will exploits in New York follow him all the way to California?
With Joe's ex Candace also waiting in the wings, what does she know of his past? Was Candace supposed to be dead as we were led to believe or in a twist of fate, is Candace obsessed with Joe? Any obstacle in Joe's way is surely not safe and we can expect the body count to rise further.
We've been told to expect a much darker season going into season 2. In an interview, the showrunner said:
"I would say that season 2 of You, kind of, doubles down on some of the stuff that you might come to expect."
---
Who is in the cast for season 2 of You?
As the story will lead to Joe leaving New York City, we are unsure which cast members will be returning. Assuming Joe's past will return to haunt him we fully expect some cast members to reprise their roles. The following actors have been confirmed for season 2:
| Role | Actor/Actress | Where have I seen/heard before? |
| --- | --- | --- |
| Joe Goldberg | Penn Badgley | Margin Call, Easy A, John Tucker Must Die |
| Love Quinn | Victoria Pendetti | The Haunting of Hill House |
| Candace | Ambyr Childers | You, The Master, Vice |
| Ellie | Jenna Ortega | Jane the Virgin, Iron Man 3, Insidious 2 |
| Forty Quinn | James Scully | Heathers, Quantico, 9-1-1 |
| Will | Robin Lord Taylor | Gotham, The Walking Dead, Accepted |
Now let's move onto some of the new cast members announced for season 2 of You.
The first big new cast announcement came in January 2019 with the announcement that one of the actresses that starred in Netflix's Haunting of Hill House would be playing the role of Love Quinn.
Haunting of Hill House breakout Victoria Pedretti landed the female lead in @YouNetflix Season 2. She plays Love Quinn, an aspiring chef who doesn't care about social media. She's also tending to a deep grief — so when she meets Joe she senses a shared knowledge of profound loss. pic.twitter.com/XN0IdPjdKb

— See What's Next (@seewhatsnext) January 30, 2019
In March 2019, Charlie Bennett who appeared in Netflix's Russian Doll was confirmed to be joining the cast for season 2.
#RussianDoll co-star @_CharlieBarnett has joined Season 2 of @YouNetflix! He'll play Gabe, best friend to Love —the show's new female lead played by Victoria Pedretti. pic.twitter.com/C9lQ6K2jOl

— See What's Next (@seewhatsnext) March 27, 2019
Actor James Scully from Heathers has been cast for season 2 of You. Also, cast for season 2 is Jane the Virgin star Jenna Ortega. The roles of both actors have been announced.
Ambry Childers has also been promoted to a series regular and will reprise her role as Candace.
Gotham's Robin Lord Taylor has been cast for a recurring role in Season 2 of YOU.
---
Why has the series moved from New York to California?
The big reason for moving the story as we said above is the story. Joe has to get away from his previous location and start afresh and where better than sunny California.
---
Will season 2's plot of You be based on the sequel novel Hidden Bodies?
Fans of the show that haven't read the novel of which the series is based upon won't have realized that there are significant differences between the novel and the TV series. As we've already established Joe is leaving New York and heading to Los Angeles for pastures new. This is also the base plot of Hidden Bodies as Joe attempts to run away from his past after the murder of Guinevere Beck and previous trauma from his life.
The tv show has already diverted somewhat from the books but we can expect the show to take a lot of inspiration from the sequel novel.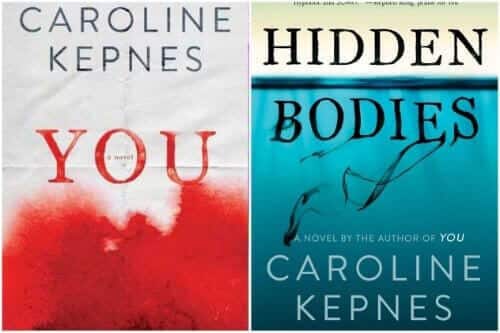 ---
Has production begun on season 2 of You?
The first table reading began on the 15th of February!
And we're back! First table read for @YouNetflix Season 2! pic.twitter.com/EmAQA9jkzJ

— See What's Next (@seewhatsnext) February 15, 2019
---
What do the fans have to say about season 2?
#YouNetflix best series I have watched in a while!!! Roll on season 2!!!

— lisa oconnell (@loconnell75) February 4, 2019
OMG!!! Need season 2 of @YouNetflix like NOW!!! #HOOKED

— Gemma Richmond 👻🎃 (@gemalou) February 3, 2019
---
How many episodes are there for season 2 of You?
An official episode count is yet to be announced. Considering most Netflix shows air with 10 episodes we are fully expecting the second season of YOU to follow suit. Each episode will roughly be around 60 minutes.
---
Is there a trailer for season 2 of You?
A trailer is yet to be released but we can expect a teaser to drop in the coming months.
---
When is the release date for season 2 of You?
It's been speculated since renewal that You would return to Netflix in December 2019.
Netflix may have just leaked the release date for the second season.
In a tweet that was hastily deleted, Netflix revealed a bunch of potential release dates:
The above tweet was referring to the 11th of September. One-hundred and eleven days after the tweet fall on December 30th, 2019.
Netflix has yet to comment on the official release.
---
Are you looking forward to season 2 of You? Let us know in the comments below!