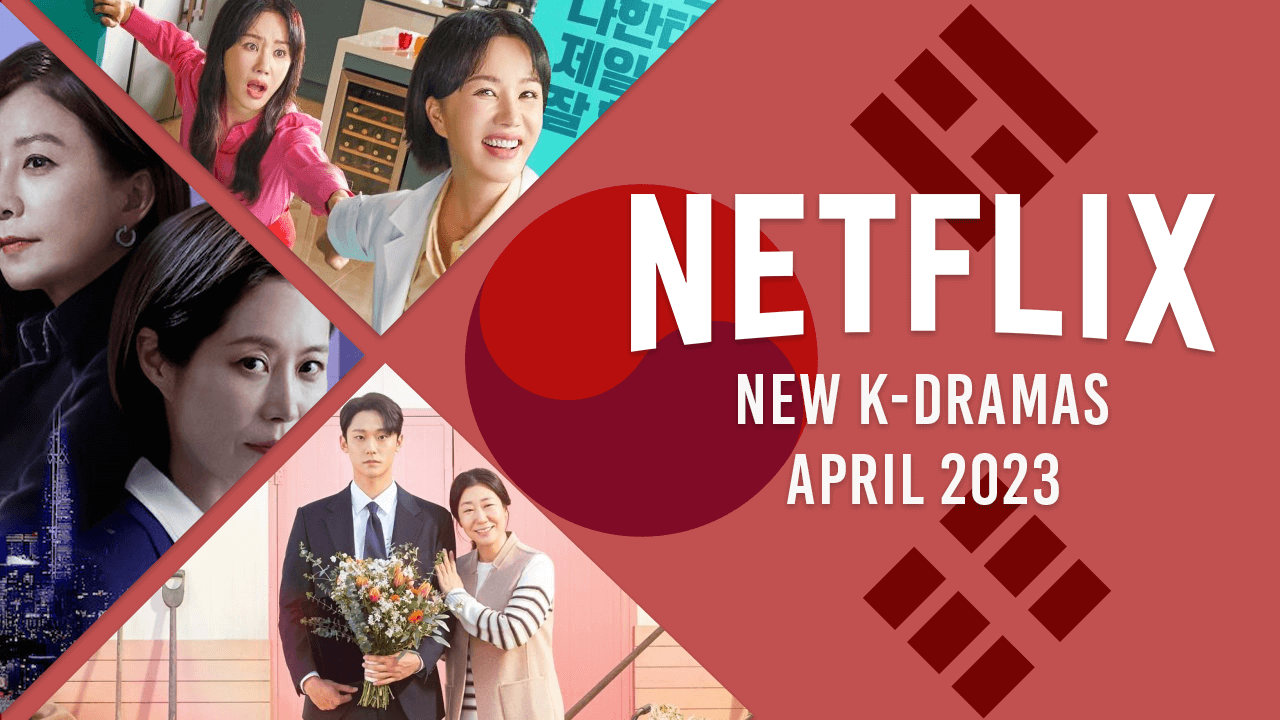 Spring has arrived, and with it, are some exciting new k-dramas. We'll be seeing an exciting new political drama and two brand new weekly shows that will be airing throughout Spring. Here are the new k-dramas on Netflix in April 2023.
In case you missed them, we've also kept track of the latest k-drama releases in March 2023.
N = Netflix Orignal
Article Continues Below...
---
New Netflix K-Dramas on Netflix in April 2023
Seasons: 1 | Episodes: 12
Genre: Drama, Political | Runtime: 60 Minutes
Cast: Kim Hee Ae, Moon So Ri, Ryu Soo Young, Seo Yi Sook, Ok Ja Yeon
Netflix Release Date: Friday, April 14th, 2023
With the recent success of The Glory, hopefully, strong momentum can carry on to the release of the exciting new political drama The Queenmaker.
Two women join forces, Hwang Do Hee, a skilled career woman, who hasn't come down from her 12-centimeter stilettos for 12 years, and the labor rights lawyer Oh Seung Sook aka "crazy rhinoceros." Oh Seung Sook is the president of the women's workers association, leader of the Worker's Solidarity with Rights foundation, and a popular YouTuber with little interest in authority. However, the "Queen Maker" Hwang Do Hee is determined to make Oh Seung Sook the mayor of Seoul.
---
New Weekly Netflix K-Dramas on Netflix in April 2023
Doctor Cha (Season 1)
N
Seasons: 1 | Episodes: 16
Genre: Comedy, Drama, Medical | Runtime: TBA
Cast: Uhm Jung Hwa, Kim Byung Chul, Myung Se Bin, Min Woo Hyuk, Song Ji Ho
Netflix Release Date: Saturday, April 15th, 2023 | New Episodes: Saturday, Sunday
The first Spring arrival is a brand-new k-drama fro jTBC. Medical dramas are often extremely popular with audiences, and hopefully Doctor Cha will more than exceed expectations.
It tells the story of a medical graduate turned housewife but decided to return to the medical field, and a doctor husband who maintains a perfect dual life. He is great at his job and he is also great at cheating on his wife.
---
The Good Bad Mother (Season 1)
N
Seasons: 1 | Episodes: 14
Genre: Comedy, Life, Family | Runtime: 70 Minutes
Cast: Ra Mi Ran, Lee Do Hyun, Ahn Eun Jin, Kim Sun Bin, Yoo In Soo
Netflix Release Date: Wednesday, April 26th, 2023 | New Episodes: Wednesday, Thursday
We aren't expecting The Good Bad Mother to perform as well as we expect Doctor Cha to, however, no subscriber should be sleeping on the upcoming slice-of-life comedy.
A drama about a mother, Young Soon, who has lived for her child all her life, and her son, prosecutor Kang Ho, who suffers from amnesia in an unexpected accident and goes back to being a child.
---
Returning Weekly Netflix K-Dramas in April 2023
Divorce Attorney Shin (Season 1)
N
Episodes: 12
Genre: Law, Drama | Runtime: 60 Minutes
Cast: Cho Seung Woo, Han Hye Jin, Kim Sung Kyun, Jung Moon Sung, Kang Mal Geum
Netflix Finale Date: April 9th, 2023 | New Episodes: Saturday, Sunday
Divorce Attorney Shin hasn't been a groundbreaking revelation, however, it has done respectable numbers in South Korea achieving a season-high of 7.520% of the nation's ratings.
The story of a talented divorce lawyer punnily named Shin Sung Han. As an expert divorce lawyer, the incredibly sensitive Shin Sung Han must deal with clients who are wild beyond belief, but he finds solace in his two closest friends and fellow "40-year-old youths" Jang Hyung Geun and Jo Jung Sik.
---
What k-dramas are you looking forward to watching on Netflix in April 2023? Let us know in the comments below!