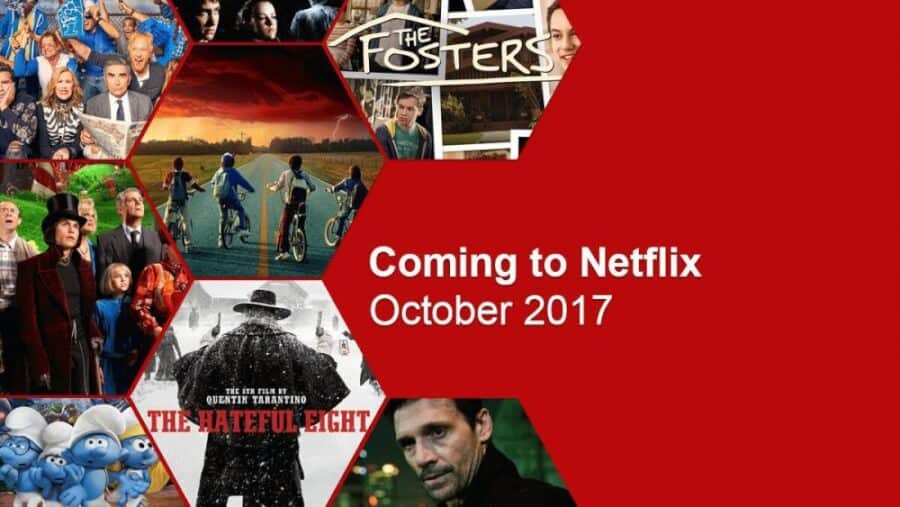 Welcome to your October 2017 preview of what's coming soon to Netflix throughout the month of October. Below, we'll pick out some highlights as well as give you the complete preliminary list of all the movies, TV series, documentaries and stand-up specials headed our way over the next 31 days.
October will be absolutely dominated by Netflix Originals. Most of which are new titles which you probably won't have heard of before, in which case, keep an eye on our news section where we'll be previewing them all so you know which ones to dive into when the land on Netflix.
As always, this is just a preliminary list and it's best to keep up to date with our new on Netflix section where we update daily as to what's just arrived on Netflix.
Article Continues Below...
Note: This list only applies to Netflix US
October 2017 Netflix Highlights
Netflix Originals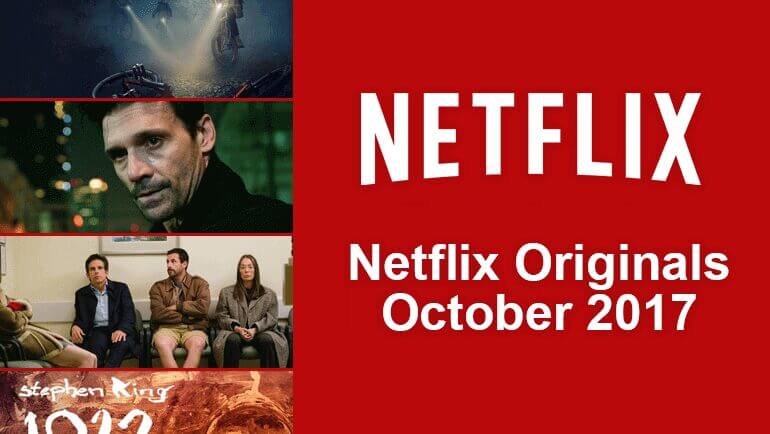 As we stated above, next month will be dominated by new Netflix Originals. We've outlined some in our special preview but we'll briefly take you over the big ones below.
Stranger Things is perhaps Netflix's biggest show at the moment and it's finally returning after a long wait. Arriving around halloween, the team will have to face their biggest enemy yet which blows last season's monster out of the water. Season 2 arrives on October 27th.
Three massive movies are also scheduled for October too from Netflix. Sandler's fourth movie is arriving with it co-starring Ben Stiller with that movie called The Meyerowitz Stories. Frank Grillo will be starring in the movie adaptation to Wheelman arriving late in the month. Plus, after the success of IT, Netflix will be hoping its adaptation of Stephen Kings 1922 will blow audiences away just in time for Halloween.
Movies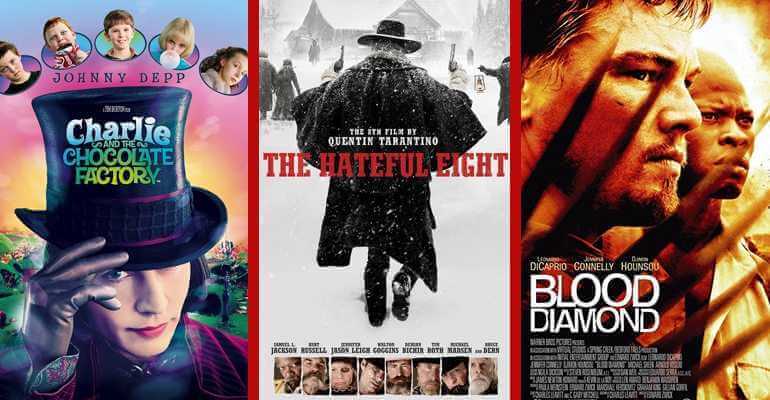 Netflix is surprising light on the movie front from other providers in October 2017. The biggest hit comes from Quentin Tarantino with his eight movies that premiered last year, The Hateful Eight. It stars Samuel L Jackson and is set in the wild west and is one of the tensest Tarantino movies to date.
2006's multi-Oscar nominated movie Blood Diamond will be available on October 1st, as will kids hits such as Charlie and Chocolate Factory and Penelope. Later in the month, the kids will be treated to the latest Smurfs movie.
TV Series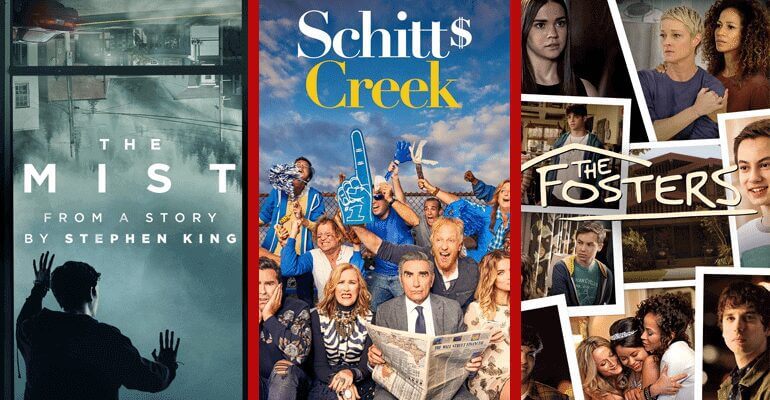 Netflix is also surprisingly light with new TV series too. That's because October was typically the time where new CW and Fox content came to Netflix. The former now comes throughout the year and the latter is being removed completely.
Stephen King's The Mist season 1 comes to Netflix which is a good series to watch around Halloween. The latest instalments of Schitt's Creek and The Fosters will also be made available throughout October.
Complete List of Titles Coming to Netflix in October 2017
October 1st
88 Minutes (2007)
A Cinderella Story: Once Upon a Song (2011)
Before Midnight (2013)
Blood Diamond (2006)
Boogie Nights (1997)
Charlie and the Chocolate Factory (2005)
Cleverman (Season 2)
Death Sentence (2007)
Don't Be a Menace to South Central While Drinking Your Juice in the Hood (1996)
Eagle vs. Shark (2007)
Eyes Wide Shut (1999)
Generation Iron 2 (2017)
Ghost Patrol (2016)
I Love You, Man (2009)
Ice Guardians (2016)
Lockup: Disturbing the Peace (Collection 1)
Made of Honor (2008)
Miss Congeniality (2000)
Miss Congeniality 2: Armed and Fabulous (2005)
Must Love Dogs (2005)
Never Let Me Go (2010)
No Reservations (2007)
Penelope (2007)
PJ Masks (Season 1)
Set Up (2011)
The Reaping (2007)
Tokyo Idols (2017)
Tommy Boy (1995)
Vanished: Left Behind – Next Generation (2016)
Veronica (2017)
October 2nd
Mr. Dynamite: The Rise of James Brown (2014)
Sleeping with Other People (2015)
October 3rd
13 Demons (2016)
Rodney Carrington: Here Comes The Truth (2017) Netflix Original Standup
The Survivalist (2015)
October 4th
October 5th
Bonus Family (Bonusfamiljen) (Season 1) Netflix Original Series
Schitt's Creek (Season 3)
The Fosters (Season 5)
October 6th
ID-0 (Season 1) Netflix Original Series
Skylanders Academy (Season 2) Netflix Original Series
Suburra (Season 1) Netflix Original Series
The Death and Life of Marsha P. Johnson (2017) Netflix Original Documentary
Word Party (Season 3) Netflix Original Series
October 7th
Chris Brown: Welcome To My Life (2017)
Middle Man (2016)
October 10th
Christina P: Mother Inferior Netflix Original Standup Special
The Skyjacker's Tale (2016)
October 11th
Donnie Darko (2001) Re-addition
October 12th
Fe de etarras Netflix Original Movie
October 13th
El Especial de Alex Fernández, el Especial Netflix Original Standup Special
Kingdom of Us Netflix Original Movie
MINDHUNTER (Season 1) Netflix Original Series
Super Monsters (Season 1) Netflix Original Series
Talladega Nights: The Ballad of Ricky Bobby (2006)
The Babysitter Netflix Original Movie
The Meyerowitz Stories (New and Selected) Netflix Original Movie
Voltron: Legendary Defenders (Season 4) Netflix Original Series
October 15th
Belief: The Possession of Janet Moses (2015)
LEGO: City (Season 1)
Money (2016)
OtherLife (2017)
She Makes Comics (2014)
West Coast Customs (Season 6)
October 17th
Patton Oswalt: Annihilation Netflix Original Standup Special
Slasher: Guilty Party (Season 1) Netflix Original Series
October 19th
October 20th
1922 Netflix Original Movie
Haters Back Off (Season 2) Netflix Original Series
One of Us Netflix Original Movie
Smurfs: The Lost Village (2017)
The Day I Met El Chapo: The Kate del Castillo Story Netflix Original Documentary
Wheelman Netflix Original Movie
October 23rd
Meet the Robinsons (2017)
While We're Young (2014)
October 24th
Wanted (Season 1 & 2) Netflix Original Series
The Mist (Season 1)
October 25th
The Hateful Eight (2015)
The Final Master (2015)
La Querida del Centauro (Season 2)
October 26th
October 27th
Stranger Things 2 (Season 2) Netflix Original Series
Joan Didion: The Center Will Not Hold Netflix Original Standup Special
October 28th
Pup Star: Better 2Gether (2017)
October 30th
Judah Friedlander: America Is The Greatest Country In The United States Netflix Original Standup Special
October 31st
Zumbo's Just Desserts (Season 1) Netflix Original Series
Now over to you. How do you think October is for Netflix's lineup? Let us know your thoughts and opinions in the comments down below!