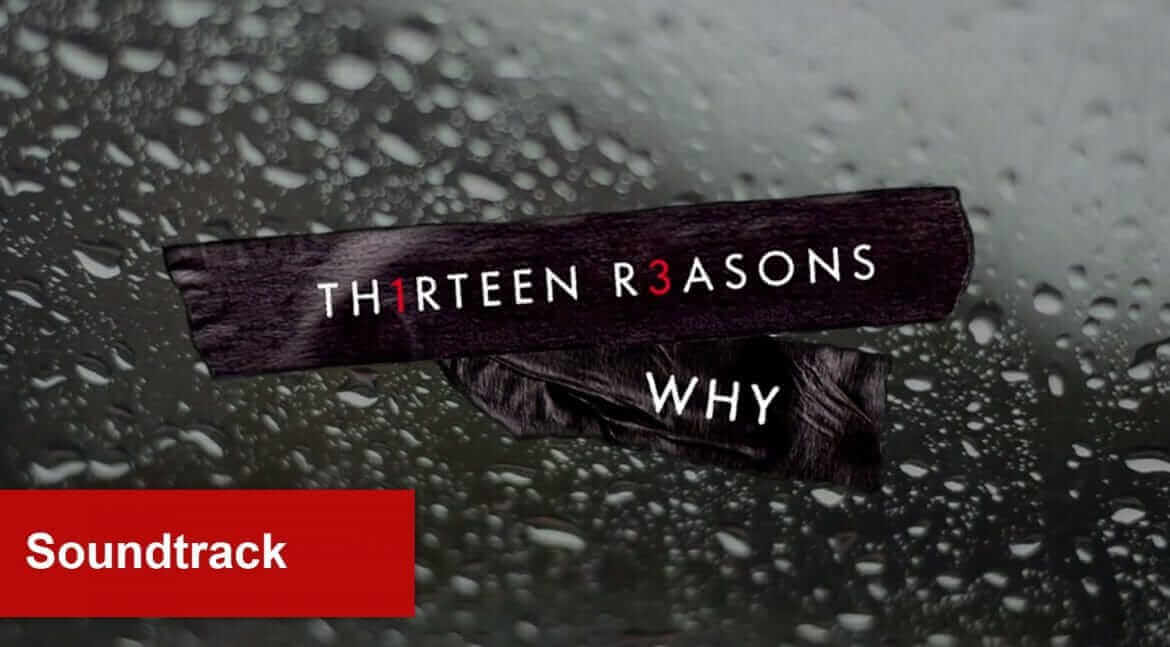 13 Reasons Why has probably been the best debut series to come to Netflix in 2017 and its soundtrack is both fitting for the show and adds yet another reason as to why it's such a great show.
The show explores multiple different themes which usually are snubbed by many companies but 13 Reasons Why tackles them head on. An official soundtrack has been released but obviously, there's plenty more that aren't included too.
The official soundtrack is available to buy and is also available on Spotify too. Featured artists include Eskmo who curates most of the soundtrack but M83, Woodkid and Lord Huron also feature.
The shows main theme song is curated by the shows producer Selena Gomez. Just a bit of background on Selena's involvement on the show, she was initially pegged to play the main character in a movie adapatation but it was instead morphed into a series for Netflix.
Episode by Episode Soundtrack
Trailers
Episode 1 (Tape 1, Side A)
More Than Gravity – Colin & Caroline
Love Will Tear Us Apart – Joy Division
Riding – Eskmo
High – Sir Sly
You, Me, Cellphones – Husbands
Magic – Olympic Ayres
Cool Blue – The Japanese House
Young & Afraid – The Moth & The Flame
13 Tapes – Eskmo
Mess is Mine – Vance Joy
Episode 2 (Tape 1, Side B)
Hannah – Eskmo
Reunion – M83
Going Home – Gileah Taylor
Run Boy Run – Woodkid
Episode 3 (Tape 2, Side A)
Doing It To Death – The Kills
Whatever You Want – Status Quo
Hey Hey, My My (Into the Black) – Neil Young feat Crazy Horse
The Only Boy Awake – Meadows
Into the Black – Chromatics
The Night we Met – Lord Huron
Episode 4 (Tape 2, Side B)
Fascination Street – The Cure
Skeletons – JR JR
Eventually – George Simms & Simon Astall
Everything Always – CTZNSHP
Episode 5 (Tape 3, Side A)
One – Poppy Brothers
Living in Fiction – Icky Blossoms
Amused – Hunger
Hollow Visions – Eagulls
The Night We Met – Lord Huron
Thirteen – Elliott Smith
Cinnamon – Cullen Omori
Episode 6 (Tape 3, Side B)
It All Feels Right – Washed Out
The Great Longing – Lost Under Heaven
In a Black Out – Hamilton Leithauser + Rostam
Frozen Pines – Lord Huron
Ghost Love – Wishkaah
Episode 7 (Tape 4, Side A)
The Stranger – St Vincent
The Great Longing – Lost Under Heaven
That Thing You Do – Photronique
Huntress – SVAVA
The Walls Came Down – The Call
Episode 8 (Tape 4, Side B)
Same Dark Places – JR JR
Darklands – The Jesus and Mary Chain
Lir – Garden City Movement
Episode 9 (Tape 5, Side A)
Bye Bye Bye – School of Seven Bells
Under the Spell – Springtime Carnivore
My Life in Rewind – Eagulls
Justin – Eskmo
Ends of the Earth – Hot Chip
Full Court Press – Tickle Tortue feat. Velvet Negroni
Cannonball – Hidden Charm
Episode 10 (Tape 5, Side B)
24 – Sleigh Bells
It Says – Soft Limbs
Elegy to the Void – Beach House
Atmosphere – Codeine
The Stand – The Alarm
Episode 11 (Tape 6, Side A)
Red Song – Suuns
A 1000 Times – Hamilton Leithauser + Rostam
Ends of the Earth – Hot Chip
Talking with Strangers – Miya Folick
Episode 12 (Tape 6, Side B)
Oh! Starving – Car Seat Headrest
The Killing Moon – Echo & The Bunnymen
Episode 13 (Tape 7, Side A)
Only You – Selena Gomez
Vienna – Ultravox
Windows – Angel Olsen
See a Little Light – Bob Mould
Bored – Billie Elish
Spotify Playlist
As always here on What's on Netflix, we've compiled the songs into a playlist for your convenience, where available of course.
Found any songs we've missed? Let us know them in the comments below.