Are the 'Texas Chainsaw Massacre' Films on Netflix?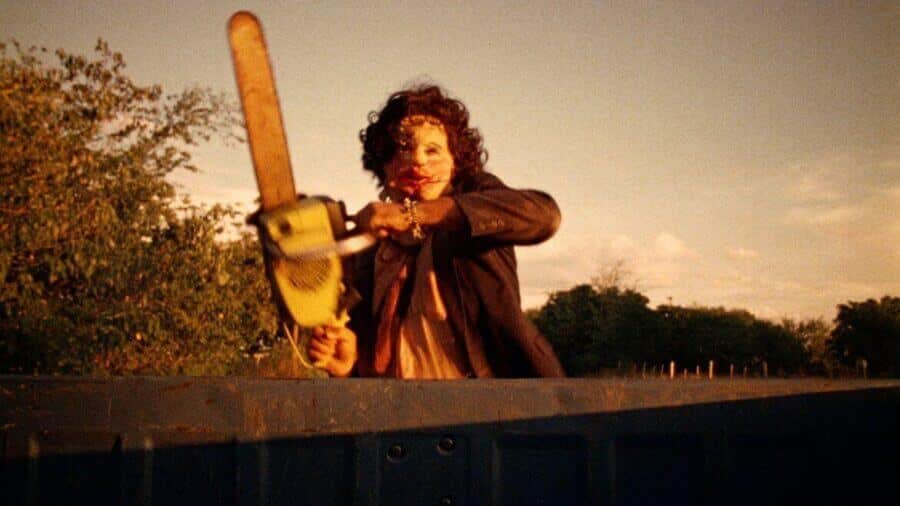 Another Halloween franchise that has become iconic is 'The Texas Chainsaw Massacre', a horror franchise depicting the brutal killings at the hands of Leatherface, and his cannibalistic family. There have been many iterations, some definitely better than others, but which ones are available to stream on Netflix? Find out below.
Originally debuted in 1974, the American horror film followed a group of friends who unfortunately stumble across a family of cannibals. One member of the family goes by the name 'Leatherface', a psychotic, chainsaw-wielding murderer who wears human skin as a mask. Although the film was originally advertised as a true story, the events are completely fiction, but it was partly inspired by the real-life serial killer Ed Gein. Over the years the 1974 film has become a cult classic spawning many sequels.
There are a total of eight films in the franchise, the most recent being the 2017 reboot titled Leatherface. Although none of the films have gained quite the admiration and cult status that the original did. It is still important to find out if they are streaming on Netflix. Below you will find a list of all the movies, and which Netflix regions they are available in.
The Texas Chain Saw Massacre (1974) – Available to Stream in Japan and Spain.
The Texas Chainsaw Massacre 2 (1986) – Available to Stream in the UK 
Leatherface: The Texas Chainsaw Massacre III (1990) – Not Available to Stream
Texas Chainsaw Massacre: The Next Generation (1994) – Not Available to Stream
The Texas Chainsaw Massacre (2003) – Available in most Nordic countries and Germany.
The Texas Chainsaw Massacre: The Beginning (2006) – Is Available to Stream on US Netflix
Texas Chainsaw 3D (2013) – Available in Japan
Leatherface (2017) – Not Available anywhere on Netflix
Another notable mention is the 2003 crime documentary 'The Real Texas Chainsaw Massacre', a British crime drama which is also available to stream on US Netflix.
*Netflix often likes to add and remove titles from different regions. If we notice any large additions or subtractions, we will update this article.*
You may be a little disappointed with the selection in your region, but remember if you are lucky enough to have a Netflix DVD account, you are able to rent the films, including the original 1974 version. Amazon Video also hosts the entire franchise, for you to either buy or rent.
If you are on the lookout for Horror films to binge this Halloween be sure to check out our article covering the Saw movies.