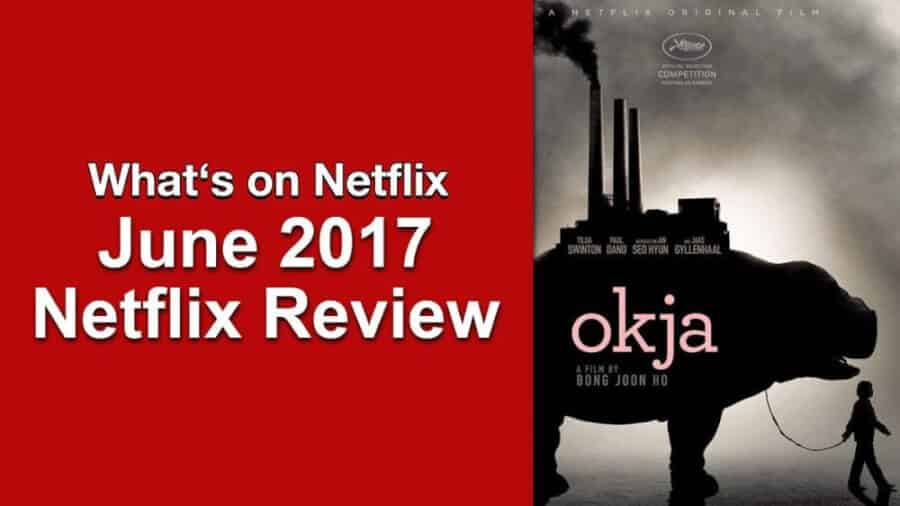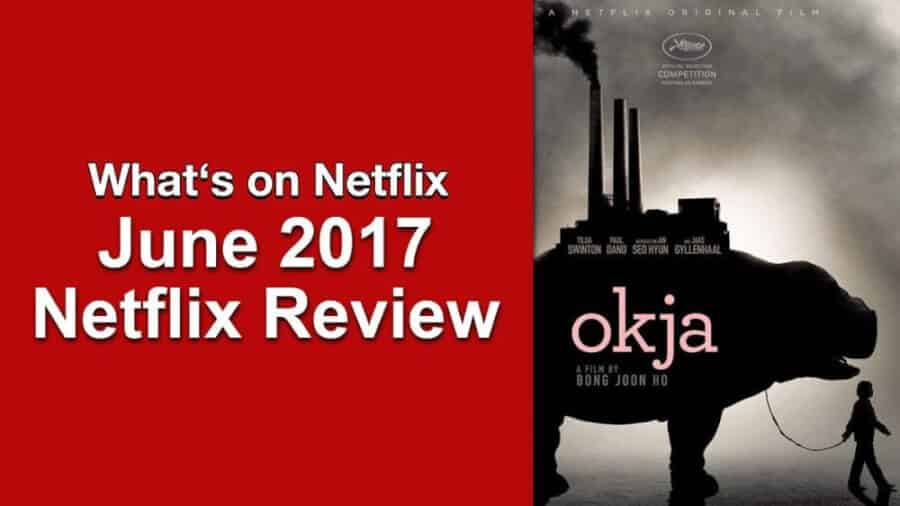 Welcome to your June 2017 recap of everything that came to Netflix plus we'll recap some of the biggest new additions, display the entire list of new titles added to Netflix throughout the month as well as statistics on how this month compared region to region and previous months.
June 2017 Netflix Statistics
June 2017 New Additions Highlights

Netflix's biggest release this month came in the form of OKJA. Although some would argue Beasts of No Nation was Netflix's first major blockbuster, OKJA felt different and represents a massive leap forward. The CGI spectacular which deals with some sensitive issues as well as supporting a world-class cast is our pick of the month.
Article Continues Below...
Much of the ABC library on Netflix got updates this month including the likes of Agents of SHIELD and while we're still waiting for Once Upon a Time season 6, there's no plenty to be catching up with.
The exclusive deals Netflix has also bought plenty of goodies with The CW's The 100 coming exclusively early to Netflix in full as well as Disney's massive 2016, Moana.
We sum up all the best titles over the past 7 days every Saturday right here on What's on Netflix.
Complete List of New Titles Added to Netflix US in June 2017
Here's a complete list of titles added to Netflix in June 2017 split up into movies and TV Series/Documentaries/Standup Specials:
New Movies
1 Night (2016)
13 Going on 30 (2004)
Aashik Awara (1993)
Abnormal Summit: Collection (2014)
Acapulco La vida va (2016)
Amar Akbar & Tony (2015)
American Anarchist (2016)
American Violence (2017)
Barking Dogs Never Bite (2005)
Black Snow
Bokeh (2017)
Bruno and Boots: Go Jump in the Pool (2016)
Bruno and Boots: This Can't Be Happening at Macdonald Hall (2017)
Catfight (2016)
Catwoman (2004)
Cave (2016)
Chhota Bheem And the Curse of Damyaan (2012)
Chingo Bling: They Can't Deport Us All (2017)
Chronic (2015)
Contract to Kill (2016)
Country Crush (2016)
Dangal (2016)
Daughters of the Dust
Days of Grace
Devil's Bride (2016)
Don't Call Me Son (2016)
Dragonheart: Battle for the Heartfire (2017)
Full Metal Jacket (1987)
Gabriel Iglesias Presents Rick Guiterrez: I'm Not Mad, I'm Just a Parent (2014)
Get Rich or Die Tryin' (2004)
Gold (2014)
Havenhurst
Headshot (2016)
How the Grinch Stole Christmas (2000)
Hypersomnia (2016)
I Am Michael (2015)
It's Only the End of the World (2016)
Jackass: The Movie (2002)
Jules and Dolores (2016)
Junction 48 (2016)
Jurassic School (2017)
Kaabil (2017)
Khuda Gawah (1992)
Lens (2015)
Los Últimos de Filipinas (2016)
Love.com (2017)
Lucid Dream (2017)
Man Vs. (2015)
Maya Memsaab (1992)
Mean Girls (2004)
Mere Baap Pehle Aap (2008)
Moana (2016)
Mother (2009)
Mr Joe B. Carvalho (2014)
Mughal-E-Azam (1960)
My Left Foot (1989)
Neruda (2016)
No Escape (2015)
Nobody Speak: Trials of the Free Press (2017)
Noddy Toyland Detective
Oh Darling Yeh Hai India (1995)
Okja (2017)
Playing It Cool (2014)
Prince (1969)
Puss in Book: Trapped in an Epic Tale (2017)
Qila (1989)
Return to Zero (2014)
Rounders (1998)
Saare Jahaan Se Mehnga (2013)
Shimmer Lake (2017)
Smoke & Mirrors (2016)
Spring (2016)
Strayed (2014)
Suite Française (2014)
Suntan (2016)
SUPERMODEL (2016)
Sword Master
The Ant Bully (2006)
The Axe Murders of Villisca (2016)
The Bucket List (2007)
The Firefly (2013)
The House on Coco Road (2016)
The Incident (2015)
The Legend of Bhagat Singh (2002)
The Queen (2006)
The Sixth Sense (1999)
The Son of Joseph (2016)
The Stanford Prison Experiment (2015)
The Wishing Tree (2017)
Three (2016)
Toobys Vol. 2 in English (2014)
Trolls (2016)
Tunnel (2016)
Vice (2015)
War on Everyone (2016)
XX (2017)
You Get Me (2017)
Young Frankenstein (1974)
Zodiac (2007)
New TV Series/Documentaries/Standup Specials
Anthony Bourdain: Parts Unknown – Season 7 (2016)
Blue Gold: American Jeans (2014)
Freddy Heineken: 1 Season (2013)
Marvel's Agents of S.H.I.E.L.D. (2016) 4 Seasons
28 Mooons (Season 1)
40 Year Old Virgins (2013)
All Quiet in Peking (Season 1)
Amelia: A Tale of Two Sisters (2017)
Anthony Bourdain: Parts Unknown (Season 8)
Aquarius: Season 2 (2016)
Archangel – Season 1 (2005)
Arrow – Season 5 (2017)
Baby Daddy: 6 Seasons (2017)
Bad Guys: 1 Season (2014)
Bad Trips Abroad: 2 Seasons (2013)
Betting on Zero (2017)
Blue Bloods: Season 7 (2016)
Bunk'd: 2 Seasons (2016)
Burlesque: Heart of the Glitter Tribe (2017)
Can't Pay, We'll Take It Away!: 2 Seasons (2014)
Chef & My Fridge: Collection (2014)
Chris D'Elia: Man on Fire (2017)
Code 1 Extreme: Season 1 (2015)
Counterpunch (2017)
Criminal Minds: Season 12 (2016)
Disaster Earth – Season 1 (2011)
Disturbing the Peace (2016)
El Chapo: Season 1 (2017)
El Escape de Hitler (2011)
Embarrassing Bodies: 2 Seasons (2008)
Fear Files… Har Mod Pe Darr – Season 1 (2015)
Flaked (Season 2)
Footprints: The Path of Your Life (2015)
Free Rein: 1 Season (2017)
Gab-Dong: Season 1 (2014)
GLOW: 1 Season (2017)
Grey's Anatomy: Season 13 (2016)
Gypsy: Season 1 Netflix Original
Hawaii Five-0: Season 7 (2016)
Heartland – Season 9 (2016)
How to Stage a Coup (2017)
In Need of Romance 2012: 1 Season (2012)
In Need of Romance 3: 1 Season (2014)
In Need of Romance: 1 Season (2011)
Inside the Mind of a Serial Killer: Season 1 (2015)
Inspector Gadget (Season 3)
Intersection – 2 Seasons (2016)
It's Alright, This is Love: 1 Season (2014)
Jackie: A Tale of Two Sisters (2017)
Jhansi Ki Rani – Season 1 (2009)
Kardashian: The Man Who Saved OJ Simpson (2016)
Let's Eat 2: 1 Season (2015)
Let's Eat: 1 Season (2013)
Little Witch Academia: Season 1 (2017)
Louis Theroux: Extreme Love – Autism (2012)
Louis Theroux's LA Stories: City of Dogs (2014)
Magic Phone (Season 1)
Marco Luque: Tamo Junto (2016)
Michael Lost and Found (2015)
Mind Game – Season 1 (2015)
Miniforce (Season 1)
Mi-saenng, Incomplete Life: 1 Season (2014)
Monster Fish – Season 3 (2015)
Mr. Gaga: A True Story of Love and Dance (2015)
Mutant Busters – Season 2 (2017)
My Little Baby (Season 1)
My Only Love Song (Season 1)
Off Camera – Season 3 (2015)
Oh, Hello on Broadway (2017)
Orange is the New Black (Season 5)
Pablo Escobar, el patrón del mal (Season 1)
Power Battle Watch Car (Season 1)
Pyaar Tune Kya Kiya – Season 1 (2014)
Quantico – Season 2 (2016)
Reign: Season 4 (2015)
Reply 1994: 1 Season (2014)
Reply 1997: 1 Season (2012)
Rory Scovel Tries Stand-Up for the First Time (2017)
S Is for Stanley (2016)
Saving Banksy (2017)
Scandal: Season 6 (2017)
Shameless (U.S.): 7 Seasons (2016)
Shark Men (Season 1)
Shooter (Season 1)
Singles Villa (Season 1)
Terrace House: Aloha State – Part 3 (2017)
The 100 – Season 4 (2017)
The Catch: Season 1 (2015)
The Day Will Come – Season 1 (2016)
The Disguiser: 1 Season (2015)
The Dream Job – Season 1 (2016)
The Girl Whose Muscles are Turning to Bone (2005)
The Golden Years with Javed Akhtar (Season 1)
The Homecoming (Season 1)
The Mitfords: A Tale of Two Sisters (2017)
The Night Shift (Season 3)
The Ranch: Part 3 (2016)
The Real Miyagi (2015)
The Real Sleeping Beauty (2007)
The Woman with 7 Personalities (2004)
TURN: Washington Spies (Season 3)
Under the Black Moonlight (Season 1)
Virgin School (2007)
Vroomiz: 2 Seasons (2016)
Wentworth: 5 Seasons (2016)
West Coast Customs – Season 3 (2013)
What the Health (2017)
Who Killed Pablo Escobar? (2014)
Without Gorky (2011)
Women Behind Bars: 3 Seasons (2009)
World of Compulsive Hoarders (2007)
World of Winx: 2 Seasons (2016)
Yarn (2016)
Young & Hungry: 5 Seasons (2016)