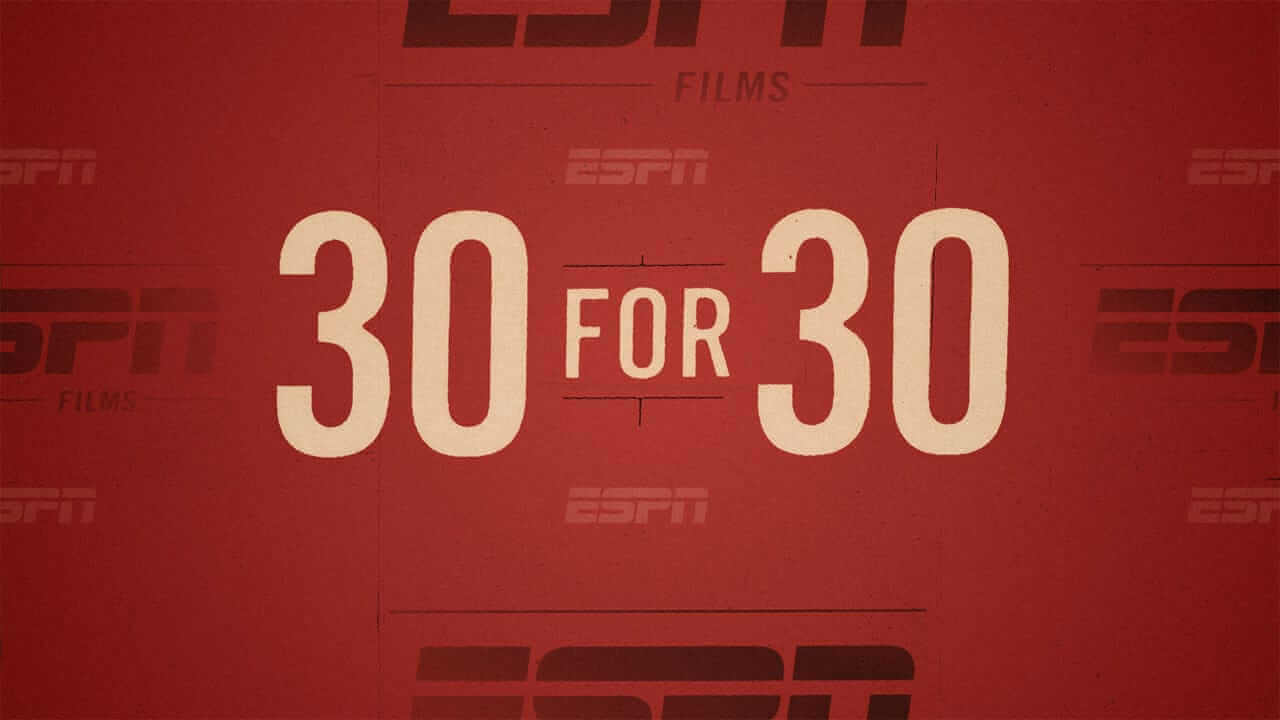 We're still reeling from the January 1st additions and removals, and a big part of the library leaving was the complete ESPN lineup on Netflix. The franchise made up a large amount of the sports documentary available on Netflix.
The series covered many major American sports including American Football, Hockey, Golf and Basketball.
If you're wondering where you can watch 30 for 30 titles now, the answer is pretty obvious. You'll have to fork out for an EPSN subscription which has become quite a controversial subscription given the increasing lack of value, but we'll keep out of that argument for now.
Netflix has slowly started producing their documentaries surrounding sport but often look beyond the sport itself for its content. Last Chance U and Team Foxcatcher are two great Netflix Original sports documentaries to enjoy if you haven't already.
Complete List of 30 for 30 Documentaries That Have Left Netflix
The 16th Man (2010)
The '85 Bears (2016)
9.79* (2012)
Angry Sky (2015)
Bad Boys (2014)
The Band That Wouldn't Die (2009)
Believeland (2016)
Benji (2012)
Bernie and Ernie (2013)
The Best That Never Was (2010)
Big Shot (2013)
The Birth of Big Air (2010)
Brian and the Boz (2014)
Broke (2012)
Brothers in Exile (2014)
Chasing Tyson (2015)
The Day the Series Stopped (2014)
Elway to Marino (2013)
Fantastic Lies (2016)
Fernando Nation (2010)
Four Days in October (2010)
Four Falls of Buffalo (2015)
Free Spirits (2013)
Ghosts of Ole Miss (2012)
The Gospel According to Mac (2015)
Guru of Go (2010)
Hawaiian: The Legend of Eddie Aikau (2013)
The House of Steinbrenner (2010)
I Hate Christian Laettner (2015)
Into the Wind (2010)
Jordan Rides the Bus (2010)
June 17th, 1994 (2010)
Kings Ransom (2009)
The Legend of Jimmy the Greek (2009)
Little Big Men (2010)
Marion Jones: Press Pause (2010)
Muhammad and Larry (2009)
No Crossover: The Trial of Allen Iverson (2010)
No Más (2013)
Of Miracles and Men (2015)
Once Brothers (2010)
Playing for the Mob (2014)
Pony Excess (2010)
The Price of Gold (2014)
The Prince of Pennsylvania (2015)
Rand University (2014)
Requiem for the Big East (2014)
Run Ricky Run (2010)
Silly Little Game (2010)
Slaying the Badger (2014)
Small Potatoes: Who Killed the USFL? (2009)
Soccer Stories: Hillsborough (2014)
Soccer Stories: White, Blue and White (2014)
Sole Man (2015)
Survive and Advance (2013)
There's No Place Like Home (2012)
This Is What They Want (2013)
This Magic Moment (2016)
Tim Richmond: To The Limit (2010)
Trojan War (2015)
The Two Escobars (2010)
The U (2009)
The U Part 2 (2014)
Unmatched (2010)
When the Garden Was Eden (2014)
Winning Time: Reggie Miller vs. The New York Knicks (2010)
Without Bias (2009)
You Don't Know Bo (2012)
Youngstown Boys (2013)
Are you annoyed that Netflix took off the 30 for 30 library from Netflix? Let us know in the comments below.