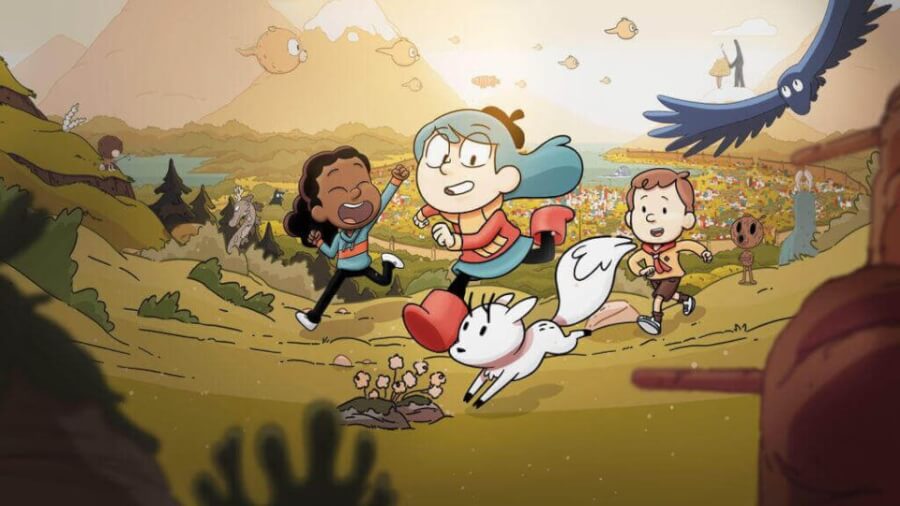 Hilda has been confirmed for another season. Here's a look at the second season plus when it will likely release on Netflix. 
You may have missed this delightful animated show for the family when its 13 episodes dropped on Netflix on September 21st, but we must implore you now to take a look. The series is among the highest rated debut seasons of any Netflix Original so far in 2018.
Netflix has been increasingly reliant on Dreamworks TV for its animated content for kids but this show proves that Netflix can spot a talented animation studio.
The series is based on the graphic novel of the same name which sees a young girl travel to a land where magical elves and giants reign supreme, a bustling city of Trolberg and lands that are very dangerous.
Is Hilda Coming Back for Season 2?
Official Renewal Status: Confirmed (Last update: 10/21/2018)
At the New York Comic Con just a week or so after season 1 had dropped, Netflix confirmed in a special panel that season 2 was happening.
Ready for more adventures? At our @NY_Comic_Con panel it was announced that Hilda will return for Season 2!!#HildaTheSeries pic.twitter.com/a5W2QHyrBg

— Hilda (@hildatheseries) October 8, 2018
Will Bella Ramsay Return for season 2?
Bella Ramsay is without question the highlight of the show. She lends her voice to the character Hilda and given her new found fame in the likes of Game of Thrones, Judy, and The Worst Witch, you may be wondering whether she'll return.
You can be thankful as she has confirmed she'll be returning to voice the upcoming season.
What will the story be in season 2?
The writer of the books, Luke Pearson, has revealed what books are to be covered in season 2. In episode 13, Hilda was helping to finally rid the fear that had gripped Black Hound as well as helping Tontu.
Season 1 covers books 1 through to 4. That means season 1 included "Hilda and the Troll", "Hilda and the Midnight Giant", "Hilda and the Bird Parade" and "Hilda and The Black Hound."
For those coming to them via @hildatheseries, I've made a quick guide to all the existing Hilda comics! pic.twitter.com/niW7iKAYOj

— Luke Pearson (@thatlukeperson) October 15, 2018
Season two is already set to cover the 2016 novel "Hilda and The Stone Forest." That's where things get a little complicated, however. That novel takes us up to date to what's been released. As of the time of writing only one more novel has been announced. That novel is called "Hilda and the Mountain King" and it's due for release in 2019.
When will season 2 of Hilda be on Netflix?
Sadly, no release date was announced alongside the season 2 announcement. Unlike other renewals, not even a window was given. Ordinarily, we'd expect a series to release on an annual basis but because the show has essentially caught up with its source material quickly, it may take some more time for stories to be developed.
With that being said, we'd expect to hear more about the show in 2019. With Luke Pearson's direct involvement with the show, it may be ready sooner than we think.
---
Are you looking forward to season two of Hilda coming to Netflix? Let us know in the comments.