Top 50 Movies on Netflix: September 2018
Welcome to the latest What's on Netflix top 50 movies currently streaming on Netflix for September 2018. Our selection covers a mix of the best comedy, action, romantic, sci-fi and animated movies currently streaming on Netflix. We update this list every month with the new movies that have been added to Netflix.
The nights are drawing in in the northern hemisphere – it's getting late earlier as my grandmother used to say – so it's time to start thinking about some serious movie watching of an evening. Unless you intend to watch Groundhog day over and over and over again.
---
50. (-) Hitchhiker's Guide to the Galaxy – 2005
Directed by: Garth Jennings
Starring: Martin Freeman, Yasiin Bey, Sam Rockwell
Running time: 1hrs 49min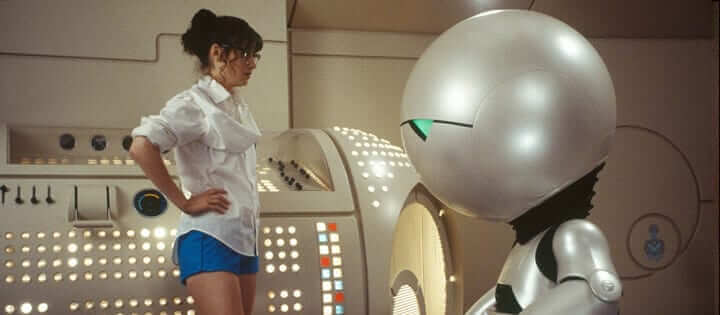 Far from one of the greatest movies ever made but from one of the best books ever written, The Hitchhikers Guide to the Galaxy has to sneak into our list. The movie came after hit radio and TV series, a five-part trilogy of novels and a BAFTA-winning computer game as if the opportunity for total absorption was not already sufficient. While this is essentially a British movie, the planet has been destroyed so that doesn't count.
---
49. (47) The Babadook – 2014
Directed by: Jennifer Kent
Starring: Essie Davis, Noah Wiseman, Daniel Henshall
Running time: 1h 33min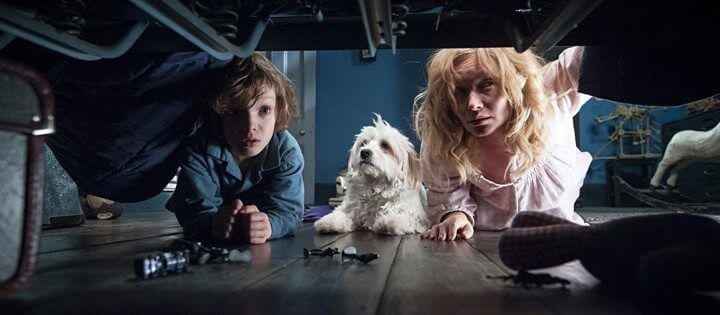 Looking to soil your pants? Sold. Being awarded the Empire Award for best horror, the Babadook takes your childhood fears and multiplies them to the point where you're actually that scared little boy/girl who is afraid of the monster under your bed. This haunting tale tells the story of how one child's book manages to come to life when the monster of the said book, haunts their family home. It was an Australian and Canadian movie collaboration, and the result is one of the scariest horror movies on Netflix.
---
48. (46) The BFG – 2016
Directed by: Steven Spielberg
Starring: Mark Rylance, Ruby Barnhill, Penelope Wilton
Running time: 1h 57min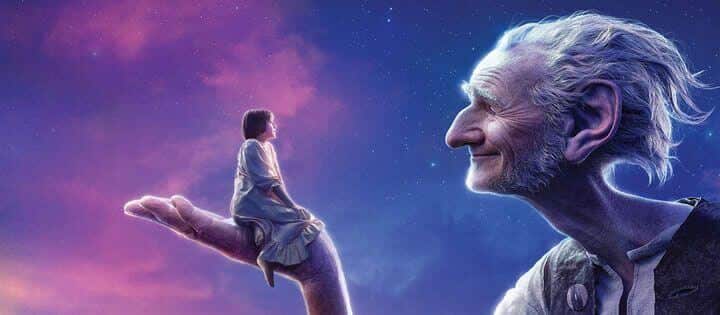 It's always good to be able to add a quality kiddies movie to our top 50 and The BFG is an absolute delight. From the book by Roald Dahl and directed by Steven Spielberg this charming and lighthearted fantasy is brought to life through technology that simply didn't exist when the book was originally written. Watch it as a family.
---
47. (45) Sand Castle – 2017
Directed by: Fernando Coimbra
Starring: Nicholas Hoult, Logan Marshall-Green, Henry Cavill
Running time: 1h 53min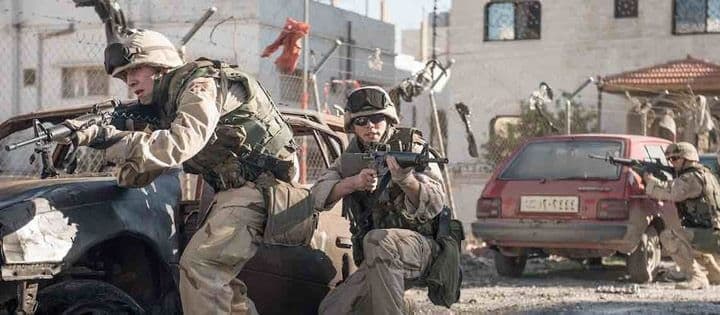 It is arguable that not enough time has yet passed for the movie industry to look at events in the middle east with any great authority. Sand Castle is a Netflix movie (Netflix are primarily TV producers) and the script could well have started out as a TV show. There are good lines and some pleasantly funny bits. This is a good movie dealing with a difficult subject matter. Perhaps it could have been better? You decide.
---
46. (44) Goosebumps – 2015
Directed by: Rob Letterman
Starring: Jack Black, Dylan Minnette, Odeya Rush
Running time: 1h 43min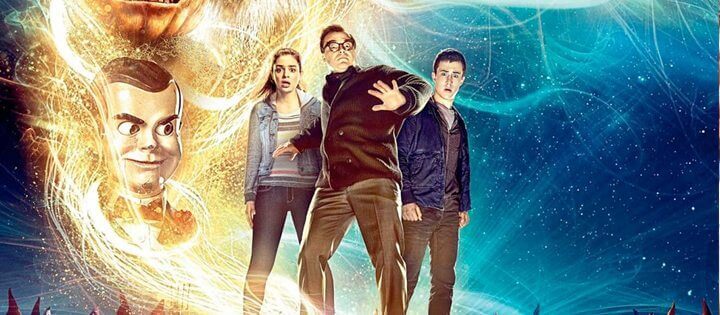 Goosebumps is a family friendly monsters movie with some nice special effects and quality performances from a largely unknown supporting cast. Jack Black in the lead role is his usual competent self. Based loosely on the series of Shivers children's books (Black's character is rather shamelessly called Shivers) which were, in turn, a "rip off" of the earlier series of Goosebumps books. This is the end of a procession of, er, recycled material that actually works.
---
45. (-) Groundhog Day – 1993
Directed by: Harold Ramis
Starring: Bill Murray, Andie MacDowell, Chris Elliott
Running time: 1h 41min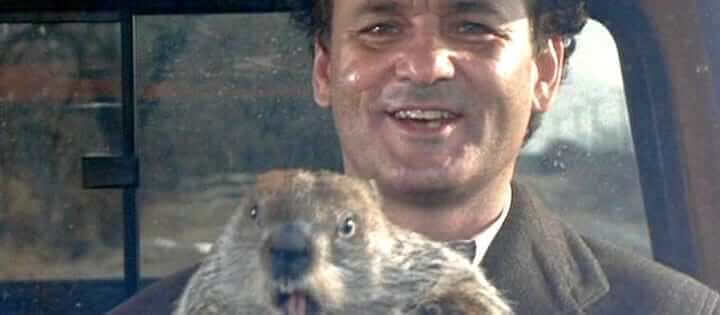 If we were going to witty, or perhaps ironic, we would have Groundhog as every other entry in this months list. But then we'd have to write the review over and over again until we got it right. Groundhog day is actually on the 2nd February so the release to Netflix in September is a little out of kilter. We pretty much know what the weather is going to be for the next six months so a small furry animal wouldn't be of much help anyway.
---
44. (43) Love Actually – 2003
Directed by: Richard Curtis
Starring: Hugh Grant, Martine McCutcheon, Liam Neeson and many more
Running time: 2h 15min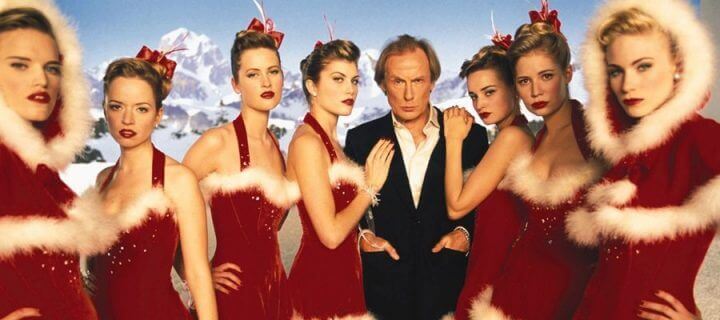 Arguably a chick flick – actually, let's not argue, Love Actually is a chick flick. The movie follows the developing (or not so developing) relationships between a host of many interwoven characters. From the ever excellent pen of Richard Curtis, Love Actually assembles the cream of British comedy actors, and they deliver a typically British gentle but pervasive humour that has no message or moral tale. It's just a romantic romp and, as such, it works.
---
43. (42) Steel Magnolias – 1989
Directed by: Herbert Ross
Starring: Shirley MacLaine, Olympia Dukakis, Sally Field and more
Running time: 1hr 57min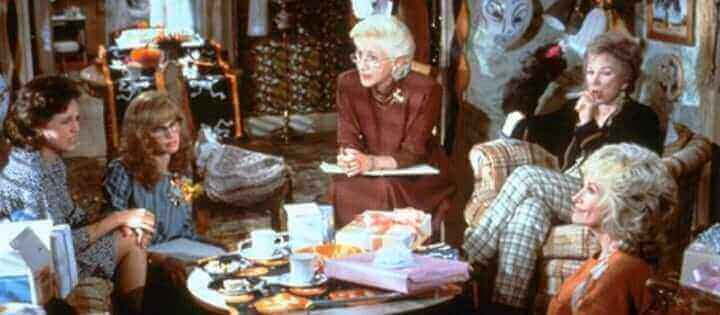 Steel Magnolias has a stellar cast list that just goes on and on. With an impeccable sript to work with, they deliver a warm and a reality that is faultless. OK, this is really one for the girls but, frankly, that doesn'y matter in the slightest. Story telling, acting and direction of this quality will always be timeless as evidenced by it's enduring popularity after nearly 30 years.
---
42. (41) Fracture – 2007
Directed by: Gregory Hoblit
Starring: Anthony Hopkins, Ryan Gosling, David Strathairn
Running time: 1hr 53min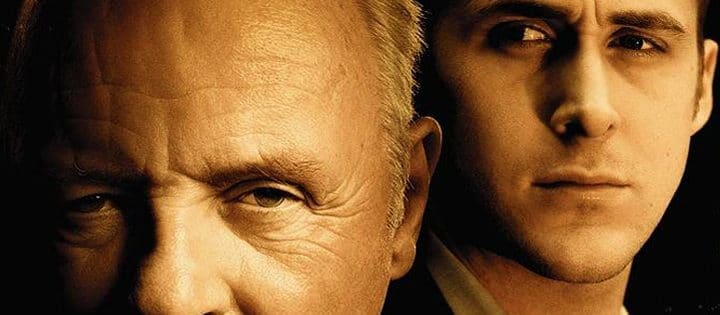 How many crime/courtroom dramas can possibly be made? Fracture is yet another. The good news is that Anthony Hopkins is his usual hypnotice self and the story here is strong. Imaginative camera work helps and you can easily ignore some of the medical inaccuracies. The dialogue, though, is where Facture fully delivers. The exchanges between the devious engineer and the driven attorney are great.
---
41. (40) Beasts of No Nation – 2015
Directed by: Cary Fukunaga
Starring: Abraham Attah, Emmanuel Affadzi, Ricky Adelayitor
Running time: 2h 17min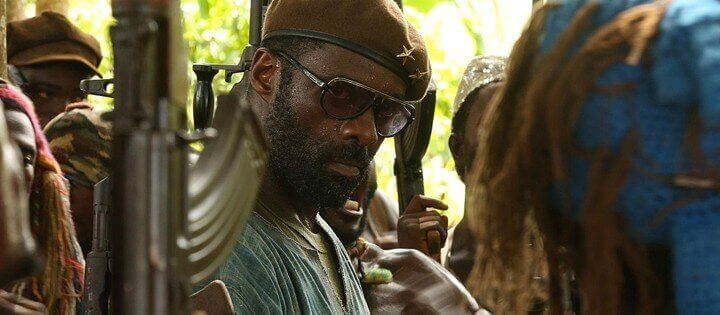 Beasts of No Nation was the movie that Netflix had in its inventory to change cinema forever. While it didn't quite cause the revolution they were hoping for, it did leave Netflixers with one of the best movies of 2015. Thought-provoking and moving, the movie starred Idris Elba and followed the civil conflict in Africa.
---
40. (39) Scooby-Doo – 2002
Directed by: Raja Gosnell
Starring: Matthew Lillard, Freddie Prinze Jr., Sarah Michelle Gellar
Running time: 1h 26min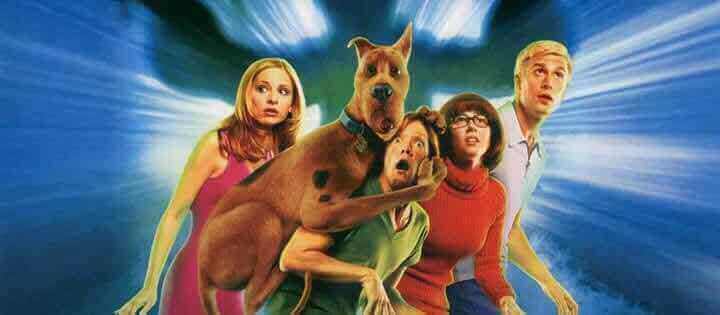 Set on Spooky Island, of course, Scooby Doo has a far more sophisticated plot than any of the original cartoons. The mix of acting and animatronics is too rarely attempted in the movies and those who complain about Scooby-Doo having been made on a home computer miss the point. This is a fond nod to the original cartoon series and a good one. And, if you're into farting and belching, there's a sequence you will particularly enjoy.
---
39. (38) The Aviator – 2004
Directed by: Martin Scorsese
Starring: Leonardo DiCaprio, Cate Blanchett, Kate Beckinsale
Running time: 2hr 50min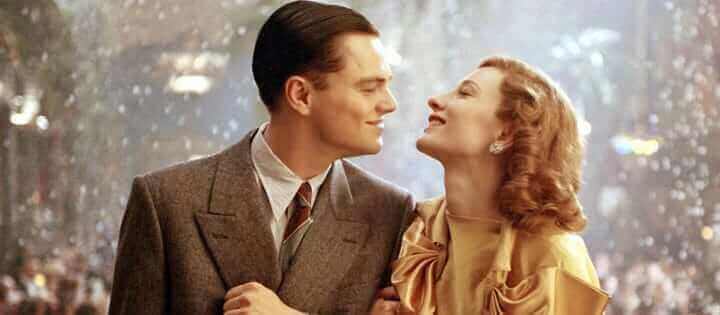 Many have heard of Howard Hughes but not everyone is aware of what a complete OCD weirdo he was. The Aviator goes a long way towards correcting that. Nominated for 11 Oscars and winner of 5, it plumbs the depths of Hughes mind with enormous sensitivity. Hughes inherited his fathers tool company (and therewith substantial weatlh) at a young age. This allowed him to indulge his passion for aviation. The great story comes from the Outlaw where he engaged his aircraft designers in the creation of a new concept in bras for Jane Russell.
---
38. (37) Kill Bill: Vol 1 & Vol 2 (2003,2004)
Directed by: Quentin Tarantino
Starring: Uma Thurman, David Carradine, Daryl Hannah and many more
Running times: 1h 51min, 2h 17min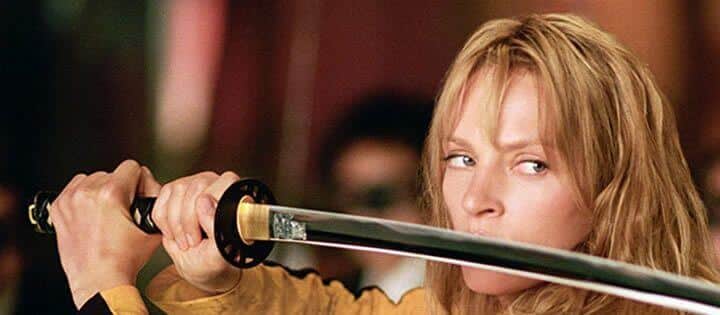 We've bundled the two Kill Bill movies together because they're basically one movie and should be watched in one sitting. Apart from the combined length, it remains a mystery why they were released separately. This is Tarantino trademark violence and gore. The scenes in Japan are especially powerful and the use of animation is a really clever stuff.
---
37. (36) Million Dollar Baby – 2004
Directed by: Clint Eastwood
Starring: Hilary Swank, Clint Eastwood, Morgan Freeman
Running time: 2hr 12min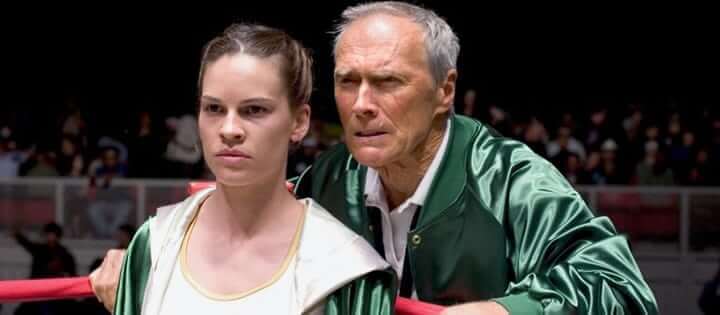 It's good to have Clint Eastwood in our list again. Million Dollar Baby is the story of an aspiring female boxer, her reluctant coach and their developing relationship. For a sports theme movie it did well at the Oscars bagging 4 of the little gold statutes. Since the last sports movie to achieve this was Chariots of Fire, this is testament to the quality of the movie. Hilary Swank is Maggie Fitzerald; a great performance. And watch out for Morgan Freeman as well.
---
36. (35) Hot Fuzz – 2007
Directed by: Edgar Wright
Starring: Simon Pegg, Nick Frost, Martin Freeman
Running time: 2h 1min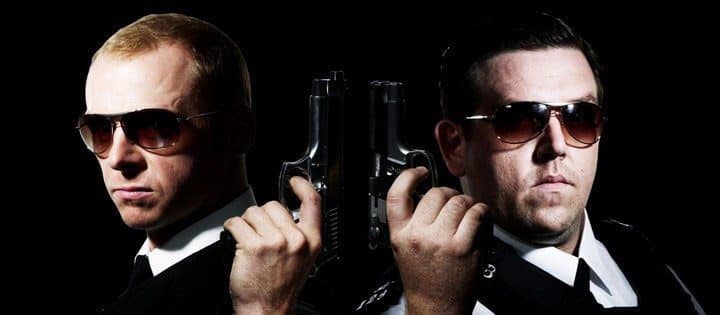 The second movie in the Cornetto trilogy is by far my favorite and thankfully, streaming on Netflix. With Nick Frost and Simon Pegg back in action, this time, instead of fighting zombies they're patrolling a quaint and quiet town in the countryside. But not all is as it seems. Yes, Simon Peggs runs into a fence. Watch it.
---
35. (34) Chocolat – 2000
Directed by: Lasse Hallström
Starring: Juliette Binoche, Judi Dench, Alfred Molina
Running time: 2h 1min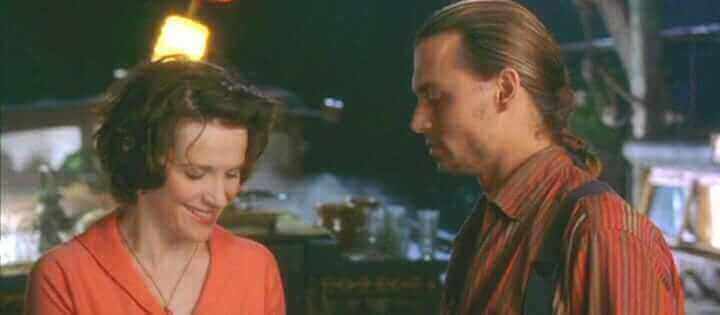 Nominated for 5 Oscars, Chocolat is up there with the best of the romcoms. This is a gentle movie about many things that matter life – love, sincerity, tolerance, good over evil and the enjoyment of life simple pleasures. And that includes chocolate of course. The performances from Jonny Depp, Judi Dench, Juliette Binoche in supporting roles are immaculate. Joanne Harris' novel is brought to the screen perfectly.
---
34. (33) 9 – 2009
Directed by: Shane Acker
Starring: Elijah Wood, Jennifer Connelly, Crispin Glover
Running time: 1h 19min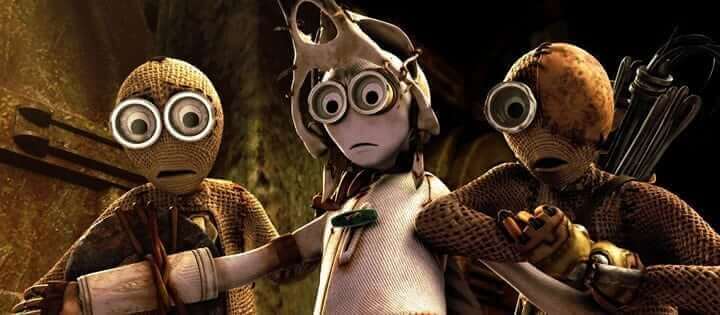 It would be easy to dismiss 9 as animation for animations sake. That would be wrong. While the concept is pretty surreal and the story rather indifferent, the delivery is very good. The bad guys are pleasantly bad and the good guys pleasantly endearing. This one draws you in and holds you. Against the backdrop of some exceptional artwork and great animation, this is probably not one for the kids. And therein lies the message. An animated movie for grown-ups has got be something special.
---
33. (32) Red Dragon – 2002
Directed by: Brett Ratner
Starring: Anthony Hopkins, Edward Norton, Ralph Fiennes
Running time: 2h 4min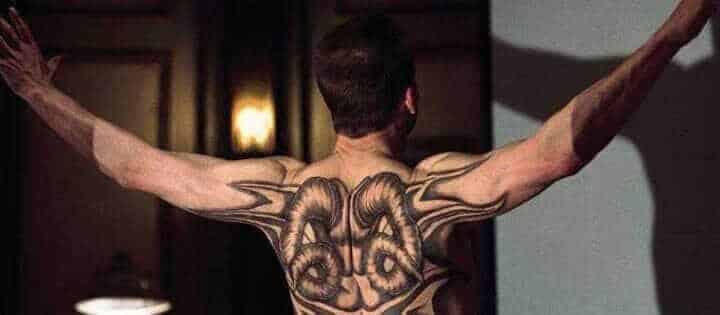 Conceptually, Red Dragon is not hugely different from Silence of the Lambs. The psychopath Hannibal Lecter is invoked to catch a serial killer from his prison cell. The film is a remake of Manhunter but is much better and retains the title of the Thomas Harris book. The thing about this movie that really works is that Francis Dolarhyde is a fairly normal, OK slightly dysfunctional, sort of bloke. You could be living next door and that's pretty scary. This is well worth a watch for all you horror fans.
---
32. (31) Deep Blue Sea – 1999
Directed by: Renny Harlin
Starring: Thomas Jane, Saffron Burrows, Samuel L. Jackson
Running time: 1hr 45min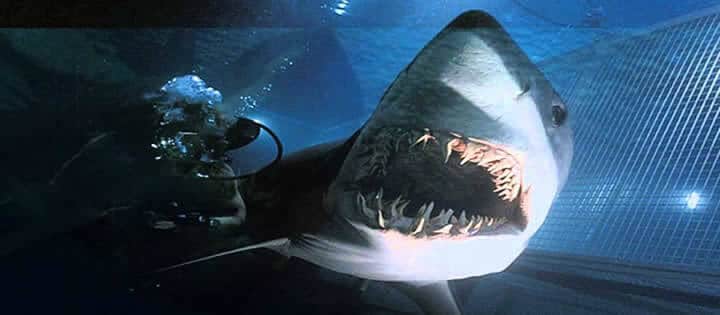 The title Deep Blue Sea is a little misleading because the bad guys live in a cage – albeit under water. They're good old sharks again. This time our favourite man eaters have been genetically modified in an attempt to find a cure for Alzheimers disease. This pisses them off. This is a larger than life action movie that delivers better than you might expect. With little to work with the actors do a good job and there's one exceptionally good piece of shark lunch.
---
31. (30) Finding Neverland – 2004
Directed by: Marc Forster
Starring: Johnny Depp, Kate Winslet, Julie Christie
Running time: 1hr 46min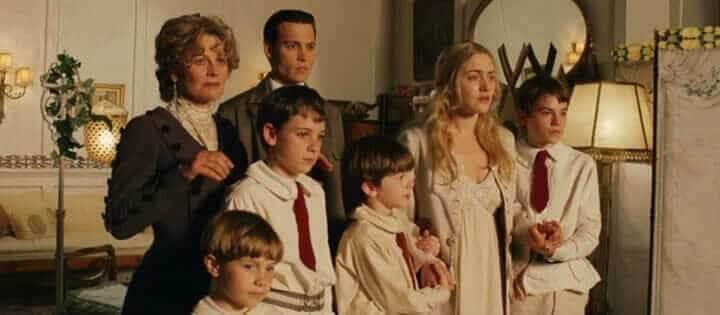 We are all aware of Peter Pan and Tinkerbell who have had plenty of coverage in the movies over the years. J.M. Barrie was a profilic Scottish writer in the late 19th/early 20th centuries and is widely attributed with inventing the girls name Wendy. This is the story of his real life relationship with the family who inspired his timeless creation. Sometimes it's difficult to watch Johnny Depp in a role away from his usual surrealistic characters but this time it works.
---
30. (29) Mortal Kombat – 1995
Directed by: Paul W.S. Anderson
Starring: Christopher Lambert, Robin Shou, Linden Ashby
Running time: 1hr 41min
Mortal Kombat is another of those oddities that was spawned by a video game. Martial arts were all the rage for a while after Bruce Lee brought kung fu to the attention of the masses and the game had sufficient depth to provide far more material than, say, the X Men. Given this, the story is pretty weak but the characters, in contrast, are well defined. For it's time this was a good enough look at the fight genre.
---
29. (28) Interview with the Vampire – 1994
Directed by: Neil Jordan
Starring: Brad Pitt, Tom Cruise, Antonio Banderas
Running time: 2hr 3min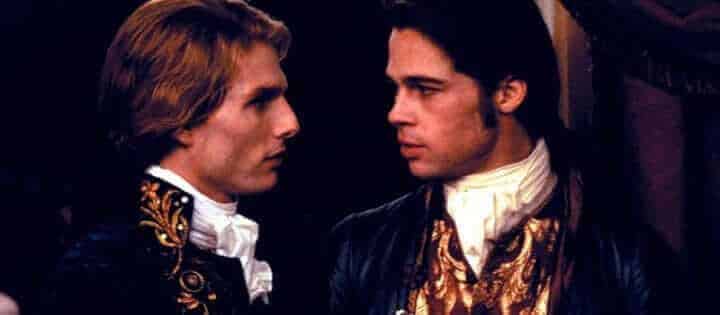 When you put two screen giants, in this case Brad Pitt and Tom Cruise, on the screen together, beware the clash of egos. But it's not just two; Interview with the Vampire is truly star studded. This is a gothic masterpiece that rightly earned two Oscar nominations. The story and the screenplay are both huge and the delivery from the cast faultless. Add an excellent soundtrack and some inspired art direction and you come up with a triumph of a movie.
---
28. (27) Hercules – 1997
Directed by: Ron Clements, John Musker
Starring: Tate Donovan, Susan Egan, James Woods
Running time: 1h 33min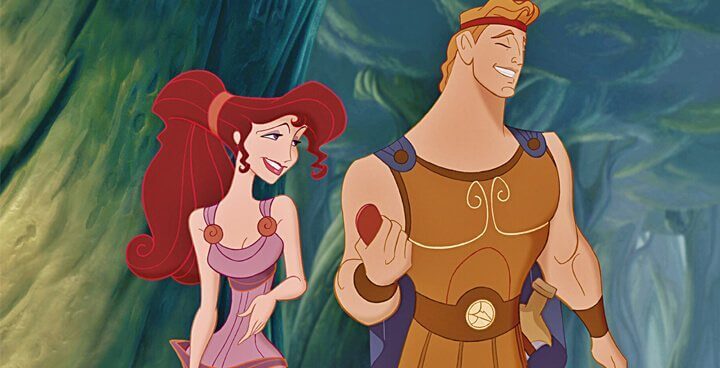 Hercules is a true story. Really. It's just very, very old. For a Disney movie, Hercules is quite exceptional in the depth of the wit and humor in the dialogue. James Woods as Hades is magnificent and the other voice overs work equally well. There has been plenty of urban myth over the years about subliminal "adult" material buried in the movie and you can follow that debate yourselves. Suffice it to say that you don't need kids around for a viewing of Hercules. This stands on it's own two feet as a movie for grown-ups.
---
27. (26) Bridget Jones's Baby – 2016
Directed by: Sharon Maguire
Starring: Renée Zellweger, Gemma Jones, Jim Broadbent
Running time: 1h 58min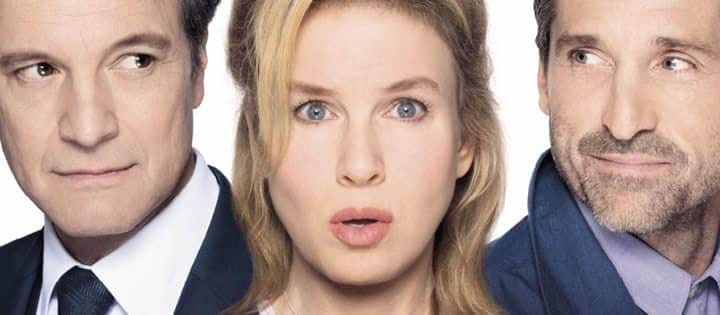 Bridget Jones's Baby is the third in the enduring and endearing series. This is a romcom for sure (a British to boot) but there's plenty in here for you strapping chaps as well. The story stands on it own but it would probably help to have seen the previous two. Renee Zellweger is brilliant as Bridget and she absolutely nails the plummy British accent. There is no reason why this franchise shouldn't run and run.
---
26. (25) No Country for Old Men – 2007
Directed by: Ethan Coen, Joel Coen
Starring: Tommy Lee Jones, Javier Bardem, Josh Brolin
Running time: 2hr 2min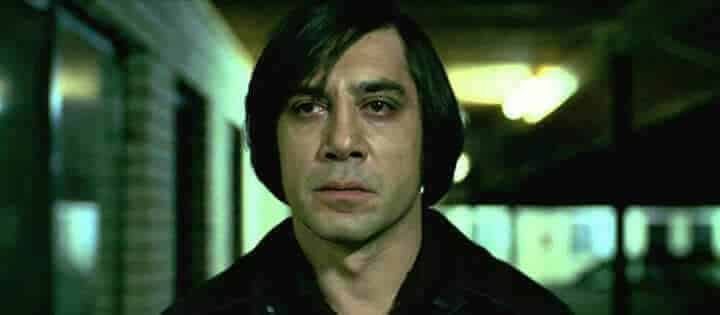 The Coen brothers at the top of their game bring us a multi-Oscar winning masterpiece.  Javier Bardem who plays the worst of baddies is the first Spanish actor to win an Oscar, and it's obvious why he won from his first scene. The movie has no music, and that adds to the tension. Cast your mind back to Jaws and what the music did for that movie, and you'll start to realise just how well this movie is made to maintain it's tension without a soundtrack. Here's a throwaway: did you know that a movie which starts with a voice over should always end with a voice over.
---
25. (24) Moana – 2016
Directed by: Ron Clements, John Musker
Starring: Auli'i Cravalho, Dwayne Johnson, Rachel House
Running time: 1h 47min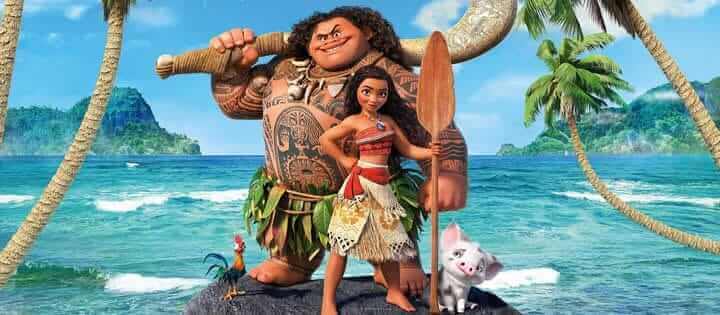 Not to be confused with the 2009 biopic about an Italian porn star of the same name, this is another Disney heroine movie in the vein of Mulan, Pocahontas, the Little Mermaid etc. This time we're on a remote island in Polynesia to deal with the baddies. As you would expect, the Disney production is flawless and the movie works for adults and children alike. The songs are particularly strong and we can see the kids wanting to watch this over and over again.
---
24. (23) Armageddon – 1998
Directed by: Michael Bay
Starring: Bruce Willis, Billy Bob Thornton, Ben Affleck
Running time: 2h 31min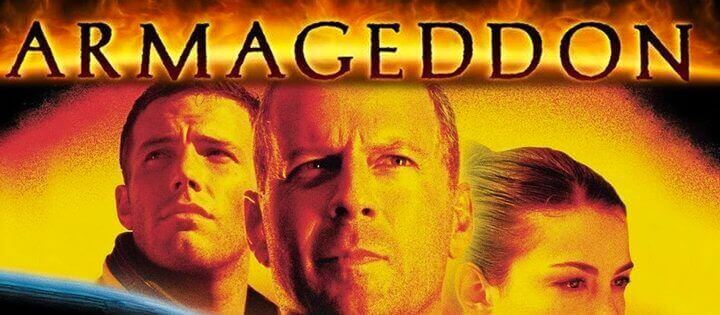 This is the story of Bruce Willis efforts to save the world from yet another threat from space. It's hardly a recruitment campaign for NASA, but they took it seriously enough to allow filming in normally restricted areas of their premises. The dialogue is excellent and witty, and it's worth watching just for that. Wouldn't it be great if it was a true story; but it's not. It's two and a half hours of pure escapism with great visuals, great sound, a love interest for the ladies and a happy ending. Couldn't be better.
---
23. (22) LA Confidential – 1997
Directed by: Curtis Hanson
Starring: Kevin Spacey, Russell Crowe, Kim Basinger and more
Running time: 2hr 18min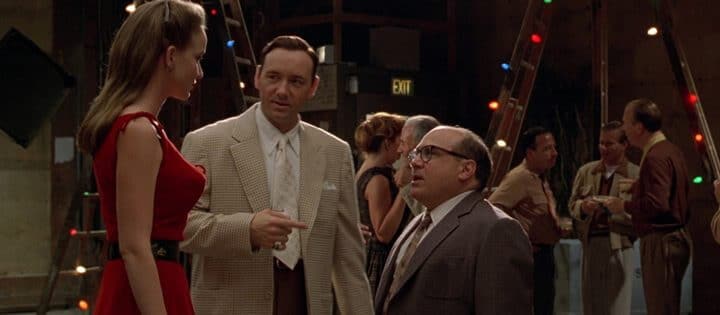 A strait-laced, a brutal, and a sleazy cop – three crime drama stereotypes – hammer through the corruption of 1950s Los Angeles. Ho hum. We have an all star cast, a fine adaptation of a novel, excellent direction, observant production and some great photography. Even though she didn't get top billing, she's the focus of the poster and Kim Bassinger is superb. As we've already observed, there's more tha enough crime drama about but this one of the better.
---
22. (-) Scarface – 1983
Directed by: Brian De Palma
Starring: Al Pacino, Michelle Pfeiffer, Steven Bauer
Running time: 2hr 50 min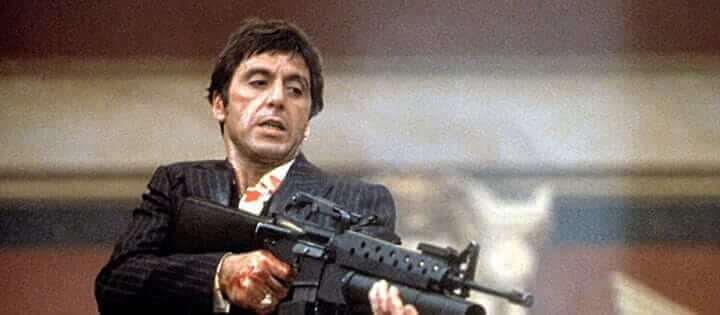 Say hello to my little review. See what we did there? Oft quoted but rarely seen, Scarface is the movie for which Al Pacino is most remembered. A brutal look at the drug world in Miami that sees Tony Montana rise to the top and then become the target, Scarface is uncomfortably violent. The screenplay is completely reliant on the f***bomb. Bizarrely, we are sympathetic to the evil scarface. This is definitely a classic.
---
21. (21) Troy – 2004
Directed by: Wolfgang Petersen
Starring: Brad Pitt, Eric Bana, Orlando Bloom
Running time: 2h 43min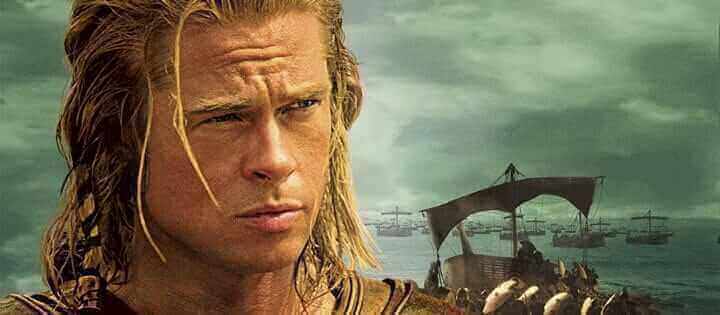 That Homer eh! Still got it after all these years. This is, of course, a telling of the Odyssey which means plenty of sand, sandals and sword fights. Brad Pitt nails the pretty boy in the army bit and Diane Kruger is delightful as Helen of Troy, the face that launched a thousand ships. And the special effects that bring those thousand ships to life are excellent. There's an age old love story here so it's not just one for the boys.
---
20. (20) The Truman Show – 1998
Directed by: Peter Weir
Starring: Jim Carrey, Ed Harris, Laura Linney
Running time: 1h 43min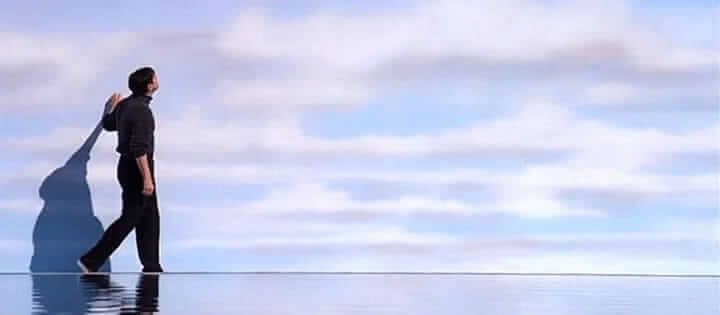 Jim Carrey made his name as a lightning fast rubber faced comedian and his ventures into serious roles have not always been comfortable. The Truman Show stands apart. The concept is a wonderful piece of "what if" imagination and it's perfectly explored. The metaphorical development of the boy to the man and his ultimate liberation will leave you with tears in your eyes.
---
19. (19) Shrek – 2001
Directed by: Andrew Adamson, Vicky Jenson
Starring: Mike Myers, Eddie Murphy, Cameron Diaz
Running time: 1hr 30min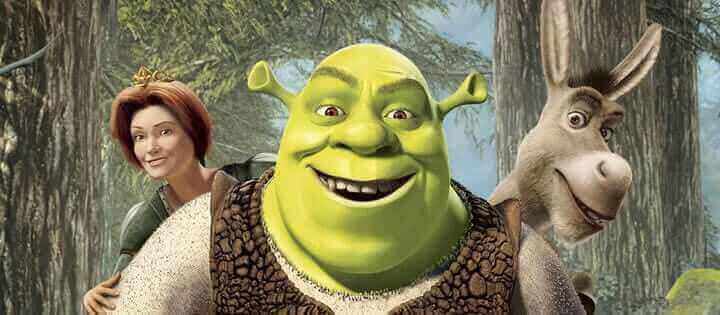 Even Mike Myers bizarre Scottish accent adds something to Shrek. Years ahead of it's time, this CGI masterpiece has value in every line and in every shot. The comedy works for children and adults alike and the storyline is worthy of the Brothers Grimm. But the stand out creation is Donkey as voiced by Eddie Murphy. This irrepressible oaf is one of the finest characters the movie industry has ever dreamt up. Watch it on Netflix while you can and then buy the DVD.
---
18. (18) The Imitation Game – 2014
Directed by: Morten Tyldum
Starring: Benedict Cumberbatch, Keira Knightley, Matthew Goode
Running time: 1hr 54min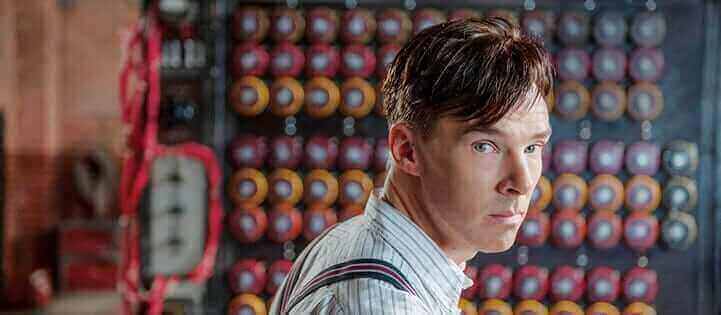 This very British movie tells the story of the work of Alan Turing in breaking the German Enigma code during the Second World War. An Enigma machine was captured of a German U Boat by the British (or the Americans if you believe the hogwash of u-571) and Turing's work amounted to the genesis of the modern computer. The true story in itself is powerful and this telling of it is worthy of the best writer Oscar that it won.
---
17. (17) Blood Diamond – 2006
Directed by: Edward Zwick
Starring: Leonardo DiCaprio, Djimon Hounsou, Jennifer Connelly
Running time: 2h 23min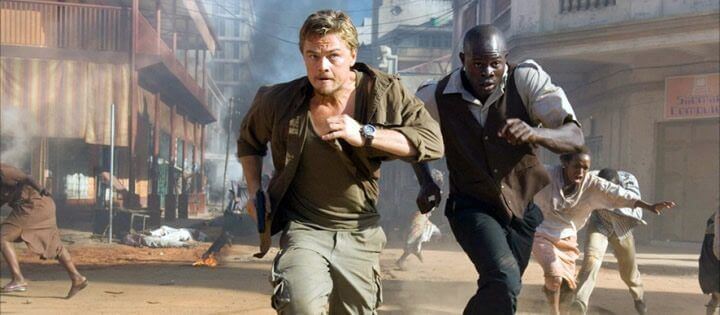 Blood Diamond is a good movie made by another excellent performance from Leonardo DiCaprio. Will it join the pantheon of cinema greats? Probably not. Blood Diamond is more emotionally engaging than several of the spate of movies that examined various aspects of problems in Africa and it is easy to be encouraged by the sense of morality that the characters show in the face of some unpleaseant circumstances.
---
16. (-) The Lord of the Rings: The Fellowship of the Ring – 2001
Directed by: Peter Jackson
Starring: Elijah Wood, Ian McKellen, Orlando Bloom
Running time: 2hr 58min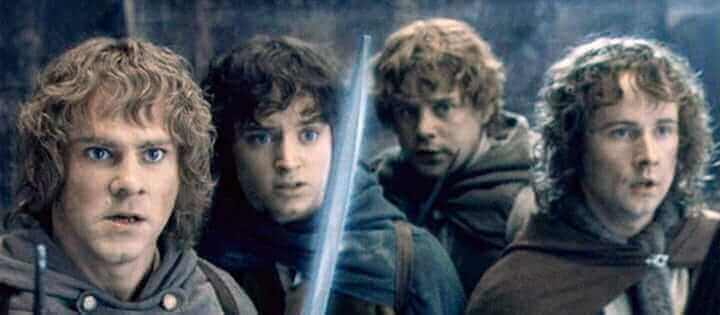 The almighty Lord of the Rings trilogy from the classic novel by J.R.R Tolkein begins with The Fellowship of the Ring. No doubt, The Two Towers and the Return of the King will follow soon. The three hours will seem so much shorter as the incredible CGI and other special effects become totally absorbing. It's rare that something on this epic scale is attempted and rarer still when it completely succeeds. Watch this with awe.
---
15. (15) The Hateful Eight – 2015
Directed by: Quentin Tarantino
Starring: Samuel L. Jackson, Kurt Russell, Jennifer Jason Leigh
Running time: 3h 7min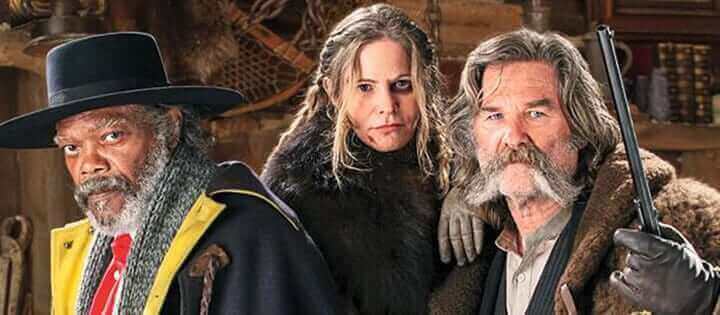 The Hateful Eight takes over 3 hours to earn its Oscar and that was for the music. As Tarantino movies go, there's plenty of gore and violence but the dialogue really isn't up to his usual standard. Also, the story is virtually non-existent; its just people killing other people. The movie was much hyped before its release and the script was leaked adding to the hype. If you're a Tarantino fan, give it a go. If you're a western fan, don't expect a lot of glorious scenery.
---
14. (14) Se7en – 1995
Directed by: David Fincher
Starring: Morgan Freeman, Brad Pitt, Kevin Spacey
Running time: 2hr 7min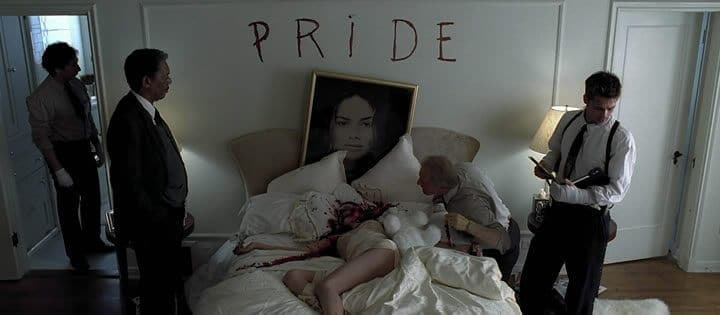 Pitched as a crime drama (yawn), Se7en is much nearer to a horror classic (unyawn). This is a darkly disturbing movie in which the serial killer is on a project to get rid of seven people guilty of the seven deadly sins. These are pride, greed, lust, envy, gluttony, wrath and sloth in case you'd forgotten. Spoiler alert? The seventh victim…. no, no no.
---
13. (13) Disney's 101 Dalmatians – 1996
Directed by: Stephen Herek
Starring: Glenn Close, Jeff Daniels, Joely Richardson
Running time: 1hr 43min
The animated version of 101 Dalmatians was released in 1966 and was a Disney classic. The 1996 comes pretty close. Hugh Lawrie and Mark Williams – British comedians – are excellent as the bumbling dog catchers (who wouldn't be when there's 101 of them) and Glenn Close must have had a ball playing the evil Cruella. Of course, the dogs are clearly more inteeligent than the humans and this is why 101 Dalmatians must be taken most seriously. Or not. This is a great family watch.
---
12. (12) Swordfish – 2001
Directed by: Dominic Sena
Starring: John Travolta, Hugh Jackman, Halle Berry
Running time: 1hr 39min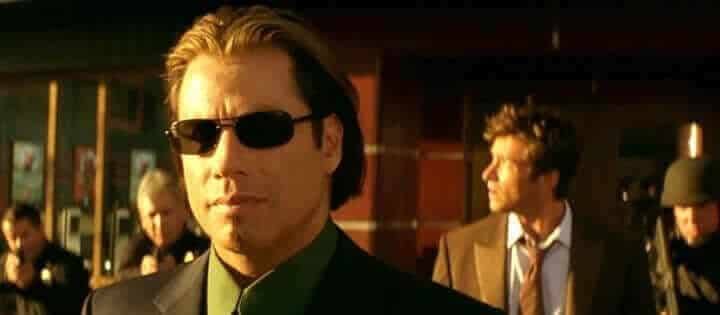 If for no other reason, the opening sequences of Swordfish make this a hugely watchable movie. Having said that, a couple of other points come out quite nicely later in the movie. The cast is stacked with both American and British stars which is a fairly transparent attempt to make the movie popular on both sides of the Atlantic. Frankly, they needn't have bothered. The movie has got sufficient going on to make it work. Deep and meaningful it ain't but the special effects more than makeup for that.
---
11. (-) Unforgiven – 1992
Directed by: Clint Eastwood
Starring: Clint Eastwood, Gene Hackman, Morgan Freeman
Running time: 2h 10min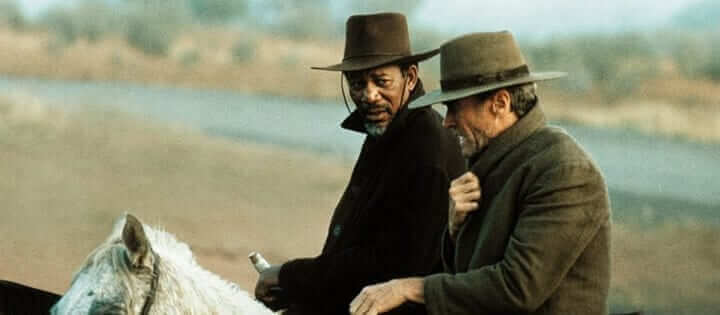 Clint Eastwood is an all too rare visitor to our top 50. William Munny is a killer. If it moves, he kills it. But at the end of his career he is having regrets as he takes on one last job. This is a gritty look at the "Wild West" and is a major departure from the spaghetti westerns in which Eastwood first appeared. Gene Hackman brings an extraordinary tension to the movie and the supporting cast all help deliver a masterpiece for which Eastwood was, quite rightly, awarded an Oscar.
---
10. (10) Jurassic Park – 1990
Directed by: Steven Spielberg
Starring: Sam Neill, Laura Dern, Jeff Goldblum
Running time: 2h 7min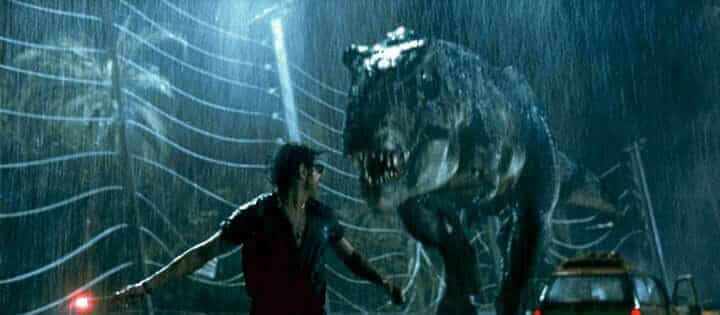 It's quite extraordinary how often Steven Spielberg appears in our top 50 lists. There can be no other director which such a body of strong work. This time Micahel Crichtons vision of the perils of mucking about with genetics come to life as dinosaurs. They are, biug surprise, uncontrollable and start eating people. This is a tension charged movie that never lets go. The special effects were revolutionary at the time but have remained undated.
---
9. (9) Eyes Wide Shut – 1999
Directed by: Stanley Kubrick
Starring: Tom Cruise, Nicole Kidman, Todd Field
Running time: 2h 39min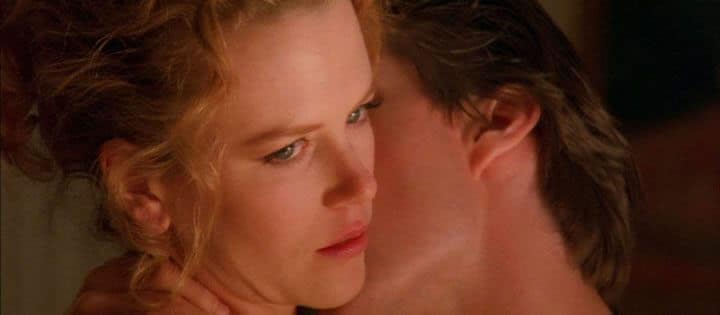 Husband and wife off screen at the time, Tom Cruise and Nicole Kidman deliver in Stanley Kubricks last movie (he died before it was completed). Kubrick was never afraid to go where others might fear to tread and his examination of sex and sexuality is hidden in the dialogue. The movie was hyped as being very nearly a porno and it simply isn't; there is nothing gratuitous about any of the erotica and this is a thought provoking masterpiece from the master.
---
8. (8) The King's Speech – 2010
Directed by: Tom Hooper
Starring: Colin Firth, Geoffrey Rush, Helena Bonham Carter
Running time: 1h 58min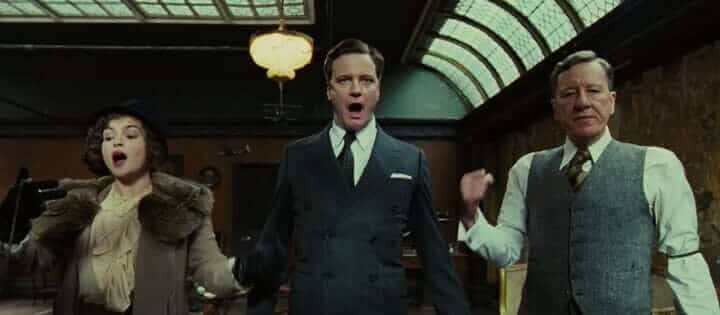 When the British knock out a great movie, they don't hang around. The King's Speech collected 4 Oscars from it's 12 nominations. There is an enduring respect if not love for the British royal family around the world and there seems to be and enduring appetite for stories about them. Reference, of course, the Netflix Original drama The Crown. Events surrounding the abdication are well know but this is a nice look at what was going on from a completely different angle.
---
7. (7) The Princess Diaries – 2001
Directed by: Garry Marshall
Starring: Julie Andrews, Anne Hathaway, Hector Elizondo
Running time: 1h 51min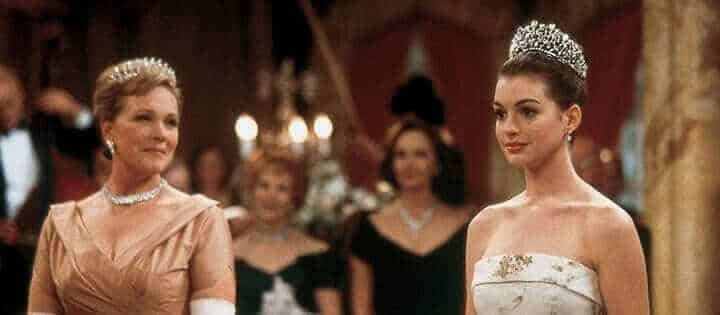 Every schoolgirl wants to be a princess at some point in their life. Sadly, very few get the chance. And therein lies a bit of a cliché. But that's not a problem. The Princess Dairies is well written and is a clever and funny movie. Julie Andrews and Anne Hathaway are at their best and the on screen chemistry is good. The minor characters add weight to the film and this is definitely one for all the family.
---
6. (6) Amélie – 2001
Directed by: Jean-Pierre Jeunet
Starring: Audrey Tautou, Mathieu Kassovitz, Rufus
Running time: 2h 2min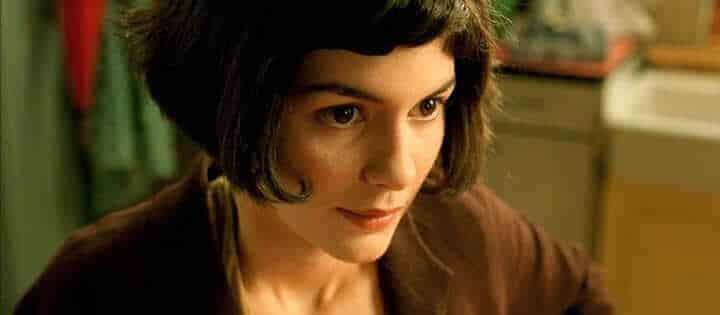 Time for a bit of foreign cinema now and what better than the French romantic comedy, Amelie. Living in Paris, Amelie is shy but wants to break her boundaries in helping other people and along the way she finds love. It's maybe a bit too artsy for some, but the diehard fans who love it would suggest it to you any day of the week.
---
5. (5) Life Is Beautiful – 1997
Directed by: Roberto Benigni
Starring: Roberto Benigni, Nicoletta Braschi, Giorgio Cantarini
Running time: 1hr 56min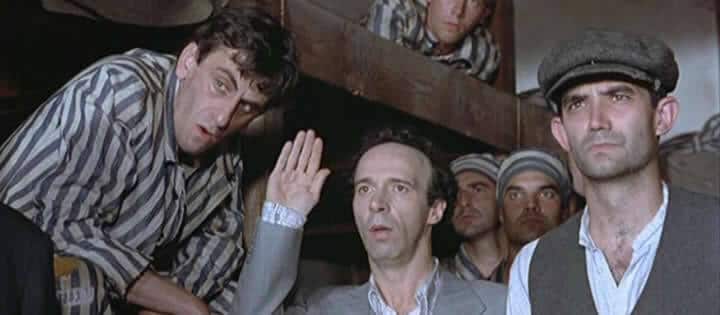 Winner of 3 Oscars, including best actor – remarkable for a foreign language movie – Life is Beautiful examines the often forgotten fact that the Italian jews were as much victims of the holocaust as other nationalitites. The energy that Benigni delivers is astonishing and the lightness he brings to an horrific subject is pure genius. This is a must watch.
---
4. (4) Full Metal Jacket – 1987
Directed by: Stanley Kubrick
Starring: Matthew Modine, R. Lee Ermey, Vincent D'Onofrio
Running time: 1h 56min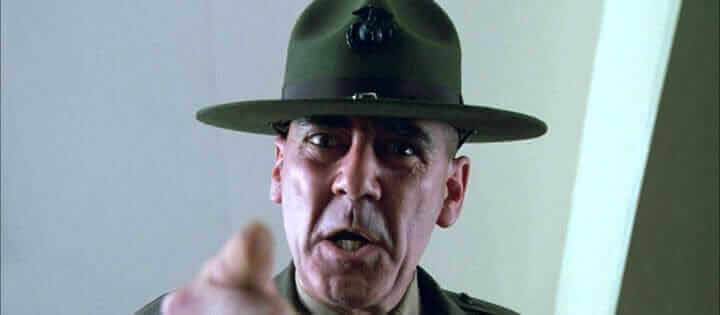 R. Lee Ermey's creation of Gunnery Sergeant Hartman in Full Metal Jacket is one of the finest war movie characters ever. Period. The first half of the movie is dominated by this towering and relentless performance with some of the best black comedy that can only come out of the Vietnam conflict. The second half of the movie moves to Vietnam and becomes a strong anti war statement from director Kubrick. And that rather makes it two movies. Frankly, if this is two for the price of one we're all for it.
---
3. (3) The African Queen – 1951
Directed by: John Huston
Starring: Humphrey Bogart, Katharine Hepburn, Robert Morley
Running time: 1h 45min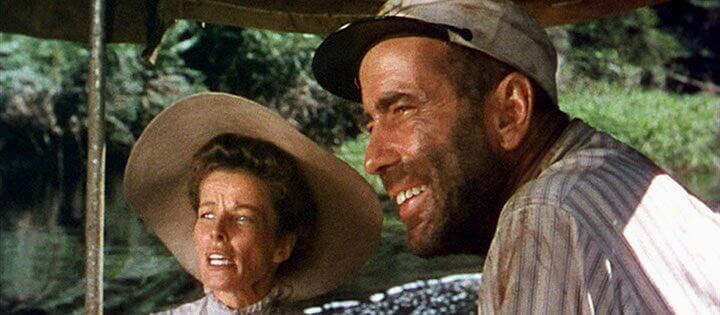 We've written before about this Oscar winner and are delighted to be able to write about it again. Humphrey Bogart and Katherine Hepburn are giants of the cinema screen and their delivery of the story of an extraordinary relationship between two ill-matched people is an object lesson in acting for the current generation. Set in Africa during the second world war, the story, frankly plays second fiddle to the unfolding love story and you can feel every emotion that the characters feel. This is a classic that should be on everyone's "seen that" list.
---
2. (2) The Godfather – 1972, The Godfather: Part II – 1974, The Godfather: Part III – 1990
Directed by: Francis Ford Coppola
Starring: Marlon Brando, Al Pacino, James Caan, Robert de Niro and many more
Running time: 2h 55min, 3h 22min and 2h 42min. 8h 59min total.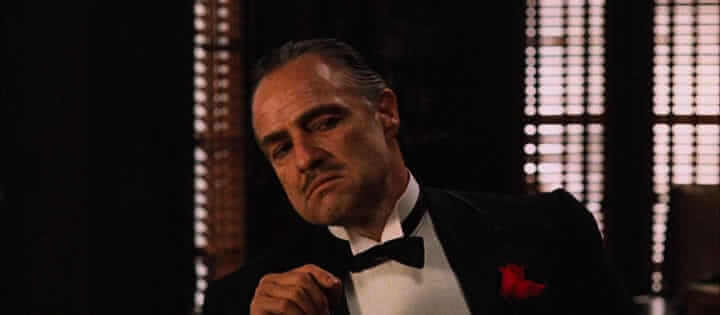 It is only right that we in include the 3 Godfather movies as a trilogy (the only trilogy ever where each movie has won Oscars). At one minute shy of nine hours you really do need to set aside a weekend and watch all three from beginning to end. The Corleone family are mafia without doubt but we never actually learn what they get up to because that isn't important. What is important it that this is a family fighting to protect itself against all comers – bad and badder. Never are we invited to dislike any of them and the last tragedy of the movie will have you in tears. An absolute must.
---
1. (1) Schindlers List – 1993
Directed by: Steven Spielberg
Starring: Liam Neeson, Ralph Fiennes, Ben Kingsley
Running time: 3h 15min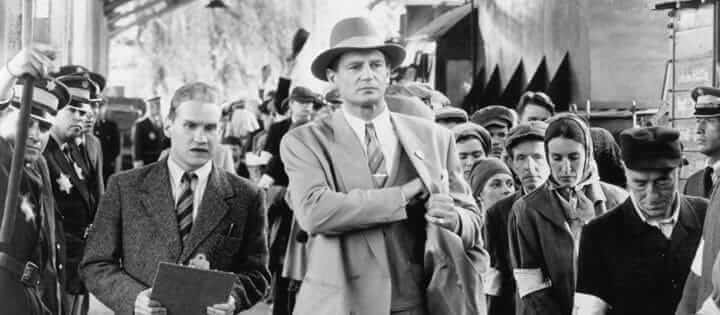 Another classic from the great Steven Spielberg, Schindlers List is the true story of the efforts of a conscientious German businessman to help Jews avoid the Nazi concentration camps. Oskar Schindler was not a particularly likeable person which makes this story even more remarkable. This is a long movie at over 3 hours but the 7 Oscars it won explain why it's a must watch. Let's hope it's lessons have been learned for all time.