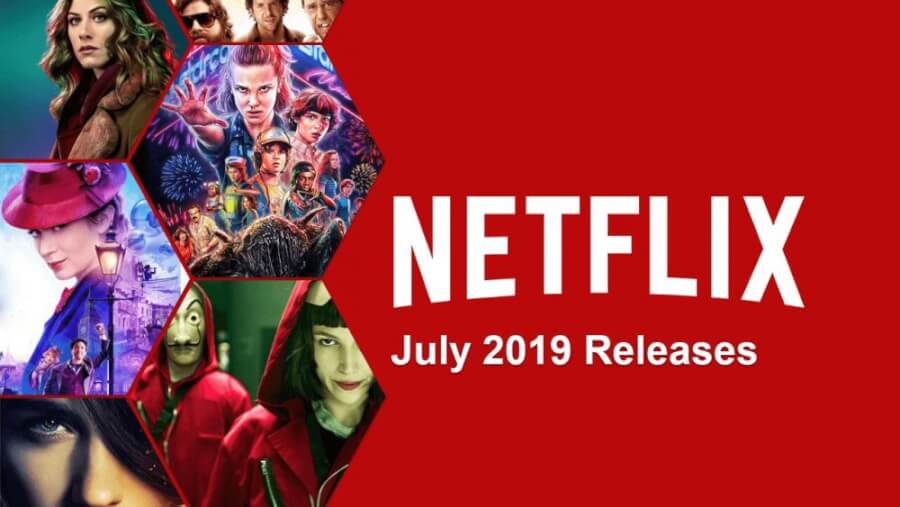 Welcome to your comprehensive look at what's coming to Netflix in the United States throughout the month of July 2019. Here, we'll be listing all the new movies, TV series, documentaries and stand-ups headed your way throughout the month. 
As always, you can check out our full previews of the Netflix Originals featured in this list on our Originals preview for July plus we'll have other countries monthly previews later.
Here's your highlights and the full list of what's coming to Netflix in July 2019:
Article Continues Below...
July 2019 Netflix Highlights
New Movies

As always, the first of the month will see a bit of a refresh of Netflix's movie libraries and we're seeing a few classics from the 2000s added to Netflix. The Hangover which is directed by the main man behind Chernobyl on HBO.
M. Night Shyamalan's Lady in the Water will also be joining Netflix on July 1st. Shortly before Tarantino's latest Once Upon a Time in Hollywood, Netflix will once again see the addition of Inglourious Basterds.
Disney has three new movies added this month with the biggest and newest being the 2018 reboot of Mary Poppins.
---
New TV Series

The majority of the big TV series coming out in July are Netflix Originals. The first and possibly the biggest release of the year for Netflix is Stranger Things season 3. The series will have us returning to Hawkins and follows the boys and girls during summer.
Netflix's first full series of Money Heist returns in July and will see us follow the aftermath of the biggest heist in Spanish history.
From other partners, Netflix will be getting The CW's In the Dark and the third season of Syfy's Wynonna Earp. The popular prison drama from Australia Wentworth will be returning at the end of July.
---
New Documentaries

NOVA, the PBS series is dropping a bunch of new episodes in July with one episode being especially prominent in recent months. Building Chernobyl's MegaTomb takes a look at the recent construction of the dome that's surrounding Chernobyl's nuclear reactor.
Grand Designs will be returning to Netflix US for two seasons this month which continues to document ambitious house builds in the United Kingdom.
The Great Hack arriving later in July will see journalists and experts weigh in on the Cambridge Analytica story.
---
Full list of what's coming to Netflix July 2019
Here's the first preliminary list
Coming to Netflix on July 1st
Alice Doesn't Live Here Anymore (1974)
Astro Boy (2009)
Caddyshack (1980)
Caddyshack 2 (1988)
Charlie and the Chocolate Factory (2005)
Cheech & Chong's Up in Smoke (1978)
Cloverfield (2008)
Disney's Race to Witch Mountain (2009)
Designated Survivor: 60 Days (Season 1)

Netflix Original Korean Series

Frozen River (2008)
Inkheart (2008)
Katherin Ryan: Glitter Room (2019)

Netflix Original Stand-up Special

Kill the Irishman (2011)
Lady in the Water (2006)
Little Monsters
Mean Dreams (2016)
Mean Streets (1973)
Nights in Rodanthe (2008)
NOVA: Bird Dream
NOVA: Black Hole Apocolypse
NOVA: Building Chernobyl's MegaTomb
NOVA: Death Dive to Saturn
NOVA: Decoding the Weather Machine
NOVA: Extreme Animal Weapons
NOVA: Killer Floods
NOVA: Killer Volcanoes
NOVA: Poisoned Water
NOVA: The Impossible Flight
Paul Blart: Mall Cop (2009)
Philadelphia (1993)
Rain Man (1988)
Road House (1989)
Room on the Broom (2012)
Scream 3 (2000)
Shorts (2009)
Starsky & Hutch (2004)
Swiped (2018)
Swordfish (2001)
Taxi Driver (1976)
The Accountant of Auschwitz (2018)
The American (2010)
The Brothers Grimm (2005)
The Book of Eli (2010)
The Hangover (2009)
The Pink Panther (2006)
The Pink Panther 2 (2009)
War Against Women (2013)
Coming to Neflix on July 2nd
Bangkok Love Stories: Objects of Affection (Season 1)
Bangkok Love Stories: Plead (Season 1)
Good Witch (Season 4)
Coming to Netflix on July 3rd
The Last Czars (Season 1)

Netflix Original Series

Yummy Mummies (Season 2)

Netflix Original Australian Reality Series
Coming to Netflix on July 4th
Kakegurui (Season 2) Netflix Original Anime Series
Stranger Things (Season 3)

Netflix Original Series
Coming to Netflix on July 5th
In the Dark (Season 1)

The CW Release
Coming to Netflix on July 6th
The Iron Lady (2011)
Sicilian Ghost Story (2017)
Coming to Netflix on July 7th
Free Rein (Season 3)

Netflix Original Kids Series
Coming to Netflix on July 9th
Disney's Mary Poppins Returns (2018)
Kinky (2018)
Coming to Neflix on July 10th
Family Reunion (Season 1)

Netflix Original Sitcom

Grand Designs (Season 10)
Grand Designs (Season 15)
Parchís: El documental (2019)

Netflix Original Documentary
Coming to Netflix on July 12th
3Below: Tales of Arcadia (Part 2)

Netflix Original Kids Series

4 latas (2019)

Netflix Original Foreign Movie

Blown Away (Season 1)

Netflix Original Canadian Series

Bonus Family (Season 3)

Netflix Original Swedish Series

Extreme Management (Season 1)

Netflix Original Series

Kidnapping Stella
Luis Miguel: The Series (Season 1)

Netflix Original Series

Point Blank (2019)

Netflix Original

Smart People (2008)
The Taco Chronicles (Season 1)

Netflix Original Documentary 

True Tunes: Songs
Coming to Netflix on July 13th
Plaire, aimer et courir vite / Sorry Angel (2018)
Coming to Netflix on July 15th
Grizzy et les Lemmings (Season 1)
Love Shot
Coming to Netflix on July 16th
The Break-U
Disney's The Princess and the Frog (2009)
Frankenstein's Monster's Monster, Frankenstein (2019)

Netflix Original Movie

Unrequited Love (Season 1)

Netflix Original Korean Series

We Belong Together (2018)
Wynonna Earp (Season 3) Syfy Release
Coming to Netflix on July 17th
Mauli (2018)
Pinky Malinky (Part 3)

Netflix Original Kids Series
Coming to Netflix on July 18th
Secret Obsession (2019)

Netflix Original Movie
Coming to Netflix on July 19th
Comedians in Cars Getting Coffee (Season 11)

Netflix Original Series

Knights of the Zodiac: Saint Seiya (Season 1)

Netflix Original Anime Series

Money Heist Part 3 (aka La Casa de Papel)

Netflix Original Spanish Series

Queer Eye (Season 4)

Netflix Original Reality Series

Typewriter (Season 1)

Netflix Original Indian Series

The Epic Tales of Captain Underpants (Season 3)

Netflix Original Kids Series

The Iron Cowboy the Story of the 50-50-50 (2018)
Last Chance U: INDY (Part 2)

Netflix Original Docuseries
Coming to Netflix on July 22nd
Inglourious Basterds (2009)
My Hotter Half (Season 1)
Storage Wars: Northern Treasures (Season 2)
Coming to Netflix on July 23rd
https://www.youtube.com/watch?v=tT6PsqGIRd0
Coming to Netflix on July 24th
The Great Hack (2019)

Netflix Original Documentary
Coming to Netflix on July 25th
Another Life (Season 1)

Netflix Original Series

Workin' Moms (Season 2)

Netflix Original Canadian Series
Coming to Netflix on July 26th
1st Summoning (2018)
Boi (2019)
Eeri (2018)
The Exception (2016)
Girls With Balls (2018)

Netflix Original French Movie

My First First Love (Season 2)

Netflix Original Korean Series

Orange is the New Black (Season 7)

Netflix Original Series

Sugar Rush (Season 2)

Netflix Original Series

The Son (2019)

Netflix Original Argentinian Movie

The Worst Witch (Season 3)

Netflix Original Series
Coming to Netflix on July 29th
The Croods (2013)
Mission of Honor (2018)
Coming to Netflix on July 30th
All Good Ones Get Away
American Hangman (2019)
Ramen Shop (Season 1)
Whitney Cummings: Can I Touch It? (2019)
Coming to Netflix on July 31st
Kengan Ashura (Part l)

Netflix Original Anime Series

The Letdown (Season 2)

Netflix Original Comedy Series

The Red Sea Diving Resort (2019)

Netflix Original Movie

Wentworth (Season 7)