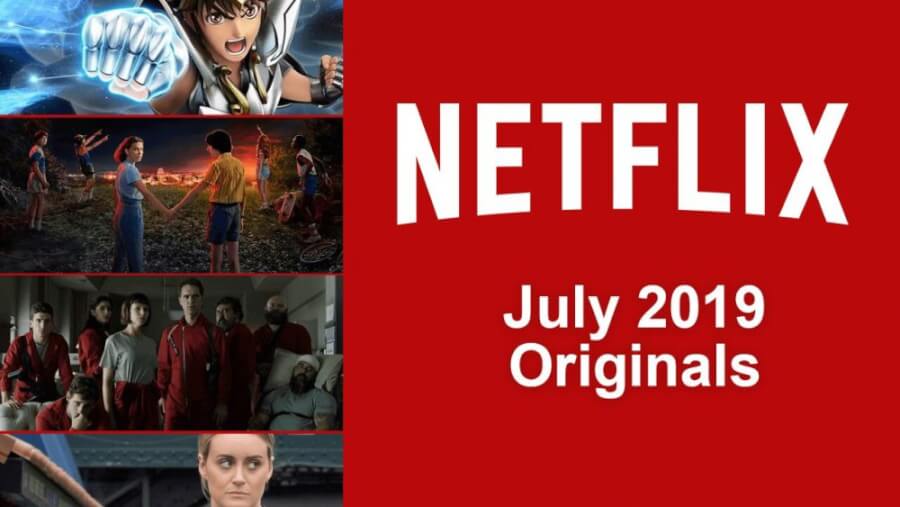 Welcome to your look at what new Netflix Originals are arriving on Netflix in July 2019 and it's going to be a smoking hot month. As the month shapes up, its big hitters like Money Heist, Stranger Things and Orange is the New Black will take most of the headlines but there's plenty else to be excited for too.
This list will only include the Netflix Originals scheduled for July, the full list of what's coming to Netflix in July 2019 will likely be announced midway through June 2019. Speaking of June, there's plenty of titles announced for June 2019 too.
Please note: this list will be updated every week up until July 2019 to reflect newly announced titles and doesn't reflect the full list coming to Netflix. 
Article Continues Below...
---
The Last Czars (Season 1)
Netflix Release Date: July 3rd

Looking for a good docu-series to get into? This could your next binge. The series was announced all the way back in November 2017 and is set to be one of Netflix's biggest budget docu-series.
The six-part series will take a look at the fall of the Romanov dynasty from Russia.
---
Yummy Mummies (Season 2)
Netflix Release Date: July 3rd

Reality TV has been growing on Netflix and this is one of the imports from Australia that was extremely popular when it arrived in January. Season 2 is here and you can once again follow the Yummy (rich) Mummies talk about absolute nonsense while waiting for childbirth.
---
Stranger Things 3
Netflix Release Date: July 4th

Netflix's biggest show is finally back. The third season of Stranger Things has been widely anticipated especially since it'll have been nearly a year and a half wait since season 2 dropped.
Expect new monsters, new characters, new romances to be included in season 3 while retaining all the action that has made Stranger Things 3 probably the hottest show on TV right now.
We've got loads more on season 3 including what to expect and more in our Stranger Things season 3 everything we know preview.
https://www.youtube.com/watch?v=YEG3bmU_WaI
---
Free Rein (Season 3)
Release date: July 7th

Free Rein is one of Netflix's longest running live-action series for kids. The series sees an American join a boarding school in the United Kingdom and she finds herself connected to a mysterious horse.
---
Family Reunion (Season 1)
Netflix Release Date: July 10th

Netflix has had a rocky relationship with sitcoms thus far with the likes of One Day at a Time struggling to find an audience and All About the Washingtons getting a swift cancelation. Hoping to buck that trend is a new show called Family Reunion starring Loretta Devine, Tia Mowry-Hardrict, Anthony Alabi and Talia Jackson.
The series was given a 20 episode first season order with part 1 due out in July with part 2 likely coming out towards the end of 2019.
---
Knights of the Zodiac: Saint Seiya (Season 1)
Netflix Release Date: July 19th

We've known about Knights of the Zodiac for a number of months but finally, its release date has been announced. Reaction to the initial trailer released back in December was mixed, to say the least.
The series is a reboot and covers the adventures of the young warriors called Knights.
---
Money Heist / La Casa de Papel (Part 3)
Netflix Release Date: July 19th

Money Heist has been one of if not the biggest Netflix Original foreign series to date. The pickup from Antenna 3 in Spain was originally only planned as a two-part series which saw us witness the biggest heist in Spanish history all cleverly devised by The Professor.
The third season will see the crew return but under massively different circumstances.
We've got loads more on Money Heist part 3 in our preview which we're updating every month up until the release.
---
Last Chance U (Part 4)
Netflix Release Date: July 19th

Last Chance U is Netflix's football documentary series and this year, we're returning back to the Independence, Kansas where we'll once again be covering the Indy Pirates.
In effect, this is the fourth part of Last Chance U but Netflix are a little strange at naming the seasons so can also be referred to as Last Chance U: Indy Part 2.
Jason Brown and the Indy Pirates are back. Last Chance U: Indy Part 2 launches July 19. #LCUNetflix pic.twitter.com/MyjusJOyq3

— Last Chance U: Basketball (@LastChanceU) June 18, 2019
---
Queer Eye (Season 4)
Netflix Release Date: July 19th

The fab-five are returning for their next outing on Netflix for July and its already been confirmed they're also going to be returning for season 5 in 2020 too.
Once again, they'll be applying their specialties to helping people look and feel better.
---
Comedians in Cars Getting Coffee (Season 11)
Netflix Release Date: July 19th

Jerry Seinfeld's Crackle-turned-Netflix series where he takes fellow comedians out to grab coffee and have a conversation returns for its eleventh season in July.
This season, we'll be seeing Eddie Murphy, Ricky Gervais (who has appeared before), Jamie Foxx and Seth Rogen joining the lineup.
---
Orange is the New Black (Season 7)
Netflix Release Date: July 26th

The seventh and final season of Orange is the New Black will mark the end to the longest-running Netflix Original to date. We'll see all of our favorite Litchfield inmates return but with substantially different circumstances.
We've got more on season 7 of Orange is the New Black in our ongoing preview.
---
Kengan Ashura (Season 1)
Netflix Release Date: July 31st

More anime is due out at the end of the month across the world and in a similar vein to Baki, Kengan Ashura is about a fighter named Tokita Ohma. His outing will see him fighting on behalf of the business mogul Nogi Hideki who earns a killing off of brutal matches.
Expect insane fight sequences and ridiculous dialogue but it's worth noting the series has picked up flack for its art style.
---
Designated Survivor: 60 Days (Season 1)
Netflix Release Date: TBD

Netflix has managed to secure the streaming rights to the South Korean adaptation of the popular US show it managed to pick up last year. The show will see a similar premise to its US counterpart with the designated survivor taking up the role of the presidency.
Ji Jin-Hee is set to take on the role played by Kiefer Sunderland in the US version.
---
Netflix Stand-up Specials Coming in July
Katherine Ryan: Glitter Room – July 1st
Whitney Cummings: Can I Touch It? – July 30th
---
Other Netflix Original Releases
Parchis: The Documentary – Spanish documentary – coming on July 10th
Point Black – English Action Movie – coming on July 12th
Secret Obsession – Thriller Movie – coming on July 18th
My First First Love (Season 2) – Korean drama – coming on July 26th
Looking further ahead? Check out all the Originals coming in August 2019 and September 2019.
What are you looking forward to in July 2019? Let us know in the comments.