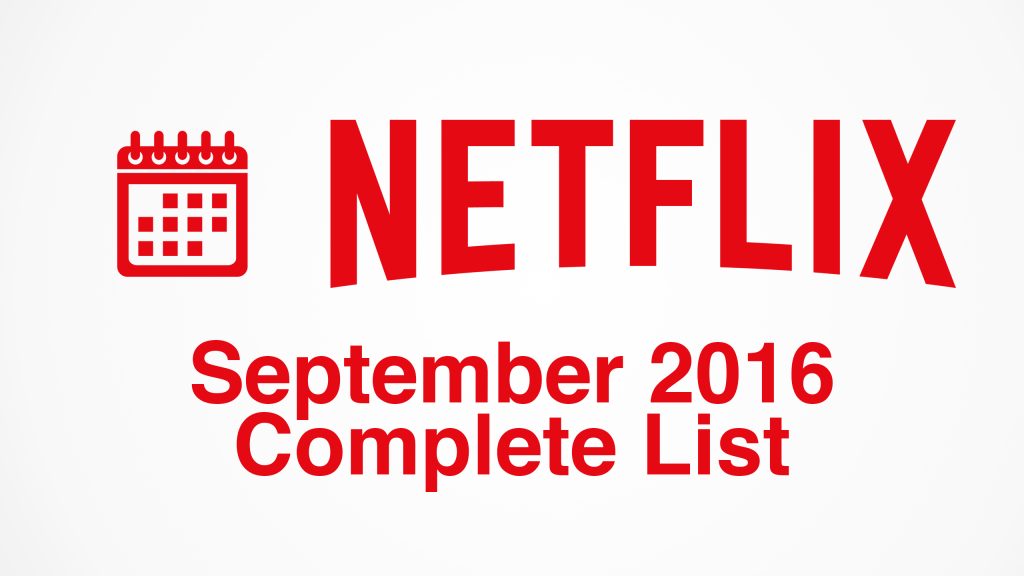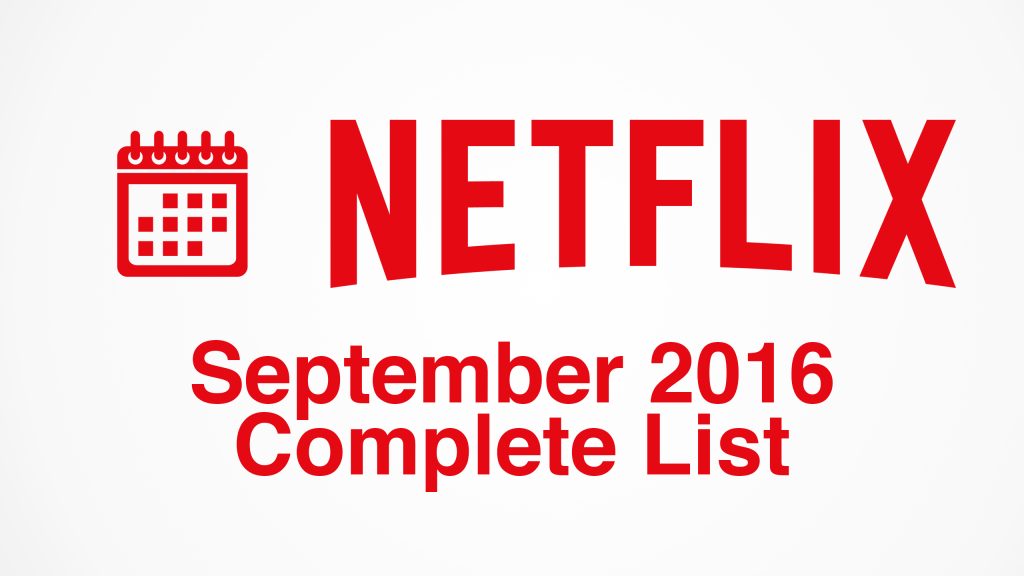 It's time to recap the month of September 2016 with a complete review of the 265 titles strong lineup of stuff that was added to Netflix in September.
Every day, we post of the brand new titles that hit Netflix whether in the form of new TV series or movies and we publish a post covering them. At the end of the month, we pick out our top 10 titles and then do a complete list for those not wanting to go back through individual posts.
Here's how September stacked up against previous months. September was the biggest month of the year for TV series but one of the quietest months in terms of new movies added.
September 2015 – 102 new movies, 163 new TV series/documentaries
August 2016 – 114 new movies, 129 new TV series/documentaries
July 2016 – 147 new movies, 101 new TV series/documentaries
June 2016 – 110 new movies, 107 new TV series/documentaries
May 2016 – 126 new movies, 62 new TV series/documentaries
April 2016 – 161 new movies, 137 new TV series/documentaries
March 2016 – 124 new movies, 68 new TV series/documentaries
February 2016 – 97 new movies, 63 new TV series/documentaries
January 2016 – 117 new movies, 115 new TV series/documentaries
New Movies
1920 London (2016)
3 Days to Kill (2014)
Adulterers (2015)
ARQ (2016)
August Winds (2015)
Babel (2006)
Bald Mountain (2013)
Bang Gang (2015)
Be Somebody (2016)
Bill & Ted's Bogus Journey (1991)
Black Road (2016)
Bleed (2016)
Boi neon (2015)
Bratz: The Movie (2007)
Burn, Burn, Burn (2015)
Cats & Dogs (2001)
Cedric the Entertainer: Live from the Ville (2016)
Consumed (2015)
Crash (2004)
D-Day (2004)
Defiance (2008)
Delirium (2014)
Desde alla (2015)
Dukhtar (2014)
Father's Chair (2012)
Footloose (1984)
Full of Grace (2015)
Full Out (2015)
Hard Target 2 (2016)
Hector (2015)
High-Rise (2015)
Honey 3 (2016)
Hoot (2006)
Hope Floats (1998)
Iliza Shlesinger: Confirmed Kills (2016)
In-Lawfully Yours (2016)
Invoked (2015)
Jandino: Whatever it Takes (2016)
Jaws (1975)
Jaws 2 (1978)
Jaws 3 (1983)
Jaws: The Revenge (1987)
JeruZalem (2016)
Jiu ceng yao ta (2015)
Joyful Noise (2012)
Kill or Be Killed (2015)
Kill Zone 2 (2015)
Kiss Me (2011)
Last Holiday (2006)
Like You Mean It (2015)
Lolo (2015)
London Has Fallen (2015)
Louis C.K.: Hilarious (2010)
Manhole (2014)
Margaret Cho: PsyCHO (2015)
Milk Money (1994)
Miss Lovely (2012)
Most Likely to Die (2016)
Natural Born Pranksters (2016)
Nothing in Return (2015)
Off Course (2015)
Oh My God! (2007)
Painkillers (2015)
Quackerz (2016)
Queen of the Night (2013)
R.L. Stine's Mostly Ghostly: One Night in Doom House (2016)
River (2015)
Road Trip (2000)
Sacrifice (2016)
Sam Kinison: Breaking the Rules (1987)
Saneamento Básico, O Filme (2007)
Saving Private Ryan (1998)
Scary Movie II (2001)
Sea Fog (2014)
Sleeping Giant (2015)
Slugterra: Into the Shadows (2016)
Stomp the Yard (2007)
Sunset Song (2015)
Sweaty Betty (2015)
The Amityville Horror (2005)
The Automatic Hate (2015)
The Call Up (2016)
The Commitments (1991)
The Curse of the Jade Scorpion (2001)
The Dead Room (2015)
The Finest Hours (2016)
The First Line (2014)
The Imitation Game (2014)
The Measure of a Man (2015)
The Phenom (2016)
The Sin Seer (2015)
The Wicker Man (2006)
Those People (2015)
Top Gun (1986)
Toro (2016)
True Grit (1969)
U-571 (2000)
Viva (2015)
Waffle Street (2015)
We Need to Talk (2016)
Wedding Doll (2015)
Zootopia (2016)
New TV Series/Documentaries
25 to Life (2014)
A Conversation with Gregory Peck (1999)
Adjust Your Color: The Truth of Petey Greene (2009)
Amanda Knox (2016)
Audrie & Daisy (2016)
Auschwitz: The Nazis and the Final Solution – Season 1 (2005)
Bayou Maharaja (2013)
Beauty & the Beast – Season 4 (2016)
Behind Closed Doors (2016)
Bones – Season 11 (2016)
Border Security: America's Front Line – Season 1 (2016)
Call the Midwife – Series 5 (2016)
Can You Dig This (2015)
Cast Party (2015)
Chasing Perfection – Season 1 (2015)
Chef's Table: France – Season 1 (2016)
Chelsea (New Episode) (2016)
Christmas Cracker (2015)
City 40 (2016)
City of God: 10 Years Later (2013)
Cleverman – Season 1 (2016)
Colliding Dreams (2016)
Conspiracy – Season 1 (2015)
Cosmodrome (2008)
Crashing – Series 1 (2016)
Dead Set – Series 1 (2008)
Death Camp Treblinka: Survivor Stories (2012)
Descendants of the Sun – Season 1 (2016)
Dream Knight – Season 1 (2015)
East Jerusalem West Jerusalem (2014)
Easy – Season 1 (2016)
Easy Fortune Happy Life – Season 1 (2009)
Egypt – Season 1 (2005)
Ekaant – Season 1 (2014)
Elstree 1976 (2015)
Emergency Down Under – Season 1 (2016)
End Day (2005)
Europe's Last Great Wilderness – Season 1 (2015)
Extremis (2016)
Fabulousas Flores – Season 1 (2014)
Family Guy – Season 14 (2015)
Father Joseph (2015)
Figaro Pho (2008)
Filthy Cities – Season 1 (2011)
Finding Your Element with Sir Ken Robinson (2013)
Fireplace 4K: Crackling Birchwood from Fireplace for Your Home (2015)
First Contact: Lost Tribe of the Amazon (2016)
From Fat to Finish Line (2015)
Galavant – 2 Seasons (2016)
Game Winning Hit – Season 1 (2009)
Generation Earth – Season 1 (2012)
Goering's Last Secret – Season 1 (2011)
Goldie & Bear – Season 1 (2016)
Gotham – Season 2 (2016)
Great Raids of WWII – Season 1 (2006)
Hardliners- Season 1 (2011)
Hawaii Five-O – Season 6 (2016)
Heartland – Season 7 (2013)
Heir Hunters – 2 Seasons (2010)
Hellevator – Season 1 (2015)
Hiroshima: BBC History of WWII (2005)
Hitler of the Andes (2003)
Holy Hell (2016)
Hostages – Season 1 (2013)
How to Grow a Planet – Season 1 (2012)
I Am the Ambassador – 2 Seasons (2015)
India's Frontier Railways – Season 1 (2014)
Indochina's Wild Heart – Season 1 (2015)
International Street Art (2014)
Isis: Women Unveiled (2016)
It Takes a Church – 2 Seasons (2015)
Jellies (2013)
Kazoops! – Season 1 (2016)
Keepers of the Game (2016)
Knocking on Heaven's Door (2011)
Kulipari: An Army of Frogs – Season 1 (2016)
Last Man Standing – Season 5 (2015)
Live and Let Live (2013)
Longmire – Season 5 (2016)
Los Punks: We Are All We Have (2016)
Lottie Dottie Chicken – Season 1 (2014)
Love Bird – Season 1 (2013)
Luther – Series 4 (2015)
Mad Tiger (2015)
Magic of Houdini (2014)
Magnificent Century – Season 1 (2011)
Man on Wire (2008)
Marvel's Luke Cage – Season 1 (2016)
Maya the Bee – Season 1 (2013)
Midsomer Murders – Series 18 (2016)
Mischievous Kiss 1 – Season 1 (2013)
Mischievous Kiss 2 – Season 1 (2014)
Mr. Young – 2 Seasons (2012)
Mumbai Railway – Season 1 (2015)
My Son the Jihadi (2015)
Narcos – Season 2 (2016)
Nature's Weirdest Events – Season 1 (2013)
New Girl – Season 5 (2016)
Nuremberg: Nazis on Trial – Season 1 (2006)
Ocean Giants – Season 1 (2011)
Offspring – 6 Seasons (2014)
Our World War – Season 1 (2014)
Penny Dreadful – Season 3 (2016)
People Just Do Nothing – 2 Series (2015)
Person of Interest – Season 5 (2016)
Placebo (2014)
Portlandia – Season 6 (2016)
Raiders!: The Story of the Greatest Fan Film Ever Made (2015)
Real GOT7 – 3 Seasons (2015)
Rocket Men (2013)
Ruby's Studio – Season 1 (2015)
Sample This (2012)
Saudi Arabia Uncovered (2016)
Scream – Season 2 (2016)
Seve: The Movie (2014)
Shameless – Seasons 5 & 6 (2014)
Siyaasat – Season 1 (2016)
Slow TV: National Knitting Night (2013)
Slow TV: Salmon Fishing (2013)
Slow TV: The Telemark Canal (2012)
Slugterra – Season 4 (2015)
Spy Who Went Into the Cold (2013)
Stalkers Who Kill – Season 1 (2015)
Street Fight (2005)
Supergirl – Season 1 (2016)
Supermassive Black Holes (2000)
Supervolcano – Season 1 (2005)
Swimming with Killer Whales (2011)
Testing the Menu – Season 1(2013)
The 100 Years Show (2015)
The Blacklist – Season 3 (2016)
The Deep End – Season 1 (2010)
The Dwarvenaut (2016)
The End – Season 1 (2012)
The Fierce Wife – Season 1 (2010)
The First Monday in May (2016)
The First World War from Above (2010)
The Fosters – Season 4 (2016)
The IT Crowd – Series 5 (2013)
The Last Nazis – Season 1 (2009)
The Man Who Killed Richard III (2015)
The Mysteries of Laura – Season 2 (2016)
The Walking Dead – Season 6 (2015)
The Wheelchair President – Season 1 (2015)
The White Helmets (2016)
The Woman with No Face (2015)
The Womanizer – Season 1 (2010)
The World's War: Forgotten Soldiers of the Empire – Series 1 (2014)
The Year of Happiness and Love – Season 1 (2009)
True Crime – Season 1 (2015)
VeggieTales in the House – Season 4 (2016)
Very British Problems – 2 Series (2015)
Vintage Tomorrows (2015)
Wallander – Series 4 (2015)
Wartime Portraits – Season 1 (2014)
Watching Them Die: The Mexican Army and the 43 Disappeared (2015)
We Are Legion: The Story of the Hacktivists (2012)
What About Me? – Season 1 (2009)
Wild Madagascar (2015)
Witches: A Century of Murder – Season 1 (2015)
Women He's Undressed (2015)
Young & Hungry – Season 4 (2016)
Zoo – Season 2 (2016)