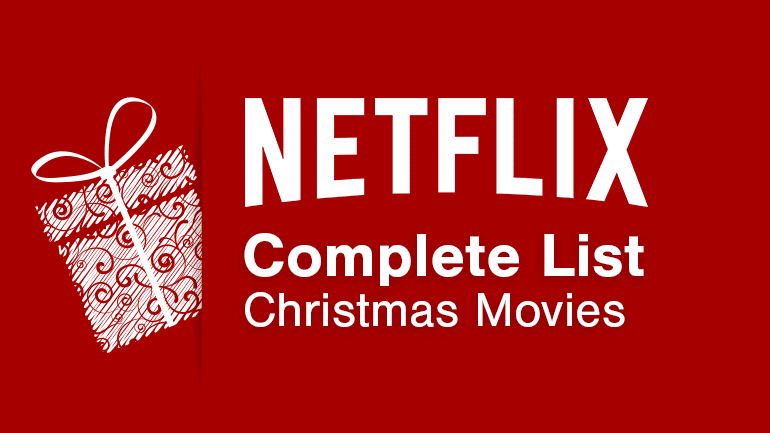 Netflix has plenty of Christmas movies streaming to keep you busy over the Christmas period. There's obviously some noticeable omissions but every year the Netflix library for festive treats has been growing.
Last year, there was 96 Christmas movies on Netflix and already this year there's currently 100 with much more planned to be arriving throughout December. This also excludes holiday episodes from your favourite Netflix series such as The Ranch, Fuller House, The Office and more.
We'll update this post every Friday up until Christmas as new titles come and titles likely leave the service.
Article Continues Below...
Why isn't there more Christmas movies on Netflix?
Many ask us why there aren't more Christmas movies on Netflix and the answer is pretty simple. Money. At Christmas time, when you actually want to watch a Christmas movies, the licensing for Christmas titles shoot through the roof so therefore becomes unaffordable for streaming services like Netflix. For the rest of the year, Christmas movies just aren't relevant. Do you watch Christmas movies in mid-June? Exactly.
Usually, however, Netflix does pick up one or two token titles for each holiday season and this year that seems to be The Santa Clause which includes one of the biggest budgeted Christmas movies of all time.
Complete List of Christmas Titles on Netflix
Last updated – November 24th
Please note: This list only covers Netflix in the US.
| Movie Name | Year Released | Rating |
| --- | --- | --- |
| 12 Dates of Christmas | 2011 | 6.4 |
| 12 Dog Days Till Christmas | 2014 | 5.3 |
| A Christmas Horror Story | 2015 | 5.7 |
| A Christmas Kiss | 2011 | 6.4 |
| A Christmas Kiss II | 2014 | 6.4 |
| A Christmas Prince | 2017 | 6 |
| A Christmas Special: Miraculous: Tales of Ladybug… | 2016 | – |
| A Christmas Star | 2015 | 5.2 |
| A Dogwalker's Christmas Tale | 2015 | 5.7 |
| A Russell Peters Christmas | 2011 | 3.8 |
| A Very Murray Christmas | 2015 | 5.5 |
| Abominable noël | 2012 | 5.8 |
| All American Christmas Carol | 2013 | 4.9 |
| All I Want for Christmas | 2007 | 5.8 |
| Alpha and Omega 7 | 2016 | 4.7 |
| American Rodeo: A Cowboy Christmas | 2016 | – |
| An Evergreen Christmas | 2014 | 6 |
| Angels in the Snow | 2015 | 6 |
| Back to Christmas | 2014 | – |
| Bad Santa | 2003 | 7.1 |
| Bad Santa 2 | 2016 | 5.6 |
| Bob the Builder: White Christmas | 2008 | 4.7 |
| Bob's Broken Sleigh | 2015 | 5.3 |
| BoJack Horseman Christmas Special: Sabrina's Chri… | 2014 | 7.2 |
| Casper's Haunted Christmas | 2000 | 4.6 |
| Christmas Belle | 2013 | 5.6 |
| Christmas Cracker | 2015 | – |
| Christmas Crush | 2012 | – |
| Christmas in the City | 2013 | 5.3 |
| Christmas in the Smokies | 2015 | 5.8 |
| Christmas Is Here Again | 2007 | 6.3 |
| Christmas Miracle at Sage Creek | 2005 | 5.5 |
| Christmas on Salvation Street | 2014 | 5.6 |
| Christmas Ranch | 2016 | – |
| Christmas Wedding Baby | 2014 | 6.5 |
| Curious George: A Very Monkey Christmas | 2009 | 6.3 |
| Dear Santa | 2011 | 6.5 |
| DreamWorks Happy Holidays from Madagascar | 2005 | – |
| Fireplace 4K: Classic Crackling Fireplace from Fi… | 2015 | – |
| Fireplace 4K: Crackling Birchwood from Fireplace … | 2015 | – |
| Get Santa | 2014 | 6.3 |
| Good Luck Charlie: It's Christmas | 2011 | 6.6 |
| Gremlins | 1984 | 7.2 |
| Holiday Breakup | 2016 | 4.5 |
| How Sarah Got Her Wings | 2015 | 5.8 |
| How the Grinch Stole Christmas | 2000 | 6.1 |
| I Am Santa Claus | 2014 | 6.7 |
| Magic Snowflake | 2013 | 7 |
| Mandie and the Forgotten Christmas | 2011 | 5.2 |
| Mariah Carey's Merriest Christmas | 2015 | 5.5 |
| Marry Me for Christmas | 2013 | 5.5 |
| Marvel Super Hero Adventures: Frost Fight! | 2015 | 5.1 |
| Mickey's Magical Christmas: Snowed in at the House of Mouse | 2000 | 6.8 |
| Mickey's Once Upon a Christmas | 1999 | 7.2 |
| Mickey's Twice Upon a Christmas | 2004 | 6.7 |
| Mule-Tide Christmas | 2014 | 4.4 |
| My Dad Is Scrooge | 2014 | 4.6 |
| My Little Pony: A Very Minty Christmas | 2005 | 5.2 |
| My Santa | 2013 | 5.8 |
| Naughty & Nice | 2014 | 6.1 |
| Noel | 2004 | 6.3 |
| Pee-wee's Playhouse: Christmas Special | 1988 | 7.9 |
| Pete's Christmas | 2013 | 6.2 |
| Pettersson und Findus 2 – Das schönste Weihnachten überhaupt (2016) | 2016 | 5.9 |
| Power Rangers Samurai: Christmas Together, Friends Forever | 2011 | 6.4 |
| Power Rangers Super Samurai: Stuck on Christmas | 2012 | 5 |
| Power Rangers: Megaforce: The Robo Knight Before Christmas | 2013 | 5.6 |
| Ricardo O'Farrill: Abrazo navideño | 2016 | 6 |
| Santa Buddies | 2009 | 4.9 |
| Santa Claws | 2014 | 3.1 |
| Santa Pac's Merry Berry Day | 2016 | – |
| Santa Paws 2: The Santa Pups | 2012 | 5.2 |
| Santa's Apprentice | 2010 | 6.5 |
| Small Town Santa | 2014 | 4.1 |
| So This Is Christmas | 2013 | 4.7 |
| The 3 Dogateers | 2014 | 3.5 |
| The Cat in the Hat Knows a Lot About Christmas! | 2012 | 5.6 |
| The Christmas Bunny | 2010 | 6.2 |
| The Christmas Candle | 2013 | 6.1 |
| The Christmas Project | 2016 | 5.8 |
| The Heart of Christmas | 2011 | 7.3 |
| The Koala Brothers: Outback Christmas | 2006 | 6.2 |
| The Nightmare Before Christmas | 1993 | 8 |
| The Perfect Gift | 2011 | 7.1 |
| The Radio City Christmas Spectacular | 2007 | 7.5 |
| The Ref | 1994 | 6.9 |
| The Search for Santa Paws | 2010 | 5.8 |
| The Spirit of Christmas | 2015 | 6.5 |
| Thomas & Friends: A Very Thomas Christmas | 2012 | 5 |
| Thomas & Friends: Holiday Express | 2010 | – |
| Thomas & Friends: Merry Christmas Thomas | 2011 | 6.3 |
| Thomas & Friends: Santa's Little Engine | 2013 | |
| Thomas & Friends: The Christmas Engines | 2014 | 5.3 |
| Thomas & Friends: Ultimate Christmas | 2009 | – |
| Trailer Park Boys Live at the North Pole | 2014 | 6.6 |
| Tree Man | 2015 | – |
| Uncle Nick | 2015 | 5.9 |
| White Christmas | 1954 | 7.6 |
| Zip & Zap and the Captain's Island | 2016 | 5.7 |