Welcome to your weekly rundown of the biggest stories from Netflix's top 10 hourly figures drop for the week ending April 2nd, 2023. This is going to be a slightly smaller 
Every Tuesday, Netflix updates its top 10 stats page with 40 new hourly figures of the top movies and shows of the past seven days. If you want to browse the top 10 hourly data easily, visit our tool.
We also just published a rundown of the biggest Netflix hits (and flops) of Q1 2023, so check out that if you're looking for what has hit and what hasn't so far in 2023.
Article Continues Below...
Note: In this report of Netflix's hours viewed from March 27th, 2023 to April 2nd, 2023, we'll use "Complete Viewings Equivalent," or CVE, expressed in millions. That means we divide the hours viewed announced by Netflix by the runtime of films or series. It allows for better comparisons between films and series, but it's not an audience metric. It is the minimum number of viewings if they were all complete from the first second to the last of the film or season.
---
1. Murder Mystery 2 is a huge hit.
Adam Sandler delivers – again. With Murder Mystery 2, the Sandman is touching the stars with the fifth-best launch for any Netflix film released on a Friday behind films such as Red Notice, Don't Look Up, or The Adam Project.
Now, there are two things that may play against it in the long run. First, it's a sequel; sequels usually start very strong and fade faster than other films. Then, it's a very short film (1 hour 20 minutes excluding the end titles), so in a metric based on hours viewed, it might quickly fall down the charts. But we'll continue to check on it as long as we can using the CVE metric.
---
2. Unstable is probably already canceled.
Positioned at the end of March, we can safely assume that Netflix had high hopes for the father-son sitcom Unstable. But these hopes were crushed with a dismal launch of just 3.6M CVEs over its first four days.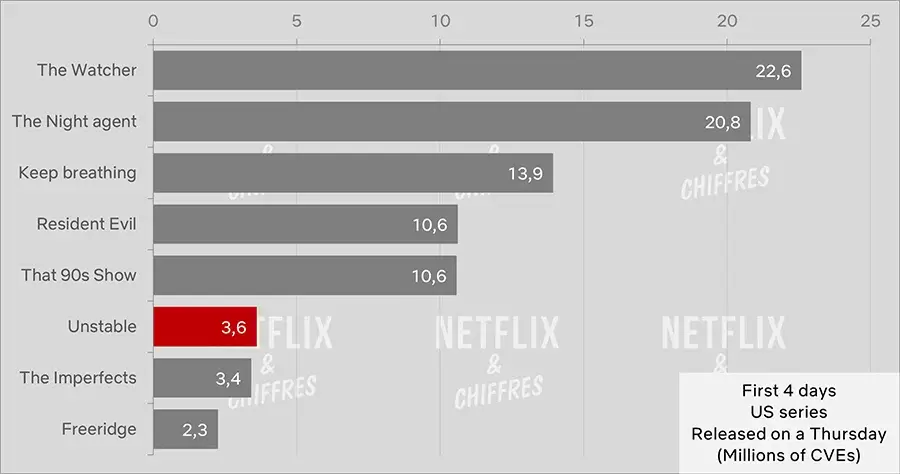 That's the kind of launch that you don't recover from, and I might be proven wrong in the coming days and weeks, but for the moment, this will likely be a swift cancelation.
---
3. The Night Agent is doing wonders after 11 days.
One series that did launch very well and keep doing very well is The Night Agent. Already renewed for a second season, it did a great launch and a better week two and sits at the moment at 47.5M CVEs.
As the graph above outlined, it's not quite the stratospheric launch of the likes of Wednesday or Squid Game, but next week, we will know if it's more The Watcher or Dahmer-size of success.
In any case, that bet paid off big time, and the series is a great watch. So, a great success story to end the first quarter of 2023.