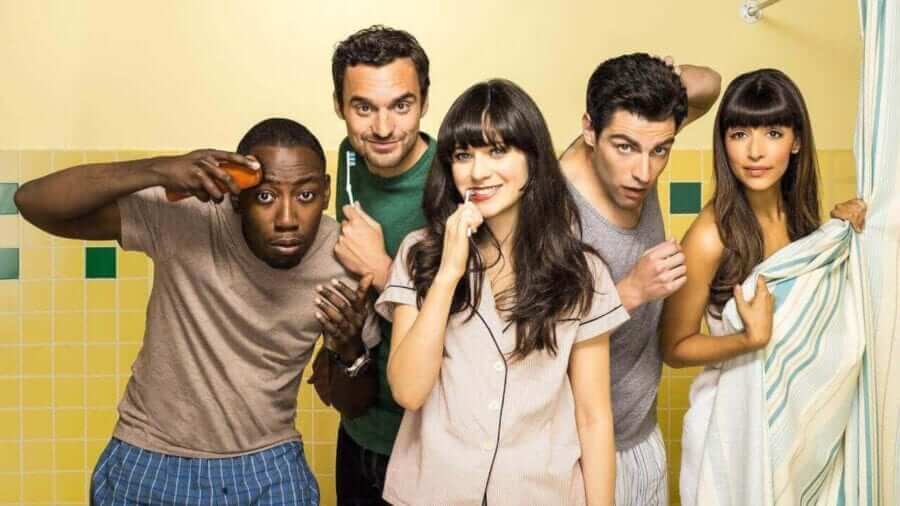 New Girl season 6 is now on Netflix in the United States and it's a surprise to many as most Fox titles have now left Netflix. That also indicates that season 7 which is also the final season of New Girl will be coming to Netflix next year. 
The popular Fox sitcom now about to head into its final season has been fan-favorite and features the talents of Zoey Deschanel, Jake Johnson, Max Greenfield, Hannah Simone and Lamorne Morris.
As we originally posted back in October, we were expecting season 6 of New Girl to never arrive on Netflix and in fact, see the removal of seasons 1 through 5. The reason for this is because Fox and Netflix cut ties last year resulting in the majority of the library. By adding season 6 today, it looks like Netflix has managed to secure the ongoing license to New Girl through to the end of shows lifespan. As you may know, the upcoming seventh season will be the last and ultimately conclude the show, that's due to start airing in the very near future.
Article Continues Below...
The only other exception to the rule that we've seen so far has been American Horror Story and American Crime Story which both haven't left Netflix. With American Crime Story, Netflix bought the exclusive streaming rights in 2016. With American Horror Story, it was renewed in October. We're still waiting on the confirmation of removal of Sons of Anarchy which is the final big title still available on Netflix.
Why did other Fox titles leave Netflix?
We've seen the removal of most to all of the Fox library from Netflix with the exceptions we mentioned above. Fox and Netflix broke up last year with most of the library moving over to Hulu. The reason isn't completely clear although the Disney purchase of Fox could have some implications.
In case you're looking for some alternatives to watch once you're caught up with season 6 Netflix is in no short supply of other sitcoms. Friends, which is NBC's biggest sitcom of all time, is still streaming on Netflix. You've also got originals like Grace and Frankie, Fuller House and Master of None which all share similarities with New Girl.