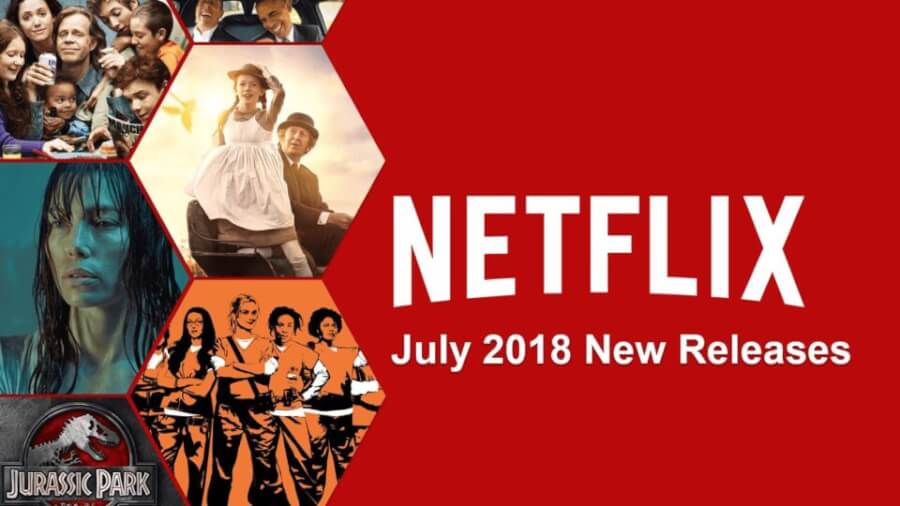 Looking for the complete list of new movies and new TV series coming to Netflix in July 2018? Look no further as we've got every single title scheduled to be released throughout July right here.
The movie lineup is a little so-so this month but the TV lineup both in Netflix Originals and third-party titles is where it's at. As always, this is in no way a full representation of the full list of new titles as new ones drop every day. To keep up to date with those, keep your browser locked onto our what's new on Netflix hub.
Below, we've embedded a video of our favorite new titles scheduled this month and then we'll move onto the highlights and then the full current list of July 2018 new Netflix releases.
Article Continues Below...
---
New Release Highlights
Let's take a look at the best new titles headed our way next month:
New Movies

As we mentioned above, it's a little quiet on the movie front, probably thanks to it being a fantastic June.
On the first of the month, we'll have the return of quite a few titles. This includes the original Jurassic Park trilogy which featured last year before being removed around Christmas time. This is in no doubt to help out Jurassic World, still in cinemas right now. One of my personal favorite movies of the past decade in the sci-fi arena has been Her and we're happy to say it's coming to Netflix towards the end of the month.
For those who love satirical horror comedy, then Scream is probably your favorite movie series. It's a shame then as Scream 4 will hit Netflix in July.
New TV Series

One the series front, there are two major shows coming to Netflix from other providers. First up is the first season of USA Network's thriller series The Sinner. The series which is very reminiscent of titles like The Returned and Glitch is a welcome addition just before the new season starts to air next month. Shameless is the other massive series being added in July. Possibly the most popular series on Netflix by a country mile at the moment. We return to the Gallaghers in Chicago for their eighth outing.
On the originals front, Orange is the New Black is obviously the headline original. With that said, not too much is known about the new series so far apart from a little teaser trailer. Series also getting updates this month include NCIS, Blue Bloods and Good Witch.
---
Complete List of New Titles Coming in July 2018
Please note: this list is only for the United States Netflix although most Netflix Originals are global releases.
July 1st
Over 100 new titles were just added to Netflix today!
Blue Bloods (Season 8)
Bo Burnham: what.
Chocolat (2000)
Deceived (1991)
Finding Neverland (2004)
Get Smart (2008)
Happy Gilmore (1996)
Hawaii Five-O (Season 8)
Interview with the Vampire (1994)
Journey to the Center of the Earth (2008)
Jurassic Park (1990)
Jurassic Park III (2001)
Madam Secretary (Season 4)
Menace II Society (1993)
NCIS (Season 15)
Pandorum (2009)
Penelope (2007)
Queens of Comedy (Season 2)
Rica, Famosa, Latina (Seasons 1-4)
Scooby-Doo (2002)
Scooby-Doo 2: Monsters Unleashed (2004)
Spanglish (2004)
Stealth (2005)
Swordfish (2001)
The Boondock Saints (1999)
The Lost World: Jurassic Park (1997)
The Princess Diaries (2001)
The Voices (2014)
Traitor (2008)
Troy (2004)
Van Helsing (2004)
We Own the Night (2009)
We the Marines (2017)
What We Started (2017)
July 2nd
Dance Academy: The Comeback (2017)
Good Witch (Season 4)
Romina (2012)
The Sinner (Season 1)
July 3rd
The Comedy Lineup (Part 1) Netflix Original Series
July 5th
July 6th
Anne with an E (Season 2) Netflix Original Series
Comedians in Cars Getting Coffee: New 2018: Freshly Brewed Netflix Original Series
First Team: Juventus (Part B ) Netflix Original Series
Free Rein (Season 2) Netflix Original Series
Inside the World's Toughest Prisons: Season 2
Sacred Games (Season 1) Netflix Original Series
Samantha! (Season 1) Netflix Original Series
Somebody Feed Phil: The Second Course (Season 2) Netflix Original Series
The Fosters (Season 5 – Part B)
The Legacy of a Whitetail Deer Hunter (2018) Netflix Original Movie
The Skin of the Wolf
White Fang.
July 7th
July 9th
Lockup: Extended Stay (Collection 1)
July 10th
July 12th
July 13th
How It Ends Netflix Original Movie
Jim Jefferies: This Is Me Now Netflix Original Standup
Kevin Hart: Let Me Explain Netflix Original Standup
Sugar Rush
The Epic Tales of Captain Underpants Netflix Original Series
July 15th
Bonusfamiljen (Season 2)
Going for Gold
The Joel McHale Show with Joel McHale (Part 2) Netflix Original Series
July 20th
Amazing Interiors
Dark Tourist
Deep Undercover (Collection 3)
Duck Duck Goose
Father of the Year
Fix It and Finish It (Collection 3)
Home: Adventures with Tip & Oh (Season 4)
Jimmy: The True Story of a True Idiot
Last Chance U: EMCC & Life After
Last Chance U: INDY (Part 1)
Luna Petunia: Return to Amazia (Season 2)
July 22nd
An Education (2009)
Disney's Bolt (2008)
July 24th
The Warning (2015)
Iliza Shlesinger: Elder Millennial Netflix Original Standup
July 27th
Cupcake & Dino – General Services Netflix Original Series
Extinction Netflix Original Movie
Orange Is the New Black (Season 6) Netflix Original Documentary
Roman Empire: Reign of Blood: Master of Rome
The Bleeding Edge Netflix Original Documentary
The Worst Witch: Season 2 Netflix Original Series
Welcome to the Family
July 28th
Shameless (Season 8)
The Company Men (2010)
July 29th
Her (2013)
Sofia the First (Season 4) Netflix Original Series
July 30th
A Very Secret Service (Season 2) Netflix Original Series
July 31st
Terrace House: Opening New Doors (Part 3) Netflix Original Series
There you have it, all the new titles coming to Netflix in the United States throughout July 2018. What are you looking forward to? What do you wish Netflix would add? Let us know down in the comments below.