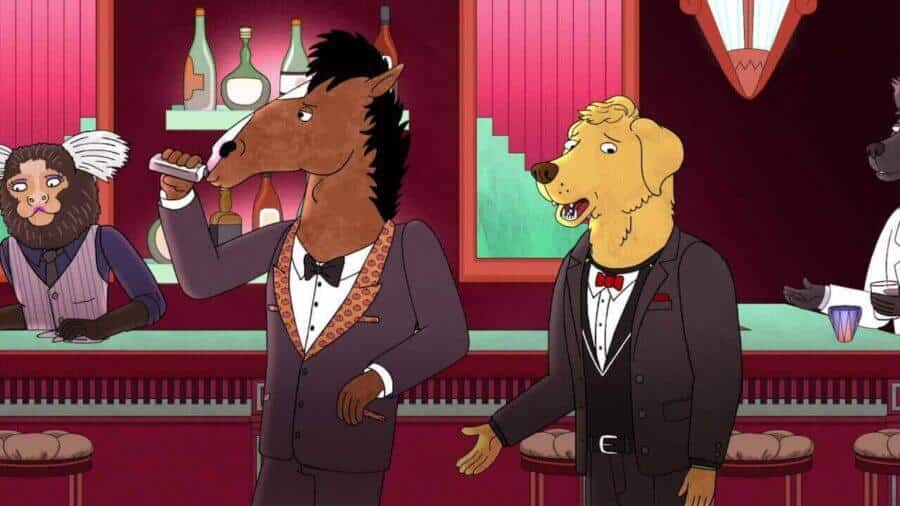 After a month of waiting since the release of season 5 fans have been waiting anxiously on news of season 6. It has now been confirmed Netflix's favorite cynical Horseman is set to return in his 6th outing. Here is everything we know so far about season 6 of Bojack Horseman.
Created by Raphael Bob-Waksberg Bojack Horseman is an adult animated comedy-drama series exclusive to Netflix. The story is centered around the title character Bojack Horseman, a cynical washed-up star famous for his 90's sitcom Horsin' Around.  Set 20 years after the show ended, Bojack became an angry and cynical person after his relevance in Hollywood dissipated. Bojack plans to return stardom and relevance through his tell-all autobiography
---
Season 5 Recap
Bojack went through some hard times during season 5. While he has tried to become a better person over the course of the 5 seasons life has always found a way to sabotage his progress. He is attracted to his co-star who doesn't want to date him seriously, we the audience are reminded of the numerous past mistakes he made like how he almost slept with a teenage girl and his mother died.
Throughout the season we are shown the extent of BoJack's addiction to painkillers. After losing the painkillers he had after Hollyhock flushed them down the toilet he tries to score more by driving head-on into traffic in the hope of injuring himself so he can get more painkillers. His addiction culminates with him almost killing his co-star Gina after he blacks out from the meds. After nearly choking Gina to death she doesn't choose to press charges in the fear of it defining her career. Diane tells BoJack that no one will hold him accountable, only he can do that himself.
As the season draws to a close BoJack attends rehab in the hope he can be helped with his painkiller addiction.
---
What Can We Expect of Season 6?
We'll expect to see either BoJack's experience within rehab or we'll see a fresh-faced pre-rehab BoJack. Either way, the season will deal with the fallout of BoJack's decision to enter rehab to try and kick his painkiller addiction.
---
Cast information for Season 6
There hasn't been any casting information as of yet but we can expect the core cast to return. The core cast for Bojack is as follows:
| Role | Actress/Actor | Where Have I Seen Them Before? |
| --- | --- | --- |
| BoJack Horseman | Will Arnett | Arrested Development, The Lego Batman Movie, The Lego Movie |
| Princess Carolyn | Amy Sedaris | Puss in Boots, Strangers with Candy, Elf |
| Diane Nguyen | Alison Brie | GLOW, The Lego Movie, Community |
| Todd Chavez | Aaron Paul | Breaking Bad, Need for Speed, A Long Way Down |
| Mr Peantbutter | Paul F. Tompkins | There Will Be Blood, Tangled, Tenacious D in The Pick of Destiny |
---
What has the reaction been to the renewal?
The reaction has been overwhelmingly positive. With the reception, the show received for season 5 it was near given that Netflix would renew. BoJack broke the news himself on his twitter…
woooowwwwwwwwwwwwwww lets all forget about the fact that theres going to b a season 6 and focus on this inedible arrangement @netflix sent me just woww pic.twitter.com/7XJyE6Egsu

— BoJack Horseman (@BoJackHorseman) October 30, 2018
'BoJack Horseman' renewed for a sixth season on Netflix after S5 received a 100% Rotten Tomatoes score 🐴

(via @BoJackHorseman) pic.twitter.com/NVzpuKc2QZ

— FANDOM (@getFANDOM) October 30, 2018
---
Where is production up to?
As season 6 has only just been renewed we imagine that production of season 6 is only in the very early stages. There would have been plenty of prep work already in place for the oncoming season so we can expect to hear more soon.
---
What about the trailer?
There isn't a trailer as of yet but here are some of the best moments of BoJack Horsemen.
---
When is the release date for season 6?
There hasn't always been a specific month for when the latest season drops. Season 5 was the first time that the series had dropped on the same month as the season before. Going by this we could expect Season 6 to air either September or October 2019.
Are you excited for season 6 of Bojack Horseman? Let us know in the comments below!