Grace and Frankie is confirmed and on the way to Netflix likely in 2019. If you're looking for everything regarding the upcoming season of the Netflix comedy, you've come to the right place. Here's everything we know about season 5 of Grace and Frankie.
Season 4 has been the highest ranked season so far, with the final episode, in particular, receiving rave reviews. The series sees Jane Fonda and Lily Tomlin return in the comedy unlike any other. The basic premise of the show is that Grace and Frankie have to find new lives after their husbands confess their love for each other. Throughout the seasons we've seen plenty of guest stars which notably included Lisa Kudrow for season 4.
Grace and Frankie Season 5 Renewal Status
Official Renewal Status: Renewed (Last updated: 02/15/2018)
There was never any doubt surrounding the show's future and it was confirmed a month after season 4 landed on Netflix by the shows official channels.
---
What will happen in season 5?
The final episode didn't really give us too many indications as to whether there'll be a new season. Grace and Frankie were parent trapped for the final episode and ultimately found out their home on the beach was being sold. Beyond that, Robert and Sol had finally injected much-needed energy into their relationship. The ending doesn't leave you with a ton of questions hanging but there's certainly plenty of loose ends to wrap up.
---
Awards for Grace & Frankie Season 4
The Emmies have been massive for Netflix this year and "Grace and Frankie" has been included in the honours.
The show is up for multiple awards for the Emmies including Outstanding Lead Actress in a Comedy Series, Outstanding Contemporary Costumes and Outstanding Production Design.
https://twitter.com/GraceandFrankie/status/1017818237675982848
---
Will Lisa Kudrow be back for season 5?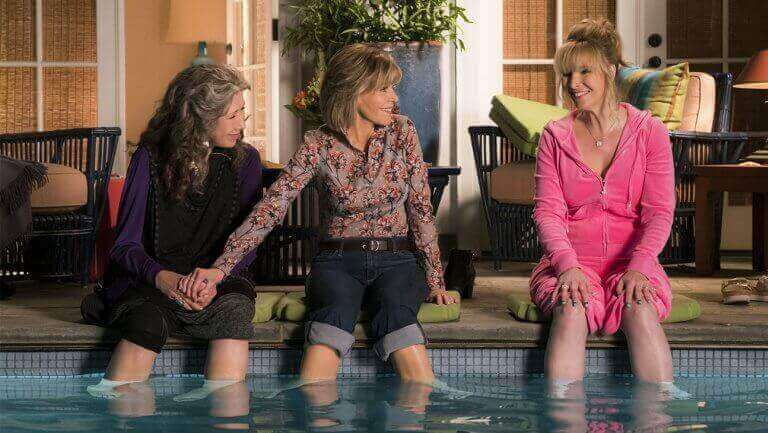 To keep the show fresh, Grace and Frankie cast Lisa Kudrow in season 4 who was a welcome addition. The Friends star at this point in time doesn't seem to be reappearing as she's yet to appear in the casting for any of the 12 new episodes. Most of the casting hasn't been announced so it could be the case that she does appear it's just not confirmed.
---
Grace and Frankie Show History
Let's rewind to see how we got to season 4. The series first came to Netflix in May 2015 after being announced several months before it. Season 2 and 3 were both announced throughout 2015. Season 2 didn't arrive until May 2017 and season 3 has arrived just 11 months later in March 2017. Season 4 was announced a month after season 3 dropped and arrived on January 19th, 2018.
---
How many episodes will be in season 5?
Every previous season of Grace and Frankie has had 13 episodes. IMDb currently shows season 5 to have 12 episodes but their data is currently incomplete. We're expecting season 5 to once again have 13 episodes.
---
Pictures from the set of season 5
Production of season 5 looks to have started as early as March 2018 and the official Twitter account has given us a glimpse into the next season.
Is that Kyra Sedgwick??? Why yes, it is! #FemaleFilmmakerFriday pic.twitter.com/mxXh3k86g5

— Grace and Frankie (@GraceandFrankie) March 10, 2018
On @GraceandFrankie set this week with the amazing @kyrasedgwick directing! pic.twitter.com/UNfFyac9xY

— Tim Bagley (@iamtimbagley) March 10, 2018
More pics from the G&F S5 set from our wonderful costume designer @AllysonFanger! pic.twitter.com/6bFIgZ4d4W

— Grace and Frankie (@GraceandFrankie) March 15, 2018
---
Season 5 Release Date for Grace and Frankie
The series has kept a consistent release schedule since it started releasing back in 2015. That shouldn't change for season 5 assuming it gets renewed. In which case, we can expect season 5 to arrive between January and May 2019. You can expect to know the release date by Christmas 2018.
Are you looking forward to more Grace and Frankie? Let us know down below.