Welcome to your preview of what's coming to Netflix in May 2017 and it's a Benedict Cumberbatch special! It's another month completely dominated by Netflix Orginals which will be keeping you busy in the lead up to the summer. There's plenty of new releases on Netflix for everyone this month so as always, we'll start off with some highlights and then move onto the full list. Once again, this isn't a complete list as new titles come to Netflix on a daily basis.
May 2017 Highlights
New Netflix Originals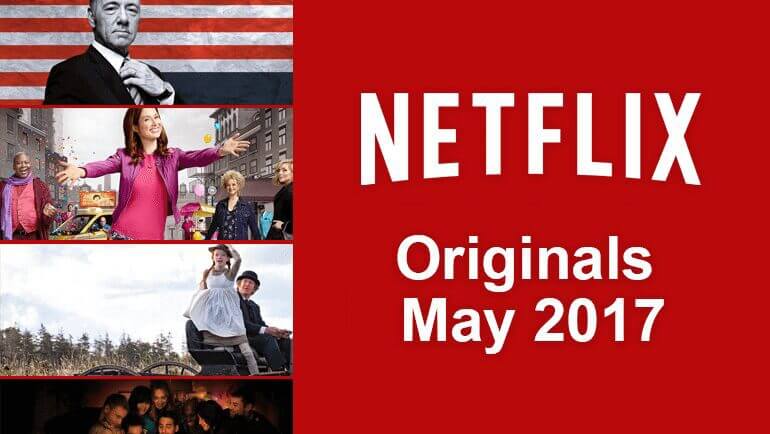 There's plenty of great quality new Netflix Originals with plenty of return. Let's start off in the comedy genre with two returning series one being Ellie Kemper's Unbreakable Kimmy Schmidt back for its third season and the long awaited second season of Aziz Ansari's Master of None. For standup specials, we're being treated to a Tracy Morgan special, Maria Bamford, and Sarah Silverman.
By far the biggest returning series will be the political drama House of Cards which is back for a fifth season and war is just around the corner for the Underwoods. We've also got a partial Netflix Original in the form of returning Game of Thrones rival The Last Kingdom.
Article Continues Below...
For more on the Netflix Originals, see our May 2017 preview!
New TV Series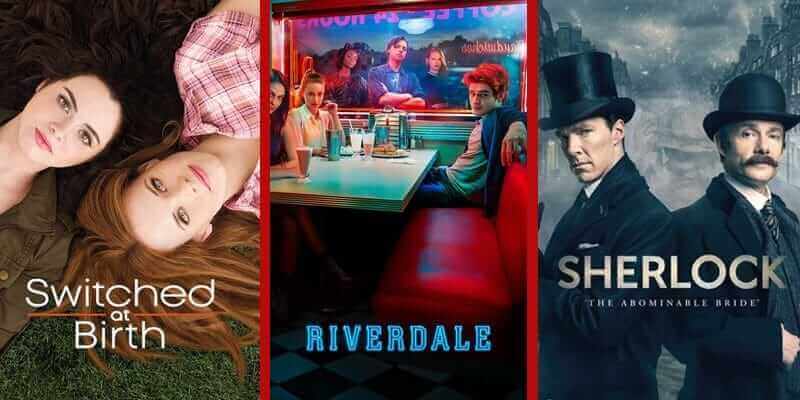 Plenty of new series to be excited about coming to Netflix in May so let's start off with some of the biggest ones. Coming exclusively to Netflix just a week after it finishes on The CW is Riverdale. The series has been massive so far so many will be excited for season 1 coming to Netflix.
Two series from Freeform getting updates are Switched at Birth and The Fosters. Plus to complete the Benedict Cumberbatch special is the latest fourth season of the BBC's Sherlock.
New Movies

We won't lie here, this is a poor month for movies, at least for movies that haven't streamed in the past. We're referring to Forest Gump and Inglorious Basterds which are returning after being removed last year. One mention we didn't get to put in our Netflix Originals highlight is the Brad Pitt movie War Machine.
Finally, the biggest movie release will no doubt be the exclusive Disney early release and the first of the Marvel movies to come early to Netflix: Doctor Strange. The Benedict Cumberbatch epic sees one of the future Avenger origin story.
Complete List of New Titles on Netflix in May 2017
Here's the complete list of titles coming to Netflix that are confirmed:
May 1st
American Experience: The Big Burn (2014)
American Experience: The Boys of '36 (2017)
Anvil! The Story of Anvil (2008)
Blood on the Mountain (2016)
Chaahat (1996)
Chocolat (2000)
Decanted (2016)
Don't Think Twice (2016)
Drifter (2017)
Forrest Gump (1994)
Happy Feet (2006)
In the Shadow of Iris Netflix Original Movie
Love (2015)
Losing Sight of Shore (2017)
Malibu's Most Wanted (2003)
Nerdland (2016)
Raja Hindustani (1996)
Richard Pryor: Icon (2014)
Under Arrest (Season 5)
May 2nd
Bodyguards: Secret Lives from the Watchtower (2016)
Hija De La Laguna (2015)
Maria Bamford: Old Baby Netflix Original Standup Special
Two Lovers and a Bear (2016)
May 5th
Chelsea (New Episode) Netflix Original Talk Show
Handsome: A Netflix Mystery Movie Netflix Original Movie
Kazoops! (Season 3) Netflix Original Series
Sense8 (Season 2) Netflix Original Series
Simplemente Manu NNa Netflix Original Movie
Spirit: Riding Free (Season 1) Netflix Original Series
The Last Kingdom (Season 2) Netflix Original Series
The Mars Generation (Season 1) Netflix Original Docu-Series
May 6th
Cold War 2 (2016)
When the Bough Breaks (2017)
May 7th
LoveTrue (2016)
Stake Land II (2016)
The Host (2013)
May 8th
Beyond the Gates (2016)
Hunter Gatherer (2016)
May 9th
All We Had (2016)
Norm Macdonald: Hitler's Dog, Gossip & Trickery

Netflix Original Standup Special

Queen of the South (Season 1)
May 10th
El apóstata (2015)
The Adventure Club (2016)
May 11th
Switched at Birth (Season 5)
The Fosters (Season 4)
May 12th
All Hail King Julien: Exiled (Season 1) Netflix Original Series
Anne with an E (Season 1) Netflix Original Series
Get Me Roger Stone Netflix Original Documentary
Master of None (Season 2) Netflix Original Series
Mindhorn Netflix Original Movie
Sahara Netflix Original Movie
May 15th
Command and Control (2016)
Cave (2016)
Lovesong (2016)
Sherlock (Series 4)
The Intent (2016)
May 16th
Tracy Morgan: Staying Alive Netflix Original Standup Special
The Break-Up (2006)
The Place Beyond the Pines (2012)
May 18th
Royal Pains (Season 8)
Riverdale (Season 1) The CW Exclusive Early Release
May 19th
BLAME! Netflix Original Anime Movie
Laerte-se Netflix Original Documentary
The Keepers (Season 1) Netflix Original Docu-series
Unbreakable Kimmy Schmidt (Season 3) Netflix Original Series
May 21st
May 22nd
Inglourious Basterds (2009)
They Call Us Monsters (2017)
May 23rd
Dig Two Graves (2014)
Hasan Minhaj: Homecoming King Netflix Original Standup Special
May 24th
May 26th
Believe (2016)
Bloodline (Season 3) Netflix Original Series
I am Jane Doe (2017)
Joshua: Teenager vs. Superpower Netflix Original Movie
War Machine Netflix Original Movie
May 28th
May 29th
A New High (2015)
Forever Pure (2016)
May 30th
F is for Family (Season 2) Netflix Original Series
House of Cards (Season 5) Netflix Original Series
Marvel's Doctor Strange (2016)

Disney Exclusive

Masterminds
Sarah Silverman A Speck of Dust Netflix Original Standup Special
Hopefully there's something there that takes your fancy but now it's over to you, what would you like to see added to Netflix in May? Let us know in the comments below!