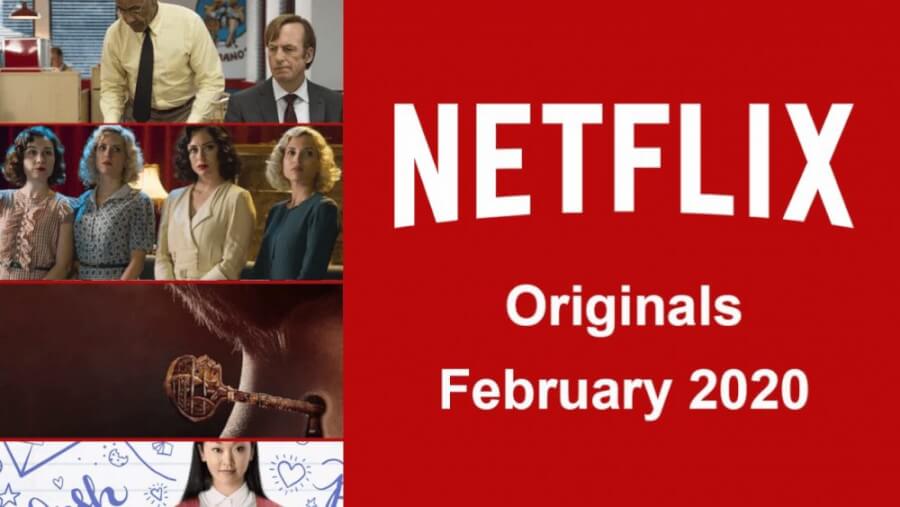 The second month of 2020 has plenty of new Netflix Originals to look forward to and below, we'll be taking you through every Netflix Original planned to release on Netflix throughout the month of February 2020.
As February is the month of Valentine's Day, you can expect plenty of romantic comedy and Valentine's specials announced for the service.
As a note, this article is an ongoing concern. We update weekly or bi-weekly depending on the announcement of new titles and in no way reflects every title coming to Netflix in February 2020.
Article Continues Below...
---
Cagaster of an Insect Cage
Netflix Release Date: February 6th

New anime arrives at the beginning of February and this one is set in a post-apocalyptic world that sees a disease called Cagaster transform people into mindless murderous insects.
Netflix Japan has already had access to season one of Cagaster of an Insect Cage for a while so it's good to see the rest of the world now being able to enjoy.
---
Locke & Key (Season 1)
Netflix Release Date: February 7th

One of our most anticipated series coming in 2020 is Locke & Key. Based on the comic book series, it tells the story of three siblings who are moved homes after a brutal murder of their father to discover keys that unlock powers and abilities.
Joe Hill has heavy involvement with the series and with any luck, it'll debut to similar fanfare that The Umbrella Academy did. One to watch.
---
To All the Boys: P.S. I Still Love You (Movie)
Netflix Release Date: February 12th

Netflix sequels are rare but one that was almost certain to get one given the high viewership is To All the Boys. The first movie featuring Noah Centineo and Lana Condor was a smash hit with its adaptation of the novel its based on.
Apart from a few casting announcements, news on the sequel has been relatively quiet but you can guarantee it's going to be another solid entry.
---
Narcos: Mexico (Season 2)
Netflix Release Date: February 13th

It's been a long and excruciating wait for more tales of the drug world from Mexico but we'll finally be back south of the border in February 2020.
Narcos is a drama series that follows some of the world's biggest drug lords and their quest to own it all.
Catch him if you can. Narcos: Mexico Season 2 premieres February 13 on @netflix. pic.twitter.com/OpScR1Et9h

— Narcos (@NarcosNetflix) December 17, 2019
---
Cable Girls (Season 5 – Part 1)
Netflix Release Date: February 14th

Spanish series have done exceedingly well on Netflix with Cable Girls now the longest-running foreign series created by Netflix themselves. The final season of Cable Girls will wrap up the story of the telephone operators.
The final season will ultimately conclude with a second part due out in late 2020.
---
Better Call Saul (Season 5)
Netflix Release Date: Weekly starting February 24th
Note: Excludes Netflix in the United States

The fifth and final season will be released weekly on Netflix starting at the end of February. It's been a great ride for the AMC show and thankfully, most Netflixers around the world have been able to keep up with Jimmy's transition into Saul Goodman.
Although Netflix US won't get the season initially it will likely a year or so after the show has wrapped as per previous seasons.
---
Followers (Season 1)
Netflix Release Date: February 27th

This series seems like it'll have Black Mirror features given it focuses on technology and specifically social networks. It's about an aspiring actress who hits it big after an Instagram post becomes a superstar with all the new pressures that come with it.
Netflix describes the show as witty, inspiring and heartfelt and it stars Miki Nakatani, Elaiza Ikeda, Mari Natsuki.
---
All the Bright Places (2019)
Netflix Release Date: February 28th

A new romantic drama to round out the month of February comes on February 28th. Based on the novel of the same name, the movie directed by Brett Haley (Hearts Beat Loud, The Hero) is about the love story between Violet and Theodore.
It stars Elle Fanning, Virginia Gardner, Keegan-Michael Key, Luke Wilson, Alexandra Shipp, and Justice Smith.
---
Queen Sono (Season 1)
Netflix Release Date: February 28th

February 2020 will mark another landmark with Queen Sono releases as the first Netflix Original series from the African continent.
The crime drama series will follow the secret agent tackling criminal operations. It's created by Kagiso Lediga and features Pearl Thusi as Queen Sono.
---
Other Releases on Netflix in February 2020
Team Kaylie (Part 3) – February 3rd
Tom Papa: You're Doing Great! (Standup Special) – February 4th
The Pharmacist (Limited Series) – February 5th – Docuseries about a mother looking into the opioid crisis after the death of her boy.
My Holo Love (Season 1) – February 7th – Korean science fiction romance series.
Love Is Blind (Season 1) – February 13th – 10 episode reality series spread across three weeks.
Isi & Ossi (2020) – February 14th – German romantic comedy.
---
Rumored to Release in February 2020
Taylor Swift: Miss Americana is set to release at Sundance Film Festival and arrive on Netflix soon after, we're not sure if that could be February.
Let us know in the comments what you're excited for.