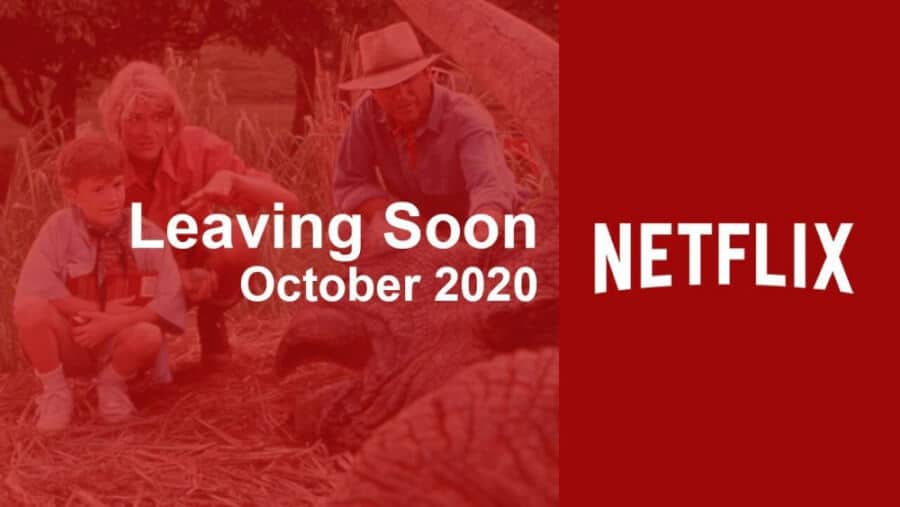 Welcome to your monthly look at what's set to leave Netflix US throughout the month of October 2020. This will be a post that continuously gets updated with all of the TV series and movies set to leave throughout the month.
As a reminder, unlike other outlets, we list titles for removal on the actual day of removal as opposed to Netflix's own produced lists. Those lists include dates that are a day before they're due to depart.
We learn about removals around a month before they're due to depart but also get extended lists from Netflix themselves towards the end of the month. We also cover what's leaving Netflix in other regions including the UK, Canada, and Australia.
Unlike September, there are no Disney movies set to leave in October 2020 that we know of. The Nutcracker and the Four Realms is the next Disney title set to leave but that won't be until November 2020. We're tracking the November 2020 removals separately here.
Full List of What's Leaving Netflix in October 2020
Please note: these departures only apply to Netflix in the United States.
What's Leaving Netflix on October 1st, 2020
2012 (2009)
300 Miles to Heaven (300 mil do nieba) (1989)
40 Days and 40 Nights (2002)
Aashayein (2010)
Across The Line (2015)
Alpha and Omega 2: A Howl-iday Adventure (2013)
April and the Extraordinary World (2015)
Armed Response (2017)
Bandits (2001)
Barbie & Her Sisters in a Pony Tale (2013)
Barbie in A Mermaid Tale (2010)
Barbie in Princess Power (2015)
Barbie in Rock 'N Royals (2015)
Barbie Star Light Adventure (2016)
Barbie: A Fairy Secret (2010)
Barbie: Princess Charm School (2011)
Barbie: Spy Squad (2016)
Barbie: The Princess & the Popstar (2012)
Barbie: Video Game Hero (2017)
Batman: Mask of the Phantasm (1993)
Bhool Bhulaiyaa (2007)
Burnistoun (Seasons 1-2)
Carrie (2002)
Charlie's Angels (2000)
Charlie's Angels: Full Throttle (2003)
Charmed (Seasons 1-8)
Chewin' The Fat (1999)
Dear John (2010)
Despicable Me (2010)
Donnie Brasco (1997)
DreamWorks Happy Holidays from Madagascar (Season 1)
Earth to Echo (2014)
Escape from the "Liberty" Cinema (1990)
Fishtail (2015)
Frances Ha (2012)
The Free Man (2016)
Gargantia on the Verdurous Planet (Season 1)
Hotel Pacific (Zaklete rewiry) (1975)
House of the Witch (2017)
Humko Deewana Kar Gaye (2006)
I Am Bolt (2016)
Ice Guardians (2016)
Insidious (2011)
Jealousy and medicine (Zazdrosc i medycyna) (1973)
Jurassic Park (1993)
Jurassic Park III (2001)
K (2012)
Kahlil Gibran's The Prophet (2014)
Kajraare (2010)
Karzzzz (2008)
Katt Williams: Live (2006)
Limmy's Show! (Seasons 1-2)
Medium (1985)
Menace II Society (1993)
Million Dollar Baby (2004)
Miss Hokusai (2015)
Monster High: Great Scarrier Reef (2016)
Monster High: New Ghoul at School (2010)
Mortal Kombat (1995)
Mountain (2017)
Mud (2012)
My Babysitter's a Vampire: The Movie (2010)
My Life as a Zucchini (2016)
Nura: Rise of the Yokai Clan: Demon Capital (2011)
Paranormal Activity (2007)
Parks & Recreation (Seasons 1-7)
Patiala House (2011)
Phantom Boy (2015)
Ready (2011)
Resident Evil: Afterlife (2010)
Schindler's List (1993)
Seabiscuit (2003)
Set It Off (1996)
Sin City (2005)
Sinister (2012)
Soul Plane (2004)
Sunrise in Heaven (2019)
Swordfish (2001)
Terminator 3: Rise of the Machines (2003)
Terminator Salvation (2009)
The Boy and the World (2013)
The Core (2003)
The Cruise (1970)
The Devil's Advocate (1997)
The Lost World: Jurassic Park (1997)
The lynx (Rys) (1982)
The Money Pit (1986)
The President's Barber (2004)
The spiral (Spirala) (1978)
The Trust (2015)
Tokyo Idols (2017)
Urban Cowboy (1980)
Walking Out (2017)
Weather forecast (Prognoza pogody) (1983)
Welcome to Monster High: The Origin Story (2016)
Westerplatte Resists (Westerplatte) (1967)
Wrong Side Raju (2016)
Zack and Miri Make a Porno (2008)
---
What's Leaving Netflix on October 2nd
Emelie (2015)
Sleeping with Other People (2015)
The Good, the Bad and the Ugly (1966)
---
What's Leaving Netflix on October 3rd
Cult of Chucky (2017)
Truth or Dare (2018)
---
What's Leaving Netflix on October 7th
---
What's Leaving Netflix on October 8th
The Last Airbender (2010)
---
What's Leaving Netflix on October 10th
Abnormal Summit (Season 1)
Chef & My Fridge (Season 1)
---
What's Leaving Netflix on October 14th
Russell Peters vs. the World (Season 1) Netflix Original
---
What's Leaving Netflix on October 15th
Devlok with Devdutt Pattanaik (Season 1)
Harry & Bunnie (Season 1)
---
What's Leaving Netflix on October 18th
---
What's Leaving Netflix on October 20th
---
What's Leaving Netflix on October 23rd
---
What's Leaving Netflix on October 27th
Battle: Los Angeles (2011)
---
What's Leaving Netflix on October 31st
What will you miss once it leaves Netflix in October 2020? Let us know in the comments down below.