Netflix earnings hit this week and new co-CEOs Ted Sarandos and Greg Peters "are really pleased with the quarter." Not bad for their first earnings call. The "business as usual" vibes had to be very welcome for the recently appointed double act, coming from the drama of 2022 when you had:
Q1/Q2: Subscriber LOSS at the streamer for the first time in a decade
Q3: Pivot to ad tier announced
Q4: Departure of Reed Hastings as the season finale
Right now, the ship seems to be steady for Ted and Greg. Are we calling them Ted and Greg or Greg and Ted? I think Ted and Greg. If it were the title of a kids show it would need to be Gregory and Ted, à la Phineas and Ferb, with that nice syllable meter. I digress.
Key Headlines from Netflix Q1 2023 Earnings
The crackdown on password sharing expands… Findings from initial test markets have been positive. There are just a few kinks to iron out in order to make the experience even smoother for users, but Netflix are ready to target "high viewer penetration" markets, including the US, soon.
Article Continues Below...
Advertising evolves… It's still in a crawl phase, but it's eyeing a walk by the end of the year. Better targeting and measurement are a part of this progress. Interestingly, the revenue per ad tier subscriber is actually higher than for those on a standard subscription plan.
No! No! No! No! No! (slight paraphrase) They are not doing theatrical releases!… Ted Sarandos spoke to this, despite the success seen for Glass Onion:
"Driving folks to a theater is just not our business. We create that demand, we collect that demand on our subscription service with our members. And I think having big, new, desirable content, including feature films in the first window, drives value for our members and drives value to the business."
Kids Headlines:
It feels like news and shout-outs to the kids media space have been dwindling in recent quarters. This time around they were as low as a near conspicuous absence for the first time since I started doing these write-ups in 2020. The only mention was of the Academy Award win for Guillermo del Toro's Pinocchio. An impressive feat, which I'll get into in more detail in a minute.
On consumer products, Sarandos once again said it:
"The primary driver for our consumer products business is to build and deepen fandom. It does drive some revenue. But, in general, we are really looking for those opportunities to help fans connect with their favorite shows, their favorite films, their favorite talent by wearing the shirt or carrying the notebook and other ways that people really like to express their fandom."
To me, this implies that CP is a marketing tool for the streamer. Any ambition to invest in this structure as a true business unit and revenue driver seems to be absent. And sure, there is power in kids wearing a t-shirt to demonstrate their fandom, but there needs to be a true machine behind the content if you want to have a hit.
On gaming, Netflix are planning to add an additional 40 titles this year to the 55 they already have. Among these newcomers are household name kids brands Teenage Mutant Ninja Turtles and SpongeBob SquarePants. This area remains a slow build.
Separate from information released at earnings, there has been another recent interesting development for the Netflix kids section. The Trending Top 10 Ranking, a user discovery tool that gives us professionals some unscientific insights into what's hot and what's not, has been broken out into two categories. From now on we will be able to see the Top 10 Trending Kids Movies and Top 10 Trending Kids Series separately. This should give us insights that run a little deeper down the line for both, which is great, as up top tends to be dominated by familiar faces like CoComelon and DreamWorks/Illumination movies.
---
Kids Content Performance in Q1 2023
Kids Series
Contenders in kids for Netflix Global Hours Viewed (referenced as GHV going forward) were also in short supply this quarter, perhaps another reason why kids content was given low lip service. Even the hotly anticipated seventh season of streaming Original franchise Gabby's Dollhouse failed to break in. This essentially highlights a key weakness with the data we receive in the GHV Top 10, particularly for kids. Individual seasons are fragmented out. It's, therefore, easy to miss the halo viewership that comes from a fresh season drop picking up new audiences who begin from the series start. Preschool content, which isn't consumed like this anyway, doesn't really stand a chance. US Nielsen Streaming Content Ratings capture this type of consumption more sympathetically. Hopefully we'll be able to see some details on the launch of Gabby season 7 when that comes out later this week.
Teen content fared better; Wednesday's initial success built into a record-breaking streak. Season 2 of Ginny & Georgia, "like the Gilmore Girls, but with bigger boobs" (quote from the show, not Ted and Greg), also enjoyed impressive viewership.
Kids Movies
Q1 saw the first Original from animation studio Animal Logic, which Netflix acquired last year. The Magician's Elephant had modest featuring in the GHV Top 10, dropping out after three weeks. No rival to The Sea Beast. Surely a bit disappointing but it's likely that most of the movie was locked by the time of the acquisition. Back in the day of linear programming this would have been put in an afternoon marathon, with GdT's Pinocchio, called Frowny Father-Figure Friday.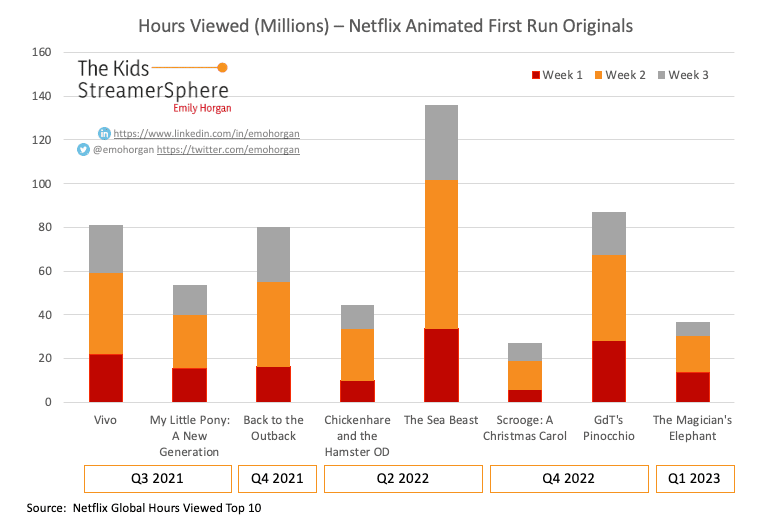 As mentioned above, Guillermo del Toro's Pinocchio swooped the Academy Award for best animated picture. There's no doubting it is creatively gorgeous. Sarandos said:
"…the movies that won so big were also very, very popular with fans. So this is award-winning, critically acclaimed and enormously popular with fans… Pinocchio certainly was that. And we're really proud of the films that were in the mix because they were loved by fans."
To say something is "enormously popular with fans" is a massive truism. You can see from the above chart that the engagement for The Sea Beast was undoubtedly higher, and it now has a sequel on the way. This demonstrates that Netflix see this title as a good bet in terms of subscriber engagement. Currently, they are hugely dependent on driving this type of viewership through movies acquired from DreamWorks and Illumination. These consistently bring in audiences, both when they're from the long tail library and when they're fresh in from cinemas.
On that note, Q1 saw Minions: The Rise of Gru hitting Netflix in the US. Buzz on this film was very hot last summer. If you haven't heard of GentleMinions do you even work in kids media? It grossed over $900M globally, $370M of which came from the US. I was expecting Rise of Gru to go far on Netflix. Results were a little disappointing though, netting out much closer to Lightyear and The Bad Guys, which had nowhere near the same box office.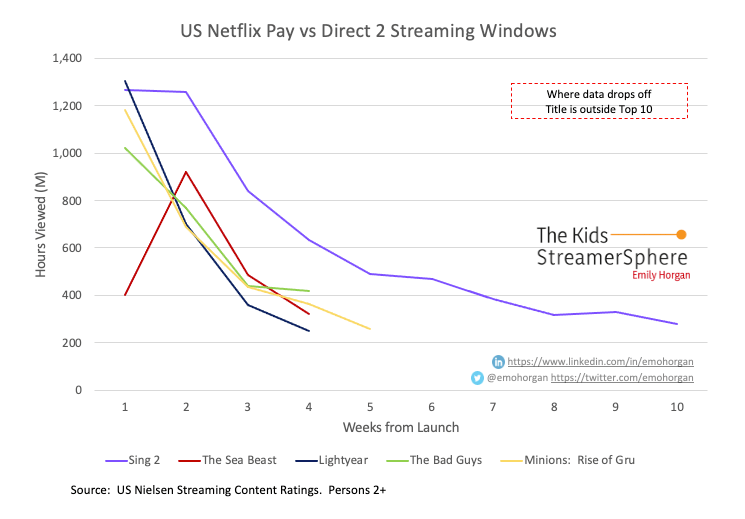 What is blindingly obvious in the above chart, however, is that theatrical releases don't have a negative impact when it comes to streaming windows. @Entertainment Strategy Guy unpacked this across broad genres recently. I'll go further for animated movies in an upcoming issue of this newsletter. Why Netflix remains averse to this approach remains a question.
What's Next for Netflix Kids
The biggest news in Netflix animation recently is undoubtedly the announcement of a Stranger Things animated series. Original creators The Duffer Brothers are on board as executive producers, alongside Shawn Levy and Dan Cohen of 21 Laps (Night at the Museum, Free Guy, The Adam Project). The production studio is Flying Bark Productions, who have credits like Rise of the Teenage Mutant Ninja Turtles and Marvel's Moon Girl and Devil Dinosaur. This should hopefully give the series appeal for kids, rather than being a massive fanboy exercise like we've seen often in the Star Wars and Marvel franchises.
With luck, coming more imminently is the first Original series from Moonbug, CoComelon Lane. This had initially been slated for 2022. For some reason the series press release had me thinking it was going to be a real departure from the standard CoComelon format, potentially a more narrative approach. If Moonbug could successfully nail that evolution for JJ, it would spice up the potential no end. There was a good write-up with managing director Andy Yeatman in Cartoon Brew recently.
Commercial series continue to do well. Princess Power (princesses—check, cute animals—check, music—check) had a great run in the kids Trending Top 10. Perhaps Unicorn Academy, coming from Spin Master in the same vein later in the year, will do likewise.
On the movie front, Puss in Boots: The Last Wish should hit the streamer by the end of Q2, giving yet another data point on the theatrical vs. straight to streaming debate. We'll need to wait until Christmas for bigger Netflix Original movies like Chicken Run: Dawn of the Nugget (Aardman) and Leo (starring Adam Sandler). In the meantime, live-action kids movie Chupa is off to a good start.
So Ted and Greg end their first earnings call, mostly quiet on the Netflix front. Sure, there are a few snafus, and growth wasn't quite up to forecast, but they wouldn't really be in the CEO trenches if there were no problems to attend. Here's hoping that part of their plan is to re-energize in terms of kids content. The list of canceled/"unsure future" shows we track at What's on Netflix is quite a heartbreaking tally of great creative talent. And whilst Guillermo del Toro's Pinocchio represents a huge achievement in animated storytelling, I have to wonder whether investing in something that really connected with kids would have been a better bet in the long run.