In a world obsessed with superhero origin stories, Netflix is interested in telling you the origin story of Santa Claus. The charming animated feature is set to be Netflix's biggest Christmas movie of the holiday season and will hopefully live up to the same standard as last year's Christmas Chronicles. We have everything you need to know about Klaus, including the plot, cast, trailer, and Netflix release date.
Klaus is an upcoming Netflix Original Christmas film written by Zach lewis and Jim Mahoney. The film's production was handled by the Spanish production company The SPA Studios, with Sergio Pablos, Gustavo Ferrada, Mikel Lejarza, Marisa Roman and Matthew Teevan as the producers.
---
What is the plot of Klaus?
As the worst and laziest of the postal academy students, Jesper is exiled by his father to the village of Smeerensburg, located on a small island north of the Arctic Circle. Smeerensburg is a miserable place, with many of the townsfolk feud, barely talk to each other and have little need to send letters. When Jesper befriends the magical carpenter, Klaus, living in the woods, he attempts to scam the kindly fellow and the children of Smeerensburg. But the power of goodwill is infectious, and as the unlikely pair deepen their friendship, Jesper makes it their mission to bring cheer and joy to the townsfolk of Smeerensburg.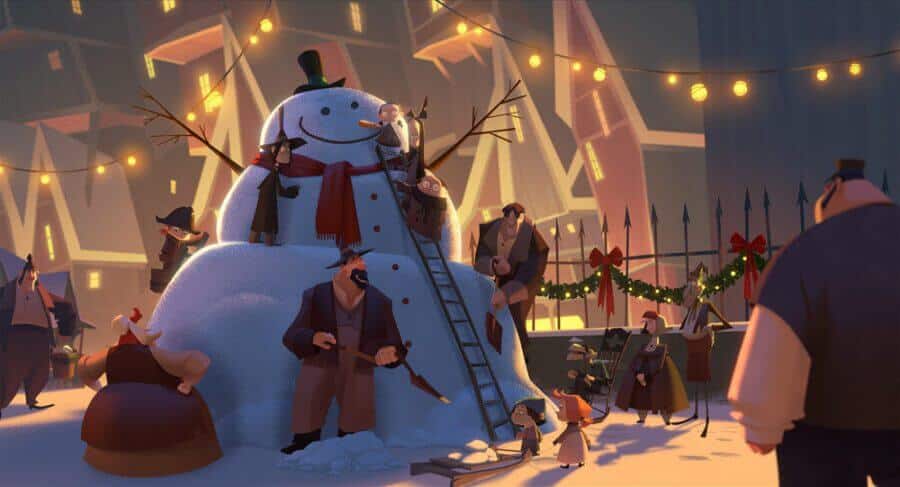 ---
Who is in the cast of Klaus?
The following cast members are in the English Dub of Klaus:
| Role | Cast Member | Where Have I Seen/Heard Them Before? |
| --- | --- | --- |
| Klaus | J.K. Simmons | Whiplash | Juno | Spider-Man |
| Jesper | Jason Schwartzman | Rushmore | Scott Pilgrim vs. the World | The Darjeeling Limited |
| Alva | Rashida Jones | Parks and Recreation | The Social Network | Celeste & Jesse Forever |
| Mrs. Krum | Joan Cusack | In & Out | Grosse Pointe Blank | Working Girl |
| Annelise | Kendall Joy Hall | Grey's Anatomy | 9-1-1 | The Brave |
There are many cast members for the children of Klaus, but many of the roles are nameless.
| Role | Cast Member |
| --- | --- |
| Tucker Meek | Ellingboe Boy |
| Mila Brener | Ellingboe Girl 3 |
| Syndey Brower | Ellingboe Girl |
| Sky Alexis | Ellingboe Girl 2 |
| Finn Carr | Ellingboe Boy 1 |
| Bailey Rae Fenderson | Creepy Girl 2 |
| Jaeden Bettencourt | Krum Boy / Jesper Son |
| Teddy Blum | Small Ellingboe Boy |
| Pierce Pope | Krum Boy |
| Julian Zane | Krum Boy |
---
When did production take place for Klaus?
Some subscribers will be surprised to learn that Klaus entered post-production almost two years ago,
'Filming' took place in June 2017, when the different casts provided their voices for their respective roles. Klaus entered post-production on the 18th of November 2017.
What was the production studio behind the creation of Klaus?
Spanish studio The SPA Studios was responsible for the production of Klaus.
Two further production companies worked on the film. British productions studio Aniventure and the Madrid based Atresmedia Cine.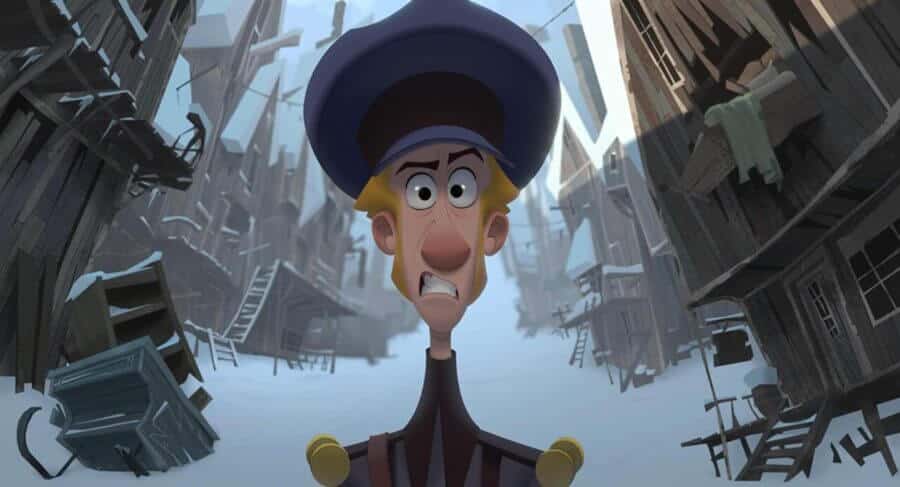 ---
What is the animation style of Klaus?
2D animation certainly still has a place in movies, and Klaus is evidence of that with its stunning design.
James Baxter (How to Train Your Dragon, The Lion King) is the head of character animation and had the following to say about the design of the film:
This breaks the mold of hand-drawn as a more graphic and illustrative experiment. It creates a sculptured, modern look. But there's no model building or virtual lighting that you would see in CG. It's still done by hand by visual development artists that have been trained to use the software as light shapes on characters, which then get tracked through the shots.
Will Klaus recieve an Oscar nomination?
The Oscars would be hard-pressed to ignore Klaus and its beautiful, hand-drawn, 2-d design. Netflix will ensure the animated feature will of least qualify for the Oscars, giving it a limited theatrical run. They'll face heavy competition from the usual suspects of Dreamworks (How to Train Your Dragon 3, Abominable) and Disney (Frozen 2, Toy Story 4) but we expect Klaus to be a good contender for next year's academy awards.
---
What is the run time of Klaus?
At the time of writing, the official run time hasn't been revealed.
Will Klaus be available to stream in 4K?
Klaus won't be available in 4K but should be available to stream in UltraHD instead.
The film uses an aspect ratio of 1.85: 1 but 4K requires 1.9:1.
---
Has Netflix released a trailer for Klaus?
Certainly! After watching it ourselves, we can't wait to see this charming Christmas special!
---
When is the Netflix release date for Klaus?
Klaus is scheduled to release on Netflix on Friday the 15th of November.
There is a limited theatrical release for Klaus that will run from the 8th of November.
Will Klaus be available to stream in my region?
For the digital release, Klaus will be available to stream worldwide in all Netflix regions.
---
Are you looking forward to the release of Klaus? Let us know in the comments below!