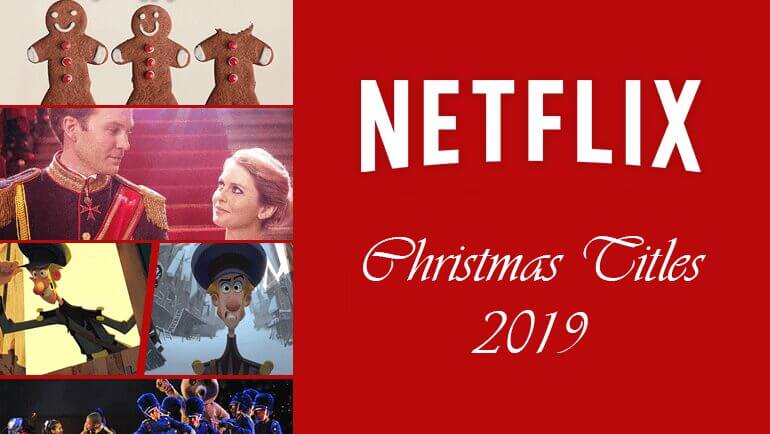 Netflix has Christmas in its sight with a massive array of Christmas titles scheduled for 2019. Here are all the Christmas titles we know about so far. These are all Netflix Originals and any other Christmas titles from other companies will likely get announced in October or November. 
Note: this list is by no means complete and doesn't include release dates as of yet. We'll keep updating as the holiday season approaches.
A Christmas Prince: The Royal Baby
Release Date: November 2019
Article Continues Below...

Most Netflix Original movies don't get sequels let alone having a trilogy like the movie series A Christmas Prince gets. In 2017, we got the original romance story. Last year, we got the wedding and this year, we'll be seeing the arrival of a royal baby. Beyond that, a peace treaty between two royal families is put in jeopardy.
John Schultz who directed the second movie returns to direct The Royal Baby and will see Rose McIver and Ben Lamb return to their roles.
---
Home for Christmas (Season 1)
Release Date: TBA

The creator of Quicksand, the wildly successful Swedish series returns to direct a Norwegian drama series based around the holiday season.
The series sees Johanne starting a 24-day hunt for a partner to bring home for Christmas to avoid spending Christmas alone with her family.
The series stars Ida Elise Broch, Felix Sandman, Kingsford Sayor and Mads Sjøgård Pettersen.
---
Christmas in the Wild
Release Date: December 2019

This Christmas treat was greenlit back in 2018 with filming reportedly wrapping up in late 2018. It features the talents of Rob Lowe (Parks & Recreation, St Elmos Fire) and Kristin Davis (Sex and the City 2).
It's being directed by Ernie Barbarash and here's how Netflix describes the movie:
Jilted by her husband on the eve of embarking on an African safari, a woman travels to the continent alone where she meets a elephant conservationist.
---
Let It Snow
Release Date: November 8th, 2019

One of the first Christmas features to arrive this year, Let It Snow, is based on the New York Times bestseller of the same name by author Maureen Johnson, John Green, and Lauren Myracle.
The film will star popular Chilling Adventures of Sabrina star Kiernan Shipka, Transformers' Isabela Moner, Goosebumps' Odeya Rush, and stars of Spider-Man: Homecoming and Spider-Man: Into the Spiderverse, Jacob Batalon and Shameik Moore.
In a small town on Christmas Eve, a snowstorm brings together a group of young people.
---
Klaus
Release Date: November 15th, 2019

This animated Christmas title has been in development for over four years by the time it releases on Netflix later in 2019. It's got a big voice actor lineup which we'll cover in just a second.
The movie is about a postman who is sent to the North Pole where he finds Santa hiding.
Among the voice cast for Klaus is J.K. Simmons, Rashida Jones, Joan Cusack, and Jason Schwartzman.
It reportedly had a budget of $40 million and comes from a Spanish production company.
---
Hot Chocolate Nutcracker
Release Date: TBA

This documentary series which comes from Oliver Bokleberg is part of the new Shondaland output for Netflix. It'll go behind the scenes of a dance academy named the Debbie Allen Dance Academy and looks at the work that goes into producing The Nutcracker play.
---
A Cinderella Story: Christmas Wish

Disney popularised the Cinderella fairytale and has seen countless live-action remakes since. The most prolific adaptation was the 2004 movie starring Hilary Duff which despite having poor reviews, still remains popular. We've also seen a 2008 sequel as well as multiple spin-offs with the next being Christmas Wish.
Written and directed by Michelle Johnston, the new movie will star Laura Marano, Gregg Sulkin, Isabella Gomez, Maddie Phillips, and Chanelle Peloso.
---
The Knight Before Christmas (2019)
Release Date: December 2019

Vanessa Hudgens is starring in yet another Christmas for Netflix. Last year, Vanessa featured (technically twice) in The Princess Switch. This year, she's back for another romantic Christmas flick in the form of The Knight Before Christmas.
Starring alongside Vanessa Hudgens is Emmanuelle Chriqui, Josh Whitehouse, Mimi Gianopulos, Harry Jarvis, Jacob Soley, and Olivia Gudaniec.
---
Merry Happy Whatever (Season 1)
Release Date: TBA

Directed by: Pamela Fryman and Gloria Calderon this anthology comedy series will be based around the holiday season.
Among the cast members lined up for the show include Siobhan Murphy (Spotlight), Dennis Quaid (The Day After Tomorrow) and Adam Rose (Santa Clarita Diet).
Here's how Netflix describes the show:
In 1st season of anthology series a strong-willed patriarch must balance the demands of his complicated family with the stress of the Christmas season when his youngest daughter comes home for the holidays with a new boyfriend.
The show is currently scheduled for release in November.
---
Holiday Secrets: Miniseries
Release Date: 2019

This German miniseries is set to release sometime in the Holiday season. The series will star Corinna Harfouch, Christiane Paul, Svenja Jung, and Leonie Benesch.
Three Christmases. Three Women. Three Generations. The grandmother Vivi, the daughter Sonja, the granddaughter Lara. It is a story about three very different women who face challenges in love and life and struggle with choices about freedom and sacrifice over the span of almost a hundred years. And it is a story about the spirit, the invisible essence, that lives on over time within these women. Is there something that gets passed on over generations within them? Can you ever really be free from what happened before you?
---
Stranger Things Christmas Special (?)

We're still not sure on this one but Stranger Things could be returning for Christmas. The series premiered its third season on July 4th, 2019 but one of the behind the scenes videos saw a Christmas set being all set up. With the absence of Christmas in season 3, are we due a Christmas episode?
---
Christmas Titles Coming in 2020
If you think looking at 2019 Christmas movies and series is too early, there are already some big titles coming to Netflix during Christmas 2020.
A Boy Called Christmas (movie) – Based on the book by Matt Haig