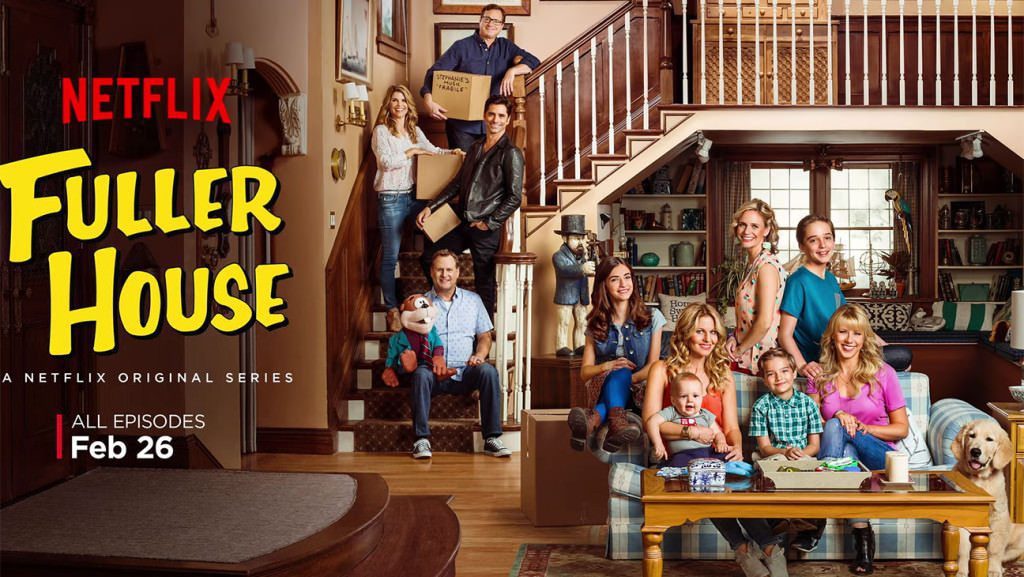 The clock is ticking down to the release of season 1 of Fuller House on Netflix and we're going to now prepare you with everything you need to know before the big launch on February 26th.
Full House Beginnings
So in case you've been living under a rock these last few months, Fuller House is back but you probably knew it as the 80's/90's sitcom show, Full House. Running from September 22nd 1987 all the way until May 23rd 1995, the feel good family show had a special place in their TV schedules. The show was about Danny Tanner, a windowed husband that was tasked with looking after his three young children but enlists the help of his brother-in-law to do so.
The series was favored by critics but absolutely adored by its fans and was one of ABC's shining light comedy-dramas. 192 episodes spread across 8 seasons were produced and while they're not currently available on Netflix yet, we suspect that we may see them added around the time Fuller House is added as we predicted here.
Article Continues Below...
A New Chapter
A new generation will see many of the cast return but how did the new season come about? It certainly would be in high demand just because of the mark the original left on millions around the world. That combined with the constant rumor machine in full effect surrounding a reboot meant that it was inevitable. Rumors had been floating since August 2014 but it wasn't until April 2015 that it was confirmed that Netflix would be producing the reboot with John Stamos delivering the news on Jimmy Kimmy Live.
Since then we've had regular news about the show and how much it'd differ from the original show whether that's down to the cast or the soundtrack. Speaking of the soundtrack, the theme song to Fuller House is a mastered rendition of original Full House theme song, "Everywhere You Look", performed by Carly Rae Jepsen along with Butch Walker.
The Story
Although sharing many of the same cast members and other attributes of the original Full House, it will be taking a different direction with its story and act as both as a continuation but also fundamentally different. Like Full House, it'll be about a household with multiple families living under the same roof but instead of the men being the heads of the house this time it's time for the ladies to take charge.
D.J Tanner-Fuller, Stephanie Tanner and Kimmy Gibbler, who were just little kids in the original, are all grown up now and are in a pretty similar situation to the original show. DJ is recently widowed and enlists the help of her sister and best friend to help look after her three children.
The Cast of Fuller House
As we mentioned above, the cast will have many of the returning characters of the original plus lots of new faces too. We've compiled the full list of main and recurring members below in a handy table.
| Actor | Playing | Relationship | Recurring or Main? | In Full House? |
| --- | --- | --- | --- | --- |
| Candace Cameron Bure | D.J Tanner-Fuller | Main Character | Main | Yes |
| Jodie Sweetin | Stephanie Tanner | DJ's Sister | Main | Yes |
| Andrea Barber | Kimmy Gibbler | DJ's Best Friend | Main | Yes |
| Bob Saget | Danny Tanner | DJ's Father | Recurring | Yes |
| John Stamos | Jesse Katsopolis | Danny's Brother-in-law | Recurring | Yes |
| Soni Nicole Bringas | Romana Gibbler | Kimmy's Son | Main | No |
| Dashiell & Fox Messitt | Tommy Fuller | DJ's Son | Main | No |
| Elias Harger | Max Fuller | DJ's Son | Main | No |
| Michael Champion | Jackson Fuller | DJ's Son | Main | No |
| Scott Weinger | Steve Hale | DJ's Ex-Boyfriend | Recurring | Yes |
| Lori Loughlin | Rebecca Donaldson-Katsopolis | Jesse's Wife | Recurring | Yes |
| Jaun Pablo Di Pace | Fernando | Kimmy's ex-husband | Reccuring | No |
| Michael Sun Lee | Harry Takayama | N/A | Recurring | No |
| Eva LaRue | Teri Tanner | Danny's wife | Recurring | No |
| Blake & Dylan Tuomy-Wilhoit | Nicky & Alex Katsopolis | Jesse's Twin Brothers | Recurring | No |
| Dave Coulier | Joey Gladstone | Friend of Danny Tanner | Recurring | Yes |
Everything else you need to know
We could go on and on about this shows revival but here's some more facts about the show you need to know before jumping in.
The first episode of Fuller House is called "Our Very First Show, Again"
The show has been shot and will be shown in 4K
13 Episodes have been confirmed for season 1
All 13 episodes are releasing on February 26th, 2016.
So we hope that has got you hyped for season 1 of Fuller House and we'll leave you with a behind the scenes look at the show.