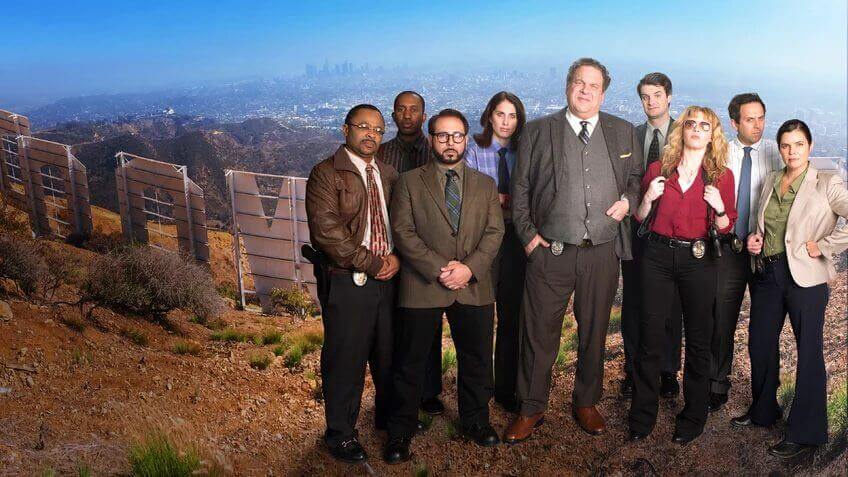 Handsome is a Netflix Original movie that landed on May 5th around the world on Netflix's streaming service. This article is a follow-up post to the movie covering everything you need to know before going in and post-viewing. We've got everything you need to know about the history of the movie, a mini-review in case you're not sure about watching plus we'll cover a complete list of the cast as well as a breakdown of the soundtrack of the movie.
---
Movie History
The movie was first announced in June 2016 where it was announced that Netflix had acquired the rights to the movie first reported by Deadline. It wasn't heard of again until March 2017 when they released the first trailer for the movie. It showed off the cast as well as some pointers as to what to expect from the movie itself.
What's the movie about?
Gene Handsome is a police detective who is nearing retirement and gets put on a case for his next door neighbor and while searching for clues to solve the crime he also must search for clues for where his life is heading.
Article Continues Below...
Full Cast
Although the story primarily focuses on Jeff Garlin's and Natasha Lyonne's characters, there's plenty of big stars that feature at one point or another. Here's the full cast list for Handsome plus who they played and what they're known for.
| Actor | Played | Known For |
| --- | --- | --- |
| Jeff Garlin | Gene Handsome | HBO's Curb Your Enthusiasm |
| Natasha Lyonne | Fleur Scozzari | Orange is the New Black |
| Christine Woods | Nora Vanderwheel | Hello Ladies |
| Steven Weber | Talbert Bacorn | Wings |
| Amy Sedaris | Lieutenant Tucker | Puss in Boots |
| Eddie Peitone | Durante | Your Pretty Face Is Going to Hell |
| Leah Remini | Esta | The King of Queens |
| Timm Sharp | Lloyd Vanderwheel | Blunt Talk |
| Brad Morris | Detective Burt Jerpis | Seeking a Friend for the End of the World |
| Ava Acres | Carys VanderwheelCarys Vanderwheel | Crazy Ex-Girlfriend (2015) |
| Kaley Couco | Herself | The Big Bang Theory |
| Joe Enda | Detective Joe | Homicide Hunter: Lt. Joe Kenda |
| Michael R. Carlson | Detectie Rice | Screenjunkies |
Soundtrack
The main theme of the movie has been recorded especially but has a distinct sound to it almost like what you'd hear on Pink Panther. The rest of the soundtrack is made up of various pop and rock songs.
Fooled Around And Fell in Love – Elvin Bishop
Why Can't I – Liz Phair
You should watch this movie if you like…
If you're a comedy movie fan particularly if you like more subtle styles of comedy. Jeff Garlin's other work on HBO is very similar to what you find in this show.
Anything else you need to know
In one of the final scenes, the line 'You're a self-loathing jew' is a line from HBO's Curb your Enthusiasm which also stars Jeff Garlin.
Natasha Lyonne also stars in the Netflix Original series, Orange is the New Black
Jeff Garlin co-wrote the movie
What's your verdict on Handsome? Let us know in the comments below.