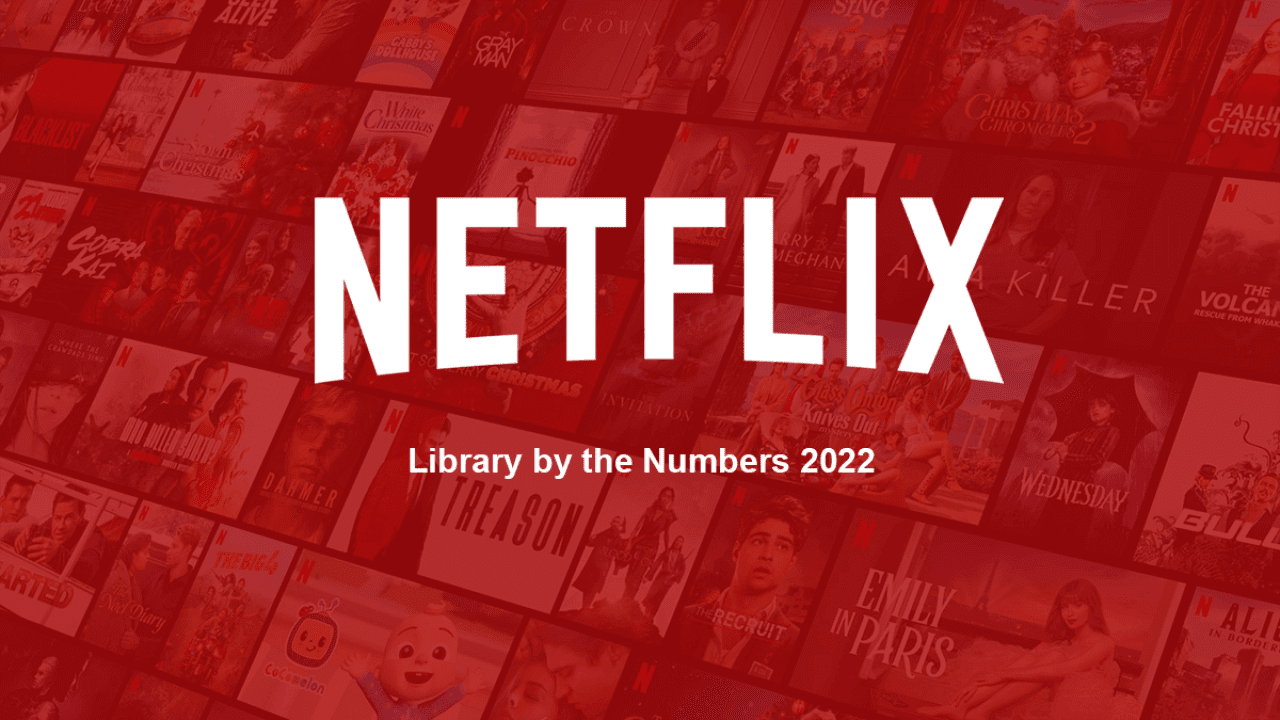 Welcome to our big numbers roundup for the end of 2022, where we'll be looking at four main Netflix regions, how big their libraries are, what was added throughout 2022, and several other cool stats for the year.
If you've missed our library by the numbers over the past two years, you can revisit our 2021 review here and 2020 review here.
---
Which country has the biggest library out of Netflix USA, UK, Canada, and Australia?
All Netflix regions increased their library totals in 2022, with Netflix US now boasting nearly 6,500 titles. Still, Netflix UK has boosted its lead handsomely over Canada, Australia, and the United States (we'll explain why in a second).
Article Continues Below...
Here's a graph breaking down the total library totals as of December 31st, 2022, for CA, UK, US, and AU:
Why Netflix UK's Library Ballooned in 2022 (again)
Over the past few years, Netflix UK's library has been growing much more than most other regions.
In 2022, the library in the UK grew by over 10%, from 7,078 titles to over 7,800 titles.
From our analysis, this is mostly because Netflix across Europe has been buying many documentaries, movies, and series to meet controversial quotas.
Which Netflix region globally has the most titles altogether?
The answer to this is the Czech Republic! According to Unogs, their library boasts nearly 9,000 titles sitting at 8,779.
---
How does Netflix's library total compare to its competitors?
In the last few years, Netflix has had many new competitors come into the market, particularly in the US, so how many titles does Netflix have compared to those competitors?
Sadly, getting accurate counts isn't easy, so we'll rely on a few sources. For Netflix, we'll use our data. For Disney+, we'll use newondisney.info; for everyone else, we'll use JustWatch.
We've added error lines for JustWatch because their data can be a little out of date from our research.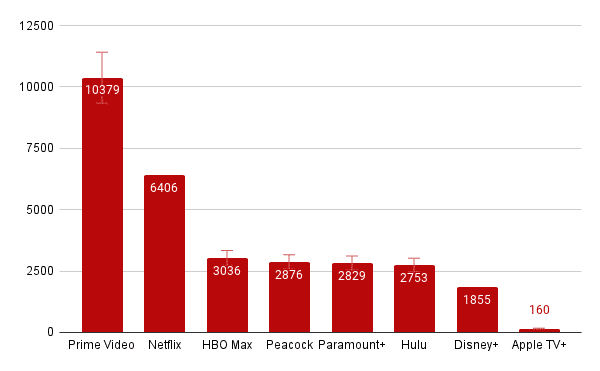 ---
How many Netflix Originals did Netflix release in 2022?
Netflix added 891 Netflix Originals in 2022, up substantially from 2021, which saw 788 Netflix Originals added.
Here's how that breaks down month by month:
This differs slightly by region, however. Here are the total Netflix Original releases in 2022 in the three other countries we're tracking:
UK – 878 Netflix Original Releases in 2022
CA – 886 Netflix Original Releases in 2022
AU – 889 Netflix Original Releases in 2022
Which region has the most Netflix Originals?
Wait, aren't all Netflix Originals global? No!
Netflix in select regions can often carry shows or movies that aren't in other regions.
A few examples include Derry Girls being a Netflix Original in the US but not in the UK, Better Call Saul being a Netflix Original in the UK but not in the US. When all is said and done, however, there's not a huge difference in the number of Originals per region, with the US coming slightly ahead of the other three comparison regions.
| Country | Number of Netflix Originals |
| --- | --- |
| USA | 3415 |
| UK | 3384 |
| CAN | 3391 |
| AUS | 3398 |
Netflix Original Now Make Up Over 50% of Netflix Library (but only in the US)
Earlier this year, we were the first to report that Netflix had hit the threshold of having 50% of its library as Netflix Originals. That means there's now a Netflix Original for every licensed piece of content.
That was back in August 2022, and it's only grown.
At the time of publishing, the number currently sits at 53.42% of all titles on Netflix US being Originals.
Here's how those numbers differ between the US and the UK:
Netflix US Original Split – 53.42%
Netflix UK Original Split – 43.24%
A couple of years ago, we found that the US percentage is rising by around 0.88% every month, and so far, it's been pretty accurate.
Here's when we're currently expecting Netflix US to hit new major milestones:
60% – ~July 2023
75% – ~December 2024
100% – ~May 2027
According to PlumResearch, their panel data suggests that licensed content still makes up over 50% of the total viewing, meaning that while Netflix should stay focused on Netflix Originals, they also shouldn't get out of the licensed content too fast.
---
Netflix Original Removals Going Up Exponentially
This year, one of the underreported stories is the number of Netflix Originals that have begun departing the service as their licensing agreements begin coming up for renewal.
Mostly, once their removal date pops up, they go on to depart. In a few instances, Netflix has renewed them either before their removal or after the fact, the biggest example being Lilyhammer which was renewed for several years.
We've been cataloging all of the Netflix Original removals here, and the chart below shows how many have been removed since 2017. Please note that we've excluded some titles from this graph, such as New Year's Eve Countdowns and promotional clips.
---
What season number was the new Netflix Original series released in 2022?
Finally, if you follow me on Twitter, you'll know I was going to exclude this chart from the article, but I thought I'd include and add some caveats.
The biggest caveats are that we've included limited series and season 1s for this chart. We've done so because we rely on Netflix's labeling of seasons, which can sometimes be wrong or misleading. For example, Pepsi, Where's My Jet? is labeled as a season 1 despite the fact there was never an intention to bring it back, and it should be a limited series.
Nevertheless, whichever way you chop and change the parameters, there's no denying a steep drop-off in the second and subsequent seasons of shows.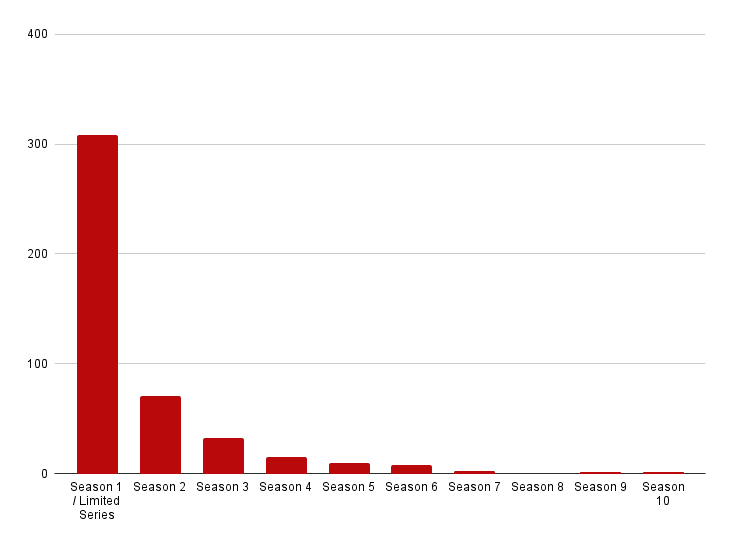 Thanks to several sources such as NewOnNetflix.info, FlixPatrol, Unogs, and JustWatch for helping assist with this article.
Have we missed any important Netflix stats for 2022? Let us know in the comments down below.