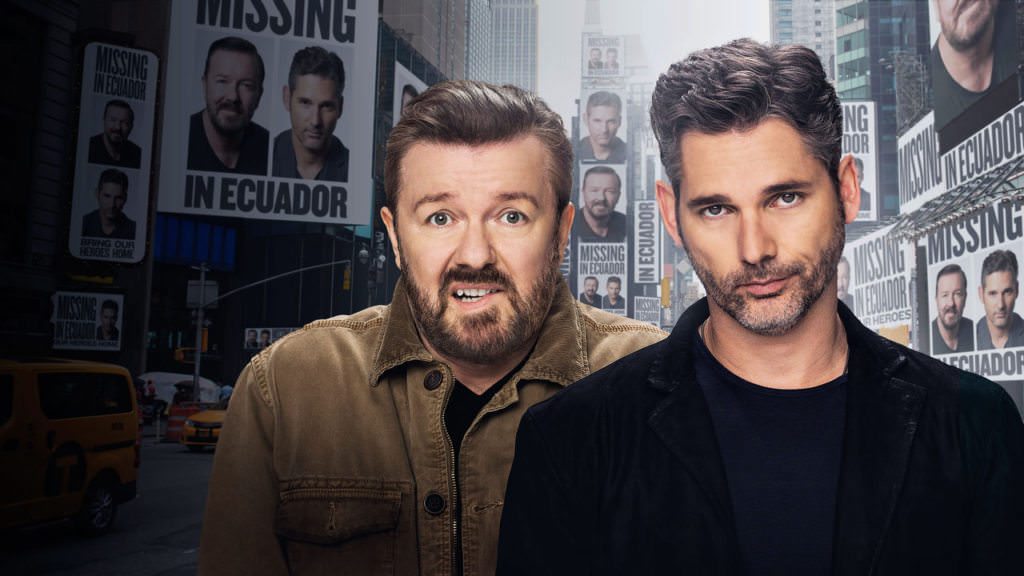 This isn't Netflix's first foray into the comedy movie scene but it may just be the first time it has been a good comedy movie added. We're looking at you The Ridiculous 6.
The movie stars Eric Bana and Ricky Gervais who are both failing radio employees where Eric Bana plays a charismatic news correspondent and Ricky playing a chief radio engineer.
The pair (of breasts, not balls) pick up a story to go to Ecuador in the midst of a civil war but don't actually end up going opting instead to reporting from the frontline in the comfort of their home after a mishap with their passports, tickets and cash too.
Let's not forget the great supporting cast too with Ugly Betty's America Ferrera killing it as Brigida who along with Raúl Castillo are the hosts of the two reporters and add some hilarious lines to and otherwise fairly serious movie.
Initial impressions are pretty good for the movie for me at least, it's heavy on story and has excellent production values which is what you come to expect from a Netflix production and indeed, a Ricky Gervais movie too. It's not particularly heavy on humour relying on its concept instead and for the most part is seems to be working for me at least.
A few twist and turns also make the movie particularly the looming twist where Frank (Bana) sleeps with Ian's (Gervais) wife before breaking up with him spurring him on. The hints come subtle throughout and the whole film is then about them building upon the multiple lies that've been laid down and get even more tangled as the film progresses.
Gervais usually likes to leave an underlying moral message within his movies and the message is loud and clear in this movie to not believe everything you hear in the media. As their lie develops other news outlets picks up the lies as truth.
The pace of the film is perfect and overall we think this is a very watchable and enjoyable movie. It's not over dramatic when compared against the type of comedy that Netflix has targeted with the likes of Master of None and Unbreakable Kimmy Schmidt. It feels grounded and therefore we think that this is the best Netflix Original comedy movie to hit Netflix and probably second to Beasts of No Nation in the overall original movie catalog.