The I-Land has just all dropped onto Netflix with seven episodes and although reviews have been mixed, you may be wondering whether The I-Land will be back for season 2. We're sad to say that's not going to be the case, here's what we know. 
Although the series started off slowly, the series developed into an excellent mind-bending sci-fi series that was absolutely worth the time investment.
The I-Land released on Netflix globally on September 12th, 2019.
https://www.youtube.com/watch?v=GxpwiwOdMHk
Could and will there be a second season?
Let's start off with a will there be a second season. The answer to that is pretty simple, no. The series is dubbed as a Limited Series which means the creators and Netflix went into the project knowing it'd be the first and last.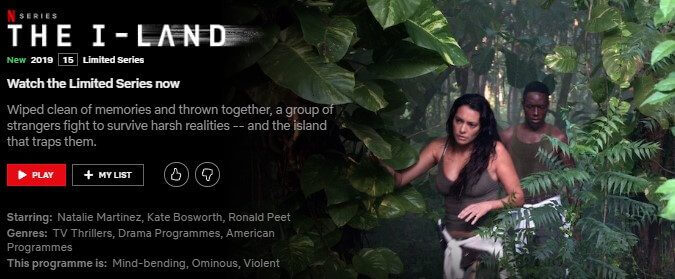 Netflix themselves (at least in the French region) have also taken to Twitter to confirm the fact that the series is ending after season 1. When one fan asked if there would be a season 2, the account answered with the following: "There is no follow-up. It's a miniseries. So only one season."
Warning: spoilers follow for the series.
So, could there be another series? Well, the answer is probably not. The story wraps up well with the curtains being full unveiled on the world and why the program called The I-Land exists.
Although it'd be good to know if KC and Cooper ever get the redemption the program set out is yet to be known.
One possible future for the show is an interactive special. During one of the jury meetings, one of the jurors mentioned that the simulation is a series of choices which would be amazing as a standalone interactive special. You wake up on the island and slowly figure out your back story.
What to watch next on Netflix after The I-Land
Now you've completed The I-Land, chances are you're looking for something similar to watch.
Let's start off with Black Mirror but specifically two of the episodes in season 2. First up, White Bear (episode 2) features a prison setup where the prisoner faces a torture scenario. Episode 4, which also serves as a Christmas special, is about using dream/simulation type scenarios for interrogation.
Some Netflix regions still carry LOST which is an obvious comparison.
Beyond that, if you're looking for pure sci-fi check out I Am Mother from earlier this year or have a look into Maniac which is another limited series perfect for a weekend sitting.
Did you enjoy The I-Land on Netflix and want to see another series? Let us know in the comments.