F is for Family is the animated sitcom on Netflix starring Bill Burr and it's coming back for season 3! We're just weeks away from season 3 dropping on Netflix. Here's the latest on everything we know about the upcoming season of F is for Family including its release date, plot news, behind the scenes and any casting changes. 
Most of this article is going to be comprised of information from the official writers Twitter account which is by far one of the best Twitter accounts for Netflix shows. They regularly release snippets of information about the next season plus they're also super friendly, go say hi!
This is the final update to the preview of F is for Family before it releases on Netflix for November 30th.
Article Continues Below...
---
Season 1 & 2 Recap
Head back to the 1970s with the Murphy family in seasons 1 and 2 of the show where we see the day to day life of Frank Murphy and his wife, Sue Murphy. The pair lives in a working middle-class area with Sue being a housewife and Frank working at the local airport. The pair is at constant odds with each other as they battle with their three kids, their nosey neighbours and most importantly, Frank's awful boss. The show has many throwbacks to those who grew up in the '70s but is also relatable enough for anyone who was born later.
https://www.youtube.com/watch?v=HFzrvMS6P8g
Season 2 saw Frank hit an all-time low having lost his job and having to sign-on. After a crappy part-time job, Frank is eventually needed back at the airport where his replacement has gone rogue. We end the series at the airport with Scoop's body parts literally everywhere. Also in season 2, we saw Kevin lose his virginity and also is propelled to stardom thanks to his band.
Sue is struggling to remain at Plast-a-Ware and run the household which leads to the couple getting therapy at a somewhat unconventional location. Overall, season 2 was a pretty tough season for the Murphy's and that is likely going to continue into season 3.
---
What's going to happen in season 3?
Thanks to a myriad of news releases, trailers and teases by the writers behind the show, we know what's going to be happening throughout season 3. The season will begin in the summer with new neighbours joining the street where Frank and co live. It just so happens that one of the new neighbours is an old friend of Franks. The pair hit it off again and off they go on adventures.
Elsewhere, Bill Murphy is likely falling in love for the first time at high school. Kevin is failing at school and Sue Murphy is slowly rising up at her job.
---
Where is season 3 in development?
Status: Complete – ready for release!
Back in late June, we spoke to the co-creator and writer of F is for Family Michael Price to ask about any snippets of information about season 3. Back then, Michael told us how they were entering into the early writing stages for season 3. Fast forward a few weeks into July, the team were already celebrating their first table read, as pictured below.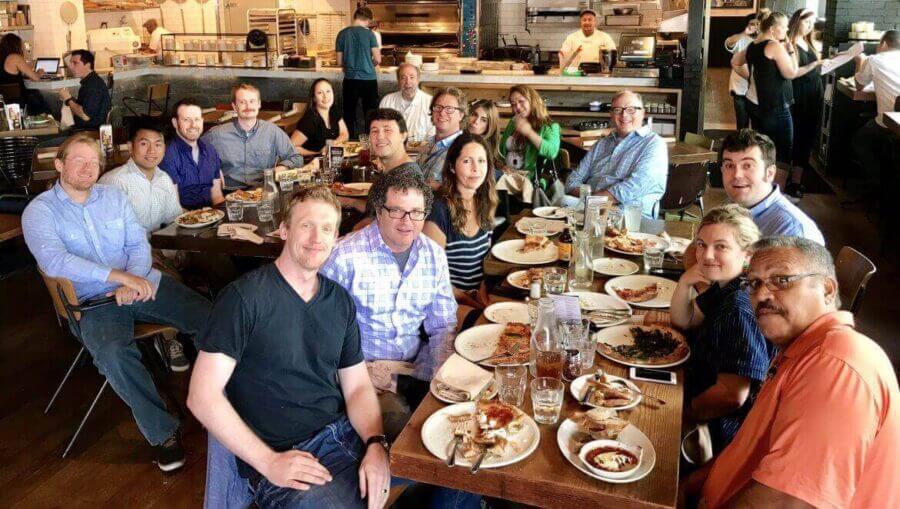 Slowly, week by week we knew of more episodes that had been drafted and what's most surprising, is how they were already recording for the early episodes early on in the writing process. Slowly we've seen drafts and pictures of the team in the recording studio ever since. On October 12th, the season 3 finale table read happened which concluded the writing stage of season 3. A few weeks later, the finale was being recorded with the actors/actresses so it's likely that all voice acting has now concluded.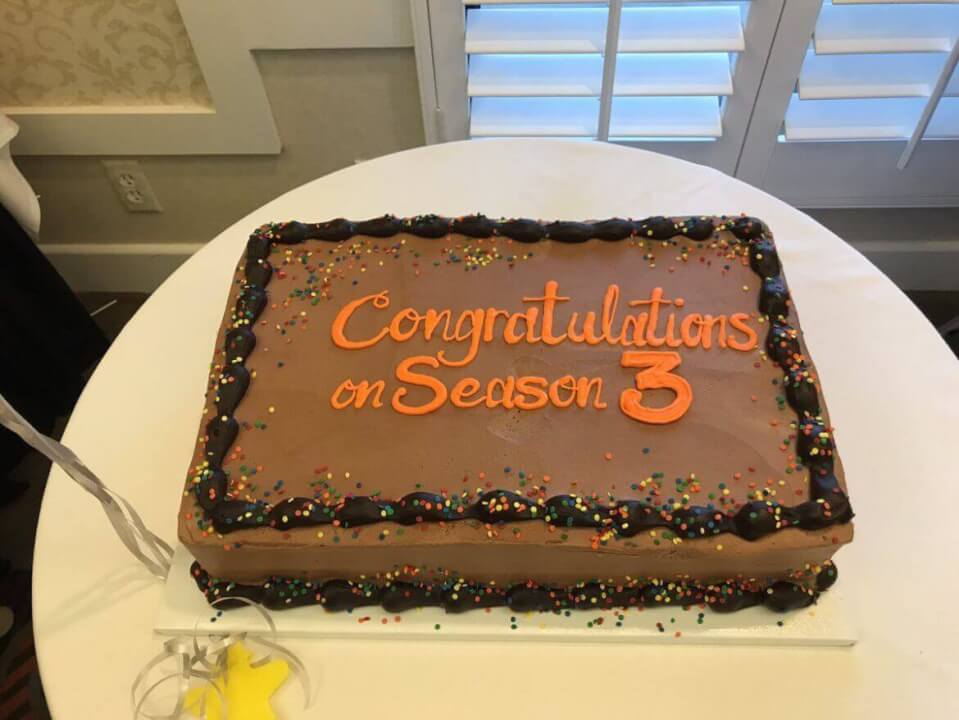 On October 21st 2017, the staff team met up for lunch for one last time as production of the show goes into full swing.
story board f is for family
animation for f is for family
frank and pogo f is for family storyboard
In July 2018, the Twitter account reveals that they've finished four of the 10 upcoming episodes with the last part of the production being the final sound mix.
Final sound mix for S3 E4, MR. MURPHY'S WILD RIDE, written by @mikepriceinla tonight. #4Down6ToGo pic.twitter.com/M3Kpq3gJWs

— FIFF WRITERS (@FIFFNetflix) July 6, 2018
Fast forward to August 2018, the series is now in its final stages of development. We've seen storyboards turn into their animated final edits. We've had snippets of information of the various voice talents entering the studio to lend their voices to their characters.
On August 9th, 2018 the Twitter account gave us a look into how they record the dubs for the show. On a large TV screen, they have the episode playing and the actor then voices over that. In this case, Justin Long is calling in via satellite from London.
Final Season 3 ADR sessions this morning with @justinlong (live via satellite from London) and @Imkevinfarley (from NYC). pic.twitter.com/K1f9D9OnJk

— FIFF WRITERS (@FIFFNetflix) August 9, 2018
---
Casting News
The majority of the cast will be staying the same for season 3 will Bill Burr returning as Frank, Laura Dern as Sue, Justin Long as Kevin, Debi Derryberry as Maureen, Sam Rockwell as Vic and Haley Reinhart.
New cast members include Al Ducharme who will be playing Philip's baby brother Anthony.
Vince Vaughn also joins the cast in season 3. Vince has actually been involved with the series since the first as executive producer but in season 3, he'll also be one of the characters. In season 3, he'll play Chet Stevenson who is a pilot. We know Frank Murphy trained to be a pilot in his early life so this will no doubt be connected to that.
---
Season 3 Episode Names
We also know most to all of the episode names which could hint at what to expect throughout season 3. We also know who's writing each episode which we'll display below.
Episode 1 – "Are You Ready For The Summer?" – Written by Eric Goldberg and Peter Tibbals
Episode 2 – "Drive-By" – Written by David Richardson
Episode 3 – "The Stinger" – Written by Marc Wilmore
Episode 4 – "Mr. Murphy's Wild Ride" – Written by Michael Price
Episode 5 – "Battle of the Sexes" – Written by Emily Towers
Episode 6 – "Punch Drunk" – Written by Joe Heslinga
Episode 7 – "Summer Vacation" – Written by Valeri Vaughn
Episode 8 – "It's in his Blood" – Written by Henry Gammill
Episode 9 – "Frank the Father" – Written by Bill Burr
Episode 10 – "Bill Murphy's Night Off" – Written by Michael Price
---
New Opening Titles for Season 3
In July, it was revealed there'd be some new props entering the opening sequence. These flying props will only be on screen for seconds but likely indicate the plot points for the upcoming season.
Apropos of our earlier tweets today, here are some of the new "cloud items" that will be flying Frank's way in our Season 3 opening titles. Let the speculation begin! pic.twitter.com/fNG4bRD3TQ

— FIFF WRITERS (@FIFFNetflix) July 11, 2018
In the first screen, we can see a pizza box with lights, camera, pizza. We also see a "Plast-a-ware" box which is from Sue's now ex-company.
In the second screenshot, we see a lifebuoy with the initials R.C.F.D. We did a quick google search and most results were related to fire departments. Could Frank be looking for a new job?
In the final screenshot, you can see a toy box for a game called "Carambolage!" and a spray of some sort. We have absolutely no idea what these two items are referring to.
---
When will Season 3 of F is for Family release on Netflix?
We now know that season 3 of F is for Family will release on November 30th as announced alongside the November new releases. A trailer dropped on the same day too.
If you're staying up, you'll have to stay up for 12:01AM PST. That roughly translates to 8 AM GMT for those in Europe and 3 AM EST.
Since our first publishing of this article, Netflix has announced a number of new upcoming animated sitcoms and F is for Family sat at the top of our list of animated sitcoms.
Let us know in the comments if you're looking forward to the next season! And before we go, we shall leave you with this GIF. Sorry.