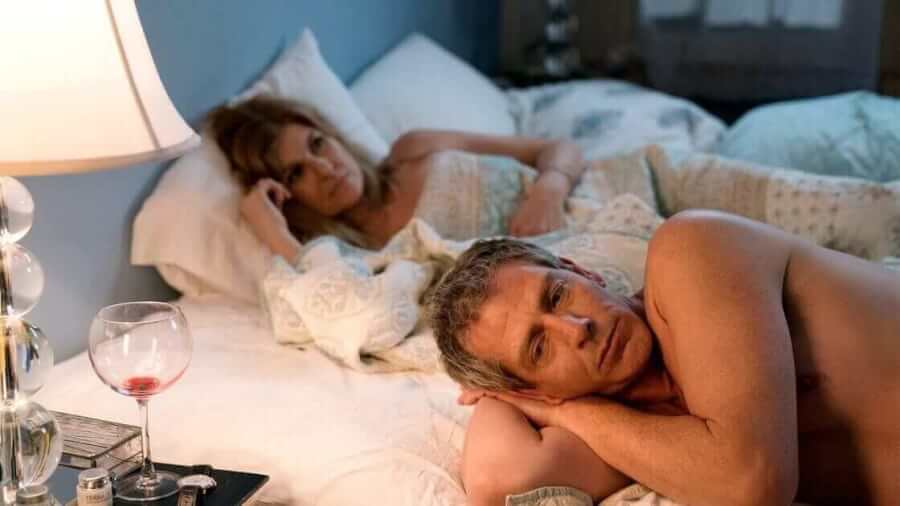 Netflix's latest drama that draws on the novel of the same name has just arrived on Netflix after premiering at the Toronto International Film Festival on September 14th. Here's what you need to know about the movie before and after you watch.
Before You Watch
Who's involved?
Nicole Holofcener is the director of the movie who also adapted the novel into the screenplay. Its big star talent includes Ben Mendelsohn, Connie Britton and Edie Falco.
What's it about?
Here's the synopsis provided on IMDb: "Feeling trapped in the stifling, wealthy enclave of Westport, Connecticut, Anders Hill (Ben Mendelsohn) retires from his job in finance and leaves his wife (Edie Falco) in the hopes that it will renew his lust for life. However, he's quickly faced with the startling reality of his choices; he spends his days looking for things to decorate his empty shelves, sleeping with strangers and feeling terribly lost. Missing his ex-wife and on the outs with his troubled 27-year-old son (Thomas Mann), Anders befriends a drug-addicted teen (Charlie Tahan), sending him down a path of reckless and regrettable behaviour. His shameful actions cause him to question who he is as a father and, ultimately, who he is as a person."
Watch this movie if you like…
Definitely watch this movie if you've enjoyed some of Nicole Holofcener's previous works such as Enough Said (2013), Please Givev (2010), Friends with Money (2006) or Walking and Talking (1996). The movie can also be compared to other titles from the Netflix Original library such as The Fundamentals of Caring.
How has the movie performed with critics?
The movie seems to be a hit with most critics with most agreeing that it does a great job of adapting the job and portraying a real story with real consequences.
The Metascore is sitting at a 70 whereas the user score on IMDb is currently sitting at a 6.2/10.
After You Watch
Our Review of The Land of Steady Habits
Spoilers ahead
This movie unfortunately despite the talent involved, tends to bore you rather than entertain you. The movie revolves around a soon to be a divorced father who struggles to connect with his wife but worse than that, fails to move on from his separation with his wife. The movie ultimately feels like it could have done with a little more direction with a few more pivotal moments that made it clear as to why you should keep watching. That's the ongoing thought I had throughout is that this movie could've been wrapped up in about 40 minutes and probably would've have been just as impactful if not more so.
To the movies credit, it really illustrates well some of the highs and lows of living in your middle-age with grown-up kids in the modern day 21st Century that'll be sure to remind you of either your own situation and its difficulties or at least someone close to you. With that said, don't expect the characters to be likeable. All of them are irritable and possess traits that make you dislike them which makes it harder to care. Charlie's death is the pivotal point of the movie was a little shocking given it came relatively out of the blue despite the mentions of running away and rehab. Unfortunately, I didn't grow enough to like his character to fully appreciate the weight of his death. The target audience of this movie seems to be the people it portrays and those who have the time to invest in characters in a story worth following to the end despite its multiple pacing flaws.
4/10
What you need to know after you watch
Where is the movie based?
The movie is based in suburban Connecticut.
Is the movie based on a true story?
The movie isn't based on a real story but is based on a novel. The 2014 novel scored rave reviews and was quickly tapped to be adapted into a movie. You can purchase the novel on all major bookstores which is recommended given most seem to agree that the novel is the better out of the two mediums.
Cast and Where You've Seen Them Before
The movie supports an impressive cast who you've probably seen in multiple other places. Here are the main cast members and where you've seen them before.
| Actor | Plays | Known for |
| --- | --- | --- |
| Ben Mendelsohn | Anders Hill | Rogue One, Animal Kingdom |
| Charlie Tahan | Charlie | Charlie St. Cloud, Frankenweenie |
| Connie Britton | Barbara | American Ultra, Nashville |
| Thomas Mann | Preston | Me and Earl and the Dying Girl, Project X |
| Edie Falco | Helene | The Sopranos |
| Elizabeth Marvel | Sophie | House of Cards, True Grit, Gifted, Homeland |
| Michael Gaston | Mitchell Ashford | Jericho, The Man in the High Castle, Strange Angel |
Soundtrack for The Land of Steady Habits
The Holly and the Ivy – David Arkenstone
Carol of the Bells – Rick Gallagher
Every Thought – Gavin Bell, Anthony Mode and Pat Stone
Oh So Good – Bob Saker and Brian Dee
Celebrate – The Trak Kartel
E.V.P. – Blood Orange
The Log – Herbie Flowers, Alan Parker, Jim Lawless, Roger Coulam and Vic Flick
Spell Bound – Sonny Lee
We Wish You A Merry Christmas – Traditional Arrangement
Prelude and Fugue in C Minor – Suzanne Husson
Mom's Voicemail – Marcelo Zarvos
Vitamin C- Can
What did you think about The Land of Steady Habits on Netflix? Let us know in the comments.