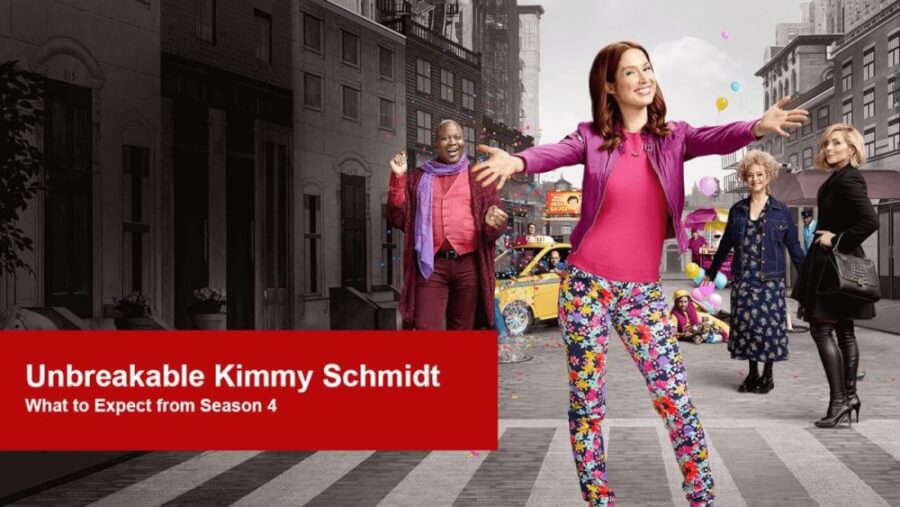 Although season 4 of Unbreakable Kimmy Schmidt has yet to be confirmed, we can't help but speculate and make a wish list of everything we want and expect to be coming to Unbreakable Kimmy Schmidt next season.
Kimmy has been with us for three seasons now and it's no surprise that viewers want more. The jokes, the songs, and the creativity keep the show alive. For those of you who have not seen the show, it follows a woman who was trapped in a bunker for fifteen years. Now she's free, living her life and exploring New York City in brightly colored clothing.
So, what do we want from a fourth season?
Article Continues Below...
1. Titus Finds Love
In the latest series, Titus ends up heart broken because he let go of the man he loved, Mikey. Although this was for Mikey's own good, it's obvious that Titus wants him back. We all know that Titus is incredibly self-centred but soft underneath. By the end of the series, he devotes his love to Mikey on stage. Sadly for us, we don't know whether they'll end up back together. Surely they will – right? Otherwise, the story would not have a typical happy ending.
2. Kimmy Gets a Break
It seems that every time Kimmy finds something good, it's ruined by something else. Obviously, she has an extremely caring nature and does things for other people rather than herself. It would be nice to see her finally catch a break. In the first episode of season three, titled Kimmy Gets Divorced?!, she finds out that it's time to sign her divorce papers. Remember that cliffhanger we were left with from season two? However, Kimmy does not sign the divorce papers in the hope of saving the Reverend's next target but this has an effect on her career. Let's hope season four can finally give Kimmy just one thing that isn't taken away from her.
3. Kimmy's New Home

Although the show is focused on the friendship between Titus and Kimmy, wouldn't it be great if Kimmy was able to get her own place? Alternatively, if the pair could finally afford something bigger and more fabulous to reflect their personalities. Of course, that does not mean to say the show shouldn't have the unique character of Lillian, but some real progression within Kimmy's life would move the story along.
4. Andrea's Fix
In season two we met Kimmy's therapist called Andra, who is played by the wonderful Tina Fey herself. However, season three lacked a little bit of Andrea. Kimmy does go and meet her for some advice but the show would benefit from more of her character. Season two was full of humor from Andrea, especially because of her drink problem and the way she acts. We'd like to see more of her in season four, perhaps with a role reversal where Kimmy helps Andrea instead. The best thing about season two was how Kimmy actually progressed. She met her mother, who was brilliantly played by Lisa Kudrow (please bring her back), and this progression kept the story interesting and engaging. We want more of this in season four!
5. Kimmy Finds Love
There's always been an issue with Kimmy's love life. We've watched her fall in love, be torn apart but never hold onto a relationship. Season three introduced Perry, who is a college student, and they share a kiss. At this moment obviously, we cheered. Finally! We'll see Kimmy make a life with someone other than her BFF Titus, right? Wrong. The next step in her life would be to meet someone and make long-term plans but again, this hasn't happened. Something concrete, something special and something new. That's what the show needs.
So there you have it. Five things that we want from season four of Unbreakable Kimmy Schmidt. Do you agree?