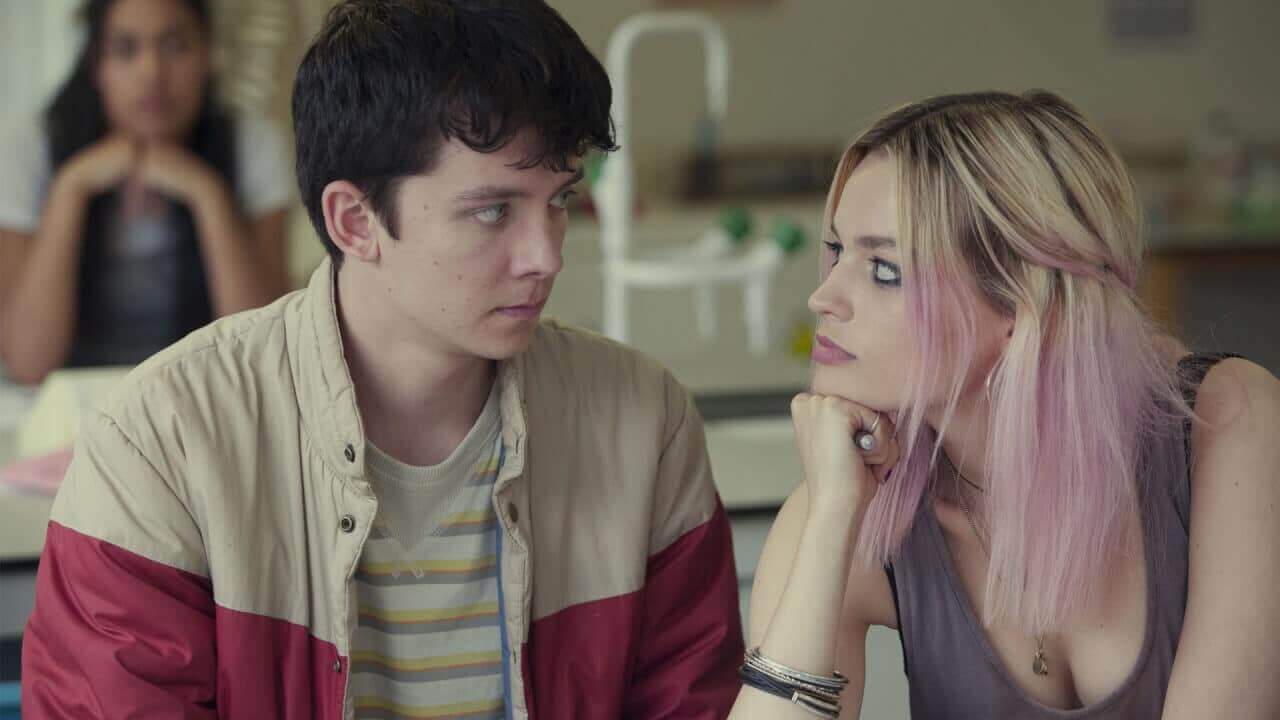 Netflix sure does love its comedies and 2019 looks to continue that trend with the imminent release of British-Comedy Sex Education. Expect awkward teenage hilarity as Netflix dabbles in the sex lives of British teenagers. Here's everything we know so far about the first season of Sex Education.
Besides the subject that all schools should be teaching, Sex Education is a British comedy-drama series debuting on Netflix. Created by Laurie Nunn, the series has been in development since 2017 and is finally debuting this week worldwide on Netflix. We at What's on Netflix are fully expecting Sex Education to smash it out of the park and will continue Netflix's strong start to 2019.
---
What is the plot of Sex Education?
Life is awkward as it could possibly be for highschooler Otis Milburn. Otis is a virgin, he's socially awkward and he also lives with his sex therapist mother. Life gets even more awkward for him when the girl of his dreams Maeve convinces him to set up a sexual health clinic to help their fellow students with the weird and wonderful issues of their sex lives.
---
Who is in the cast of Sex Education?
Netflix hasn't gone all out for a star-studded cast of young actors, but we could see some great breakout roles from those below.
| Role | Actor/Actress | Where have I seen/heard them before? |
| --- | --- | --- |
| Jean Milburn | Gillian Anderson | The X-Files, American Gods, The Fall |
| Otis Milburn | Asa Butterfield | Hugo, Enders Game, The Boy in the Striped Pajamas |
| Eric Nevin | Ncuti Gatwa | Bob Servant, Stonemouth |
| Maeve | Emma Mackey | Debuting in Sex Education |
| Adam | Connor Swindells | VS, Keepers, Harlots |
| Jackson | Kedar Williams-Stirling | Shank, Wolfblood, Montana |
---
What has the response been online for Sex Education?
We are with the many who are highly anticipating the release of Sex Education. Twitter has been abuzz with many expressing their excitement for the British comedy series.
HEAR ME OUT Y'ALL
SEX EDUCATION WILL BE RELEASED AND YOU BETTER DON'T SLEEP ON MY BOY ASA BUTTERFIELD AND GIVE HIM THE RECOGNITION HE DESERVES pic.twitter.com/HNMtKgBK7r

— annie🕸 (@gravityparker) January 2, 2019
Some facts about Sex Education, out next Friday on Netflix:
1. Gillian Anderson plays a gloriously inappropriate sex therapist mom
2. It is a teen sex comedy without the usual blechy bro humor
3. It's British
4. I liked it very muchhttps://t.co/7ue17bBw8u

— Judy Berman (@judyberman) January 3, 2019

Safe to say there are many out there looking forward to Gillian Anderson talking about masturbation after scouring twitter!
---
What can we expect from Sex Education?
The potential for Sex Education on Netflix is enormous.
British, check.
Comedy, check.
Sex, check.
Romance, check.
Coming of age story, check.
Merging them all together and you have yourself a recipe for a gloriously successful TV show. It's a fact that sex sells, even more so when you throw in hilarious awkward horny teenagers.
When you watch the trailer, you'll come to realize this show has a narrative everyone can relate to. Not focusing on just the issues that heterosexual teenagers face in the awkward world of a high-school, large aspect of the story will also be focusing on the sexual issues those in the LBGT community face in their high school journey. So many chords will be struck that there will be something for everyone out of this British comedy series.
With the likes of Asa Butterfield and Gillian Anderson leading the charge to expect Sex Education to be a smash hit.
---
How many episodes will there be of Sex Education?
The first season of Sex Education will have 8 episodes. Each episode of Sex Education will be roughly 45 minutes each.
---
Is there a trailer for Sex Education?
Of course! With the release date, imminent Netflix released the trailer at the start of the year.
https://www.youtube.com/watch?v=o308rJlWKUc
---
When is the release date of Sex Education?
The first season of Sex Education will be premiering on Netflix on January 11th!
---
Can we expect the second season of Sex Education?
We're speculating this show is going to be incredibly popular so we fully expect to see a second season. There is no confirmation from Netflix yet because they will be waiting for audience figures and the reception the show receives.
Are you excited for the first season of Sex Education? Let us know in the comments below!