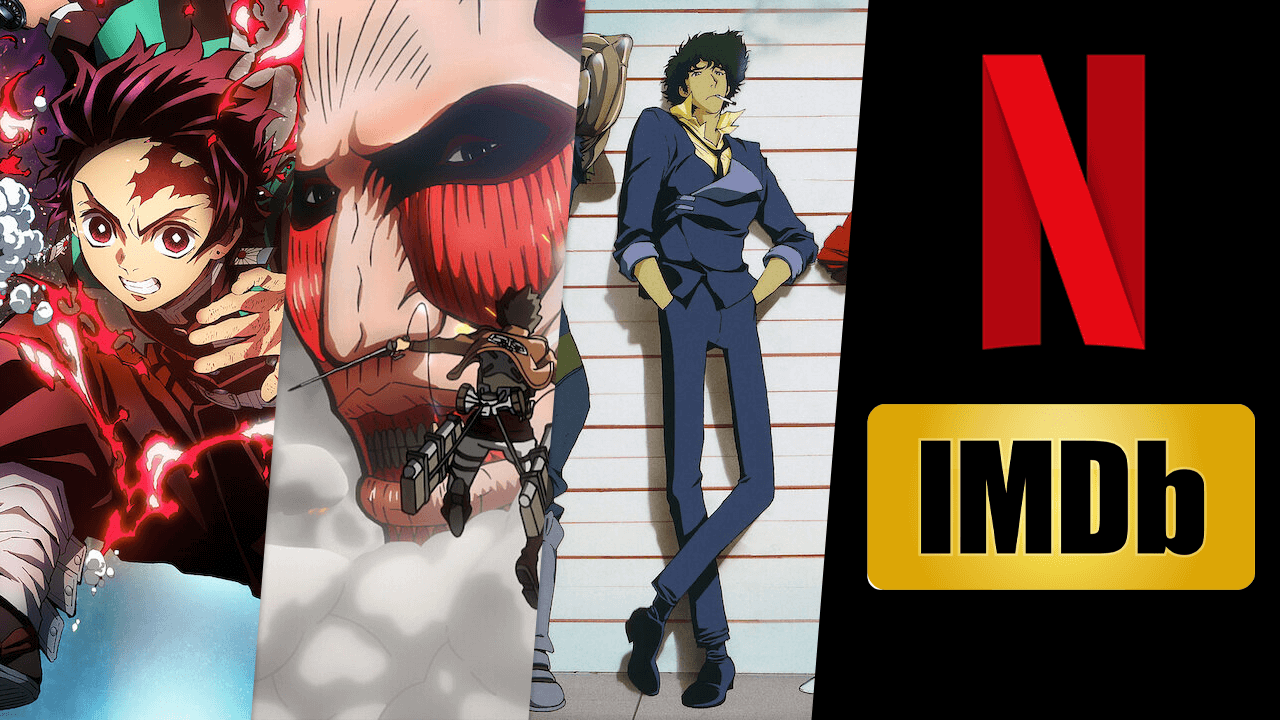 There are some incredible anime titles on Netflix. From the classics to the groundbreaking, and to the downright wacky, there's an anime for everyone on Netflix. But which anime is ranked the best amongst the masses? We've gone through all of the anime on Netflix and paired it against IMDb, the world's largest movie database, and Rotten Tomatoes, one of the world's most popular review sites, to compile the top ten ranked anime on Netflix.
To determine which anime has ranked higher when the same score is achieved we've decided to place the anime with more user ratings on IMDb as the tiebreaker.
Please note the list of anime below has been taken from the US library.
Article Continues Below...
Here are the best anime on Netflix according to IMDb and Rotten Tomatoes:
---
10. Neon Genesis Evangelion
Seasons: 2 | Episodes: 26
Genre: Action, Drama, Sci-Fi | Runtime: 24 Minutes
IMDb Rating: 8.5/10 out of 72k user ratings | AVG Tomatometer: 100%
Beating Jojo's Bizarre Adventure by 50k user rating votes on IMDb is one of the most iconic 90s anime of all time, Neon Genesis Evangelion. One of the best pieces of business Netflix has ever done is pick up the anime, and the subsequent movies, exclusive to the streaming service. Never to be ignored, Neon Genesis Evangelion should be added to your watch list immediately.
A "Second Impact" in the year 2015 that brings a global cataclysm has the world on the brink of destruction. It's up to rookie Evangelion pilot Shinji Ikari, and the other Nerv agents to save the world before it's too late.
---
9. Code Geass: Lelouch of the Rebellion
Seasons: 2 | Episodes: 50
Genre: Action, Drama | Runtime: 24 Minutes
IMDb Rating: 8.7/10 out of 70k user ratings | AVG Tomatometer: N/A
Considering the first season of Code Geass was released in 2006 it's somewhat disappointing that not enough critics have reviewed the anime to give it a score, however, its audience score is sitting pretty with 100%. Unless you were one of the "Big 3" anime wasn't as accessible to western audiences as it is today. Between inconsistent animation, dubs taking forever and being terrible, and no streaming sites for simulcasting, it took something special for an anime to make a name for itself.
The Holy Empire of Britannia conquered the country known as Japan and now call it Area 11. Its residents lost their rights to self-govern and are now called Elevens. The Empire uses powerfully destructive robotic weapons called Knightmares to ensure control, but someone is about to stand up against it. Lelouch, the black prince, has endless ambition and uses the power of the Geass to build a world based on his ideals. Suzaku Kururugi, the white knight, aspires to justice and strives to live an honest and fair life.
---
8. Demon Slayer
Seasons: 2 | Episodes: 33
Genre: Action, Adventure | Runtime: 24 Minutes
IMDb Rating: 8.7/10 out of 106k user ratings | AVG Tomatometer: N/A
Given just how popular Demon Slayer has become, it's actually surprising that the series doesn't have a higher IMDb rating. Regardless, it's still an incredible score given the company Demon Slayer is in. The second season just recently arrived on Netflix, however, that does mean subscribers will have to wait a little longer for the release of season 3 aka the Entertainment District Arc.
When a demon slaughters his family, Tanjiro and his sister, Nezuko as the only survivors. But Nezuko's survival has come at a cost, as she slowly begins turning into a demon. Determined to avenge his family, and cure his sister, Tanjiro sets out to become a demon slayer.
---
7. One Punch Man
Seasons: 1 | Episodes: 12
Genre: Action, Adventure | Runtime: 24 Minutes
IMDb Rating: 8.7/10 out of 163k user ratings | AVG Tomatometer: 100%
The first season of One Punch Man has been one of the most popular titles on the Netflix library, and despite not having the show's second season, that doesn't stop fans from returning on a regular basis.
After saving the life of a child Saitama pledges to become a superhero. After his intensive training, Saitama achieves his goal but in the process loses his hair, and is unable to find a challenge, defeating all of his enemies with one punch. When he takes on the cyborg Genos as his disciple, he finally agrees to join the Hero Association.
---
6. Vinland Saga
Seasons: 2 | Episodes: 26
Genre: Action, Adventure | Runtime: 24 Minutes
IMDb Rating: 8.8/10 out of 42k user ratings | AVG Tomatometer: N/A
Despite being one of the most highly regarded anime in recent memory, it's actually shocking that there isn't enough information for a critic's ratings. However, fans will be glad to learn that the series does have a user rating of 93%. The series has just entered its second season and is the first anime series to be simulcast on Netflix. If the second season of Vinland Saga proves to be successful, then there could be more simulcast anime on Netflix in the near future.
The story of Vinland Saga takes place at the height of Viking power in Europe, chronicling the rise of King Cnut the Great's ascendency to the English throne, and his North Sea Empire. Meanwhile, young Thorfinn, an Icelandic explorer, serves under a group of mercenaries that are responsible for the murder of his father, for the sole purpose of enacting his revenge against them. But Thorfinn's true dream is to sail across the sea and find the paradise of Vinland.
---
5. Cowboy Bebop
Seasons: 1 | Episodes: 26
Genre: Crime, Sci-Fi | Runtime: 24 Minutes
IMDb Rating: 8.9/10 out of 122k user ratings | AVG Tomatometer: 100%
The tragedy that was the live-action adaptation aside, Cowboy Bebop is still one of the most beloved anime of all time. With one of the most iconic scores you'll hear, and its retro design, Cowboy Bebop is one to add to the bucket list.
By the year 2071, humanity has colonized the solar system. Despite colonization, humanity is still the same desperate and power-hungry species where the strong prey on the weak. Living amongst the stars is bounty hunter duo Spike Spiegel and Jet Black, on the spaceship Bebop. Life on Bebop gets a little more complicated when the pair pick up a seductive femme fatale, a teenage hacker, and a psychic dog.
---
4. One Piece
Seasons: 13 | Episodes: 325
Genre: Action, Adventure | Runtime: 24 Minutes
IMDb Rating: 8.9/10 out of 129k user ratings | AVG Tomatometer: N/A
Other than a user rating of 88%, there's no official rating from any critics on any of the seasons of One Piece. However, when you consider the sheer size of the anime series, it would be asking a lot of any critic to sit through over 1000 episodes to weigh up whether they liked it or not, and multiple critics at that. Despite missing over 700 episodes of the anime, Netflix still has some of the very best that One Piece has to offer.
Rookie pirate Monkey D. Luffy sets sail in the East Blue with the goal of acquiring a pirate crew, a ship, and the fabled One Piece which grants the holder the title of the King of the Pirates.
---
3. Hunter x Hunter
Seasons: 6 | Episodes: 148
Genre: Action, Adventure | Runtime: 24 Minutes
IMDb Rating: 9.0/10 out of 103k user ratings| AVG Tomatometer: N/A
Despite not having enough ratings to calculate an AVG Tomatometer (season 1 has 100%), we know for a fact that Hunter x Hunter is one of the most-watched anime titles on the Netflix library. It's standing as third in this list will only come as a surprise to those who have never watched the series.
Gon Freecss is the son of a famous legendary hunter and aspires to become a legendary hunter too. With boundless potential, talent, and some incredible friends Gon Freecss has all the tools he needs to become the world's greatest hunter and find his missing father.
---
2. Death Note
Seasons: 1 | Episodes: 37
Genre: Horror, Thriller | Runtime: 23 Minutes
IMDb Rating: 9.0/10 out of 329k user ratings | AVG Tomatometer: 100%
One of the most iconic anime of the mid-2000s, it's hard to meet a person who's a fan of anime that hasn't seen at least some of Death Note. Regardless of how little or how much anime you've watched, Death Note is a rite of passage that everyone should undertake at least once.
Light Yagami, an incredibly gifted high school begins purging the world of its criminals when he gets his hands on a Death Note, a notebook with the ability to kill anyone whose name is written inside. When L, an equally intelligent individual to Light, figures that the source of the deaths comes from Japan, the pair engage in a dangerous game of cat and mouse.
---
1. Attack on Titan
Seasons: 1 | Episodes: 25
Genre: Action, Adventure, Horror | Runtime: 25 Minutes
IMDb Rating: 9.0/10 out of 378k user ratings | AVG Tomatometer: 95%
The first season of Attack on Titan has been a near-permanent part of the Netflix library since it was first added to the US library in September 2014. And when you consider that Netflix has never seen any further seasons added to the library, its spot as number one in this list is heavily inflated thanks to the success of the subsequent seasons. As a standalone season, its RT rating is 86% and its average episode score across the season is just over 8.7. Regardless, the first season of AoT is still some of the best anime you can see anywhere.
When the monstrous Titans appeared, humanity's last hope was to hide behind giant walls. After 100 years without seeing a titan, a colossal titan brings down the gates of Wall Maria, flooding the city with smaller titans. Witnessing the horror and destruction of his home is Eren Jaeger, who vows to take revenge on the titans and save mankind.
---
What is your favorite anime on Netflix? Let us know in the comments below!