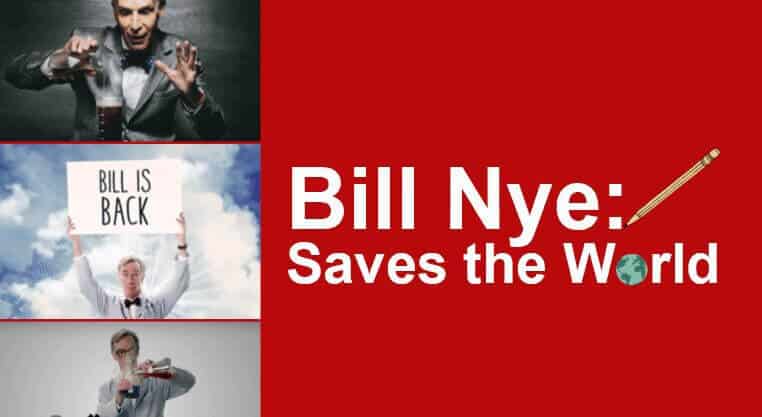 If you're of a certain age, you remember the PBS series Bill Nye the Science Guy. He made science fun. Well, now he's back with a brand new Netflix show.
So just who is this guy?
Bill Nye knows a thing or two about a thing or two. A science educator and mechanical engineer, he studied mechanical engineering at Cornell University (where he took an astronomy class taught by Carl Sagan) and graduated with a B.S. in mechanical engineering. I could bore you by listing a big bunch of his accomplishments, but let's just say this guy has done a lot. He holds several United States patents, is an author and has a great collection of bow ties.
A scientist on tv?
Nye began his professional entertainment career as a writer and actor on a comedy television show in Seattle, Washington, called Almost Live! The host of the show, Ross Shafer, suggested he do some scientific demonstrations in a six-minute segment and take on the nickname "The Science Guy." That progressed into live-action educational segments and the national popularity led to Nye's hosting an educational television program, Bill Nye the Science Guy, from 1993 to 1998.
Article Continues Below...
But what does he DO?
He's smart, and he talks about stuff.
So what's this new show all about?
It's a talk show. It will seek to debunk anti-scientific claims and myths in topics ranging from sex to alternative medicine to climate change. The new series will feature celebrities like Donald Faison (hilarious) and Rachel Bloom. It'll also feature special correspondents like model/entrepreneur Karlie Kloss, "Space Gal" Emily Calandrelli, and comedian Nazeem Hussain. There will also be experiments and Tim Gunn appearances! (Tim Gunnnnn, Tim Gunnnn, if he comes for you, you're dunnnnnnnnne.)
When can I watch?
The 13-episode show will debut on April 21st (The day before Earth Day. Fitting, right?). But what about what to do in the meantime? Did you know you can already get your Bill Nye fix on Netflix? That's right, his Disney show from back in the day is currently streaming on Netflix.
It'd also be criminal of us to not mention White Rabbit Project which released on Netflix last year. The series has the engineers from Mythbusters building all sorts of contraptions and giving you more knowledge on science!
Science, bitch! What would you like to see covered in the new show? Let us know in the comments!