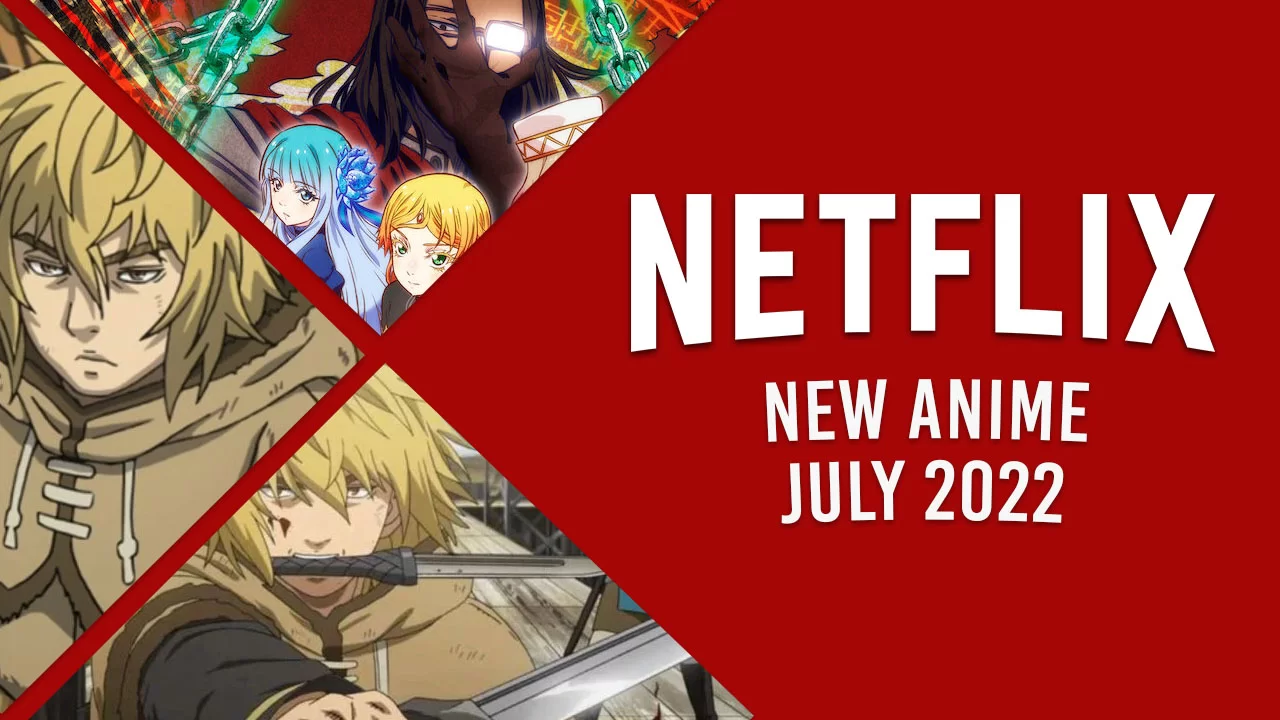 It's been a solid first half of the year for brand new anime shows and movies and Netflix. We're hoping the second half of the year will just be emphatic, which kickstarts with the release of Vinland Saga. Below is our preview of all of the new anime coming to Netflix in July 2022.
There's still plenty of anime coming to Netflix in June 2022, but for July we've seen an extremely limited number of shows headed to the library.
Below is the scheduled list of anime coming to Netflix US in July 2022:
Article Continues Below...
---
Komi Can't Communicate (Season 1) N
Seasons: 1 | Episodes: Weekly
Genre: Drama, Romance | Runtime: 25 Minutes
Cast: Aoi Koga, Gakuto Kajiwara, Rie Murakawa, Rumi Ookubo, Junya Enoki
Shouko Komi begins her first day at a prestigious private high school where she instantly rises to the very top thanks to her beautiful looks, black hair, and tall stature. However, she's terrible at communicating and scares away other students. When fellow student Hitohito Tadano realizes that Shouki is poor at communicating, and likely has never had a single friend, he makes it his number one goal to help Shouki make one hundred friends so that she can overcome her communication disorder.
---
Vinland Saga (Season 1)
Seasons: 1 | Episodes: 24
Genre: Action, Adventure, Historical | Runtime: 24 Minutes
Cast: Yuuto Uemura, Naoya Uchida, Kensho Ono, Akio Ootsuka, Kenichirou Matsuda
Netflix Release Date: July 7th, 2022
Since Vinland Saga came to an end in 2019, it has been one of the most in-demand anime shows from Netflix subscribers. All 24 episodes of Vinland Saga will be available to stream upon its release on Netflix, and the series will have its own English dub exclusive to the streaming network. The dub has been provided by VSI, the same producer behind the dubs of other Netflix shows such as Rilakkuma and Kaoru, Komi Can't Communicate, Neon Genesis Evangelion, and more.
The story of Vinland Saga takes place at the height of the Vikings power in Europe, chronicling the rise of King Cnut the Great's ascendency to the English throne, and his North Sea Empire. Meanwhile, young Thorfinn, an Icelandic explorer, serves under a group of mercenaries that are responsible for the murder of his father, for the sole purpose of enacting his revenge against them. But Thorfinn's true dream is to sail across the sea and find the paradise of Vinland.
---
Uncle from Another World (Season 1)
N
Seasons: 1 | Episodes: TBA
Genre: Comedy | Runtime: 25 Minutes
Cast: Takehito Koyasu, Jun Fukuyama, Mikako Komatsu, Haruka Tomatsu, Aoi Yuki
Netflix Release Date: July TBA
We're still waiting to learn if Uncle from Another World is coming to Netflix in July 2022. The series is scheduled to begin its Japanese broadcast on AT-X on July 6th, 20202, however, we're yet to learn if episodes will be released weekly outside of Japan.
17 years ago, the uncle of Takafumi was hit by a truck and had been in a coma ever since. Suddenly waking up, his uncle claims to have spent the past 17 years in another world. Lost for words, Takefumi refuses to believe his uncle, that is until his uncle proves him wrong by using magic in the real world. With no other family members to take him in, Takefumi and his uncle become roommates and begin to work hard to become content creators.
---
One Piece (Multiple Seasons)
Seasons: 13 | Episodes: 325
Genre: Animation, Action, Adventure | Runtime: 24 Minutes
Cast: Mayumi Tanaka, Akemi Okamura, Kappei Yamaguchi, Kazuya Nakai, Hiroaki Hirata
Netflix Release Date: July 22nd, 2022
In June new seasons were added to Netflix but cut off just before the start of the Enies Lobby arc. We now expect a further three seasons of One Piece to be added to Netflix in July and should take the total episode count to 325 and conclude the Water 7/Enies Lobby Saga.
https://youtu.be/RlIMEMvc6Eg
---
Detective Conan: Zero's Tea Time (Season 1)
N
Seasons: 1 | Episodes: 3
Genre: Comedy, Crime | Runtime: 13 Minutes
Cast: Toru Furuya, Mikiko Enomoto, Asako Dodo
Netflix Release Date: July 29th, 2022
The anime follows the daily life of Rei Furuya, aka Tooru Amuro, the triple agent of the National Police Agency Security Bureau Security Planning, Chiyoda Division. Spinning many different plates, throughout his day, Rei is not only responsible for his detective work by working undercover in the Black Organization but also working as a waiter at Cafe Poirot.
---
What anime are you currently watching? Which anime movies and TV shows would you like to see on Netflix? Let us know in the comments below!