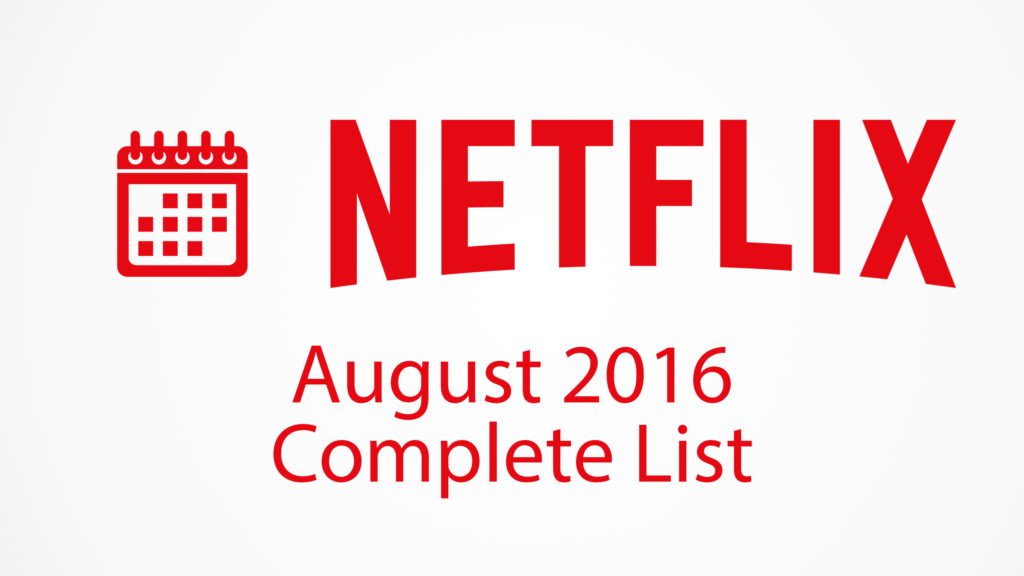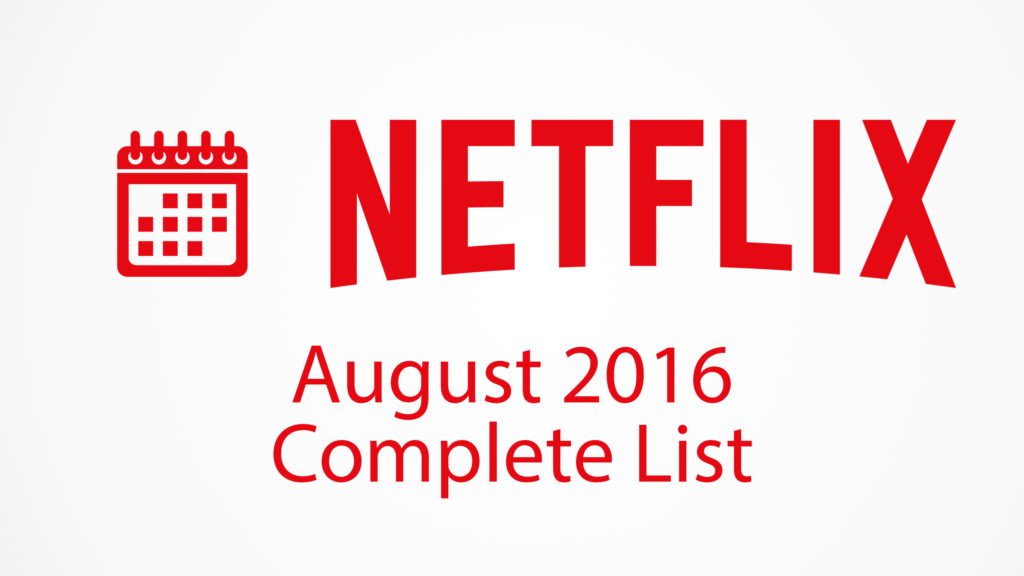 Compared to what's just around the corner, August will seem like it's been drought season for Netflix, but there have been enough titles added that should've kept you busy when it was too hot to be outside. It's been another stand-out month for Netflix Originals with two fabulous new movies including The Little Prince and XOXO.
TV series wise, we had a wave of crime dramas including the likes of CIS: New York and the latest season of NCIS. We've also had debuts including ABC's Quantico and American Crime. The real highlights this month though are in the form of documentaries.
Here's how August stacks up numbers wise.
Article Continues Below...
August 2016 – 114 new movies, 129 new TV series/documentaries
July 2016 – 147 new movies, 101 new TV series/documentaries
June 2016 – 110 new movies, 107 new TV series/documentaries
May 2016 – 126 new movies, 62 new TV series/documentaries
April 2016 – 161 new movies, 137 new TV series/documentaries
March 2016 – 124 new movies, 68 new TV series/documentaries
February 2016 – 97 new movies, 63 new TV series/documentaries
January 2016 – 117 new movies, 115 new TV series/documentaries
Complete List of Titles Added in August 2016
New Movies
11 Minutes (2015)
13 Cameras (2015)
A Mysterious Robber (2012)
Abzurdah (2015)
Airlift (2016)
All for Love (2012)
Amu (2005)
Baskin (2015)
Be a Rish Man (2012)
Beethoven's Christmas Adventure (2011)
Beginning of the Great Revival (2011)
Better and Better (2013)
Big Daddy (1999)
Black Widow (1987)
Blackout (2013)
Blue Is the Warmest Color (2013)
Cash Only (2015)
Community on the Beat (2011)
Critical Condition (1987)
Crossing Point (2016)
David Cross: Making America Great Again! (2016)
Deadfall (2012)
Destiny (1921)
Dhanak (2015)
Dirty Mary, Crazy Larry (1974)
Do You Even Know Who I Am? (2016)
Enemies In-Law (2015)
Eungyo (2012)
Extract (2009)
Falling Flowers (2013)
Familia Gang (2014)
Final Destination 3 (2006)
Flutter (2011)
Flutter (2014)
Forever Love (2013)
From the Terrace (1960)
Funny or Die Presents: Donald Trump's The Art of the Deal: The Movie (2016)
Ghayal Once Again (2016)
God's Club (2016)
Heavy (1995)
Help, I've Shrunk the Family (2014)
Holding the Man (2015)
Hope (2013)
Hyena Road (2015)
Jane Got a Gun (2016)
Jeff Foxworthy & Larry the Cable Guy: We've Been Thinking (2016)
Jim Gaffigan: King Baby (2009)
Jim Gaffigan: Obsessed (2014)
Laal Rang (2016)
Lacuna (2012)
Lemon (2012)
Let's Go to Prison (2006)
Louis C.K.: Live at the Comedy Store (2015)
Love Deposit (2013)
Man on High Heels (2014)
Mark of Youth (2013)
Maz Jobrani: I'm Not a Terrorist, But I've Played One on TV (2016)
Meet the In-Laws (2012)
Memoria (2015)
Mothers Day (2016)
My Golden Days (2015)
My Own Swordsman (2011)
Necrofobia (2014)
No Country for Old Men (2007)
Open Season: Scared Silly (2015)
Parched (2015)
Pay It Forward (2000)
Princess Show (2013)
Punk's Dead: SLC Punk 2 (2016)
Rams (2015)
Resurrection (2015)
Saala Khadoos (2016)
Septembers of Shiraz (2016)
Singular Cay (2012)
Sky (2015)
Sleepy Hollow (1999)
Sliding Doors (1998)
Smile Walked (2012)
Songs My Brothers Taught Me (2015)
Sparks and Embers (2015)
St. Vincent (2014)
Star Trek: Nemesis (2002)
Sweet Bean (2015)
Sweet Home (2015)
Teacher's Pet (1958)
The American Side (2016)
The Concubine (2012)
The Confirmation (2016)
The Curse of Sleeping Beauty (2016)
The Exclusive: Beat the Devil's Tattoo (2015)
The Family Man (2000)
The Fast and the Furious (2001)
The Fast and the Furious: Tokyo Drift (2006)
The Last Heist (2016)
The Little Prince (2015)
The Love Flu (2013)
The Midnight After (2014)
The Naked Prey (1966)
The President (2014)
The Road (2009)
The Silenced (2015)
The Steps (2015)
The Steps (2015)
The Treacherous (2015)
The Tribe (2014)
The Verdict (1982)
The Wedding Planner (2001)
Trinta (2014)
What Women Want (2000)
WHERE THE ROAD RUNS OUT (2016)
Who Is Undercover (2011)
Winter in Wartime (2008)
Xi Bai Po: Wang Er Xiao (2013)
XOXO (2016)
New TV Series/Documentaries
9/11: Stories in Fragments (2011)
America's Funniest Home Videos Kids: Animals with Attitude – Season 1 (2006)
America's Funniest Home Videos Kids: It's Tough Being a Kid – Season 1 (2006)
American Crime – 2 Seasons (2015)
An Inconvenient Truth (2006)
Animism (2013)
APEX: The Story of the Hypercar (2016)
Armistice (2008)
Ask the Storybots – Season 1 (2016)
Autumn's Concerto – Season 1 (2009)
Barbershop Punk (2010)
Battlefield Recovery – Season 1 (2016)
Beat Bugs – Season 1 (2016)
Behind Enemy Lines – Season 1 (2001)
Being AP (2015)
Bigfoot (1997)
Blackstone – 5 Seasons (2015)
Bottersnikes & Gumbles – Season 1 (2016)
Campus – Series 1 (2011)
Caught on Camera – 3 Seasons (2015)
Chelsea (New Episodes) (2016)
Children of God (1994)
Clifford the Big Red Dog – 2 Seasons (2002)
Clifford's Puppy Days – 2 Seasons (2003)
Cocaine (2005)
CSI: New York (Season 9)
Dawn of the Croods – Season 2 (2016)
Death of a Gentleman (2015)
Destination: Team USA (2016)
Edge of the Universe – Season 1 (2008)
El Chavo – Season 1 (1979)
El Internado – 7 Seasons (2010)
Ever After High: Epic Winter (Season 5, Episodes 1-4) (2016)
Extraterrestrial – Season 1 (2005)
Fearless – Season 1 (2016)
Finding Home (2014)
Flight of the Butterflies (2012)
For the love of a man (2015)
Glitter Force – Season 2 (2016)
Green Wing – 1 Series (2006)
Hello I Am David! (2015)
Hitler's Olympics (2016)
How to Win the US Presidency (2016)
I Am Ali (2014)
I'll Sleep When I'm Dead (2016)
In the Shadow of the Moon (2007)
Indie Game: Life After (2014)
Interview with a Serial Killer (2008)
John & Jane (2005)
Jonathan Strange & Mr. Norrell – Series 1 (2015)
La Esclava Blanca – Season 1 (2016)
La Hipocondriaca – Season 1 (2013)
Law & Order: Special Victims Unit (Season 5)
Long Shadow – Season 1 (2014)
Louie (Season 5)
Love Cuisine – Season 1 (2015)
Man & Beast with Martin Clunes – Season 1 (2015)
Martin Clunes: A Lion Called Mugie (2014)
Martin Clunes: A Man and His Dogs – Season 1 (2008)
Martin Clunes: Heavy Horsepower (2013)
Martin Clunes: Last Lemur Standing (2012)
Martin Clunes: Man to Manta (2011)
Masha and the Bear – Season 2 (2013)
Miss Rose – Season 1 (2015)
Most Haunted – Season 1 (2014)
Murder in the Alps (2013)
NatureVision TV – Season 1 (2015)
NCIS – Season 13 (2016)
Office Girls – Season 1 (2011)
Once Upon a Time – Season 5 (2016)
Our Last Tango (2015)
Pablo Escobar, Angel o Demonio? (2007)
Paratodos (2016)
Personal Gold: An Underdog Story (2015)
Planet FIFA (2015)
Project MC2 – Season 2 (2016)
Puffin Rock – Season 2 (2016)
Quantico – Season 1 (2016)
Queen of No Marriage – Season 1 (2009)
Real Crime: A Very Special Constable (2008)
Real Crime: Diamond Geezers (2008)
Real Crime: Hannah's Killer (2009)
Real Crime: Supermarket Heist (Tesco Bomber) (2010)
Real Crime: Supermarket Heist (Tesco Bomber) (2010)
Real Husbands of Hollywood – Season 4 (2016)
Rectify – Season 3 (2015)
Roseanne – Collection 3 (1996)
Secrets of the Shroud (2004)
Slow TV: National Firewood Evening (2013)
Slow TV: National Firewood Morning (2013)
Slow TV: National Firewood Night (2013)
Slow TV: National Knitting Evening (2013)
Slow TV: Northern Passage (2012)
Slow TV: Northern Railway (2010)
Something Ventured (2011)
T-Rex (2015)
Take Me to the River (2014)
The Get Down – Season 1, Part 1 (2016)
The Gods of Wheat Street – Season 1 (2014)
The Hard Stop (2015)
The Long, Long holiday – Season 1 (2015)
The Paedophile Next Door (2014)
The President vs. the Pirates (2013)
The Prince Who Turns into a Frog – Season 1 (2005)
The Real Death Star (2001)
The Real Texas Chainsaw Massacre (2003)
The State of Marriage (2015)
The Teacher Who Defied Hitler (2013)
Those Who Feel the Fire Burning (2015)
Touch the Wall (2014)
Tree Fu Tom – Season 1 (2013)
Two Fathers – Season 1 (2013)
We're Not Broke (2012)
Who Took Johnny (2014)
Wildest Africa – 2 Seasons (2011)
Wildest Arctic – Season 1 (2012)
Wildest India – Season 1 (2011)
Wildest Indochina – Season 1 (2014)
Wildest Islands – 2 Seasons (2013)
Wildest Latin America – Season 1 (2012)
Wildest Middle East – Season 1 (2014)
World War Two: 1941 and the Man of Steel – Season 1 (2011)
World War Two: 1942 and Hitler's Soft Underbelly – Season 1 (2011)
You're My Destiny – Season 1 (2008)
[email protected] (2007)
Zack and Miri Make a Porno (2008)