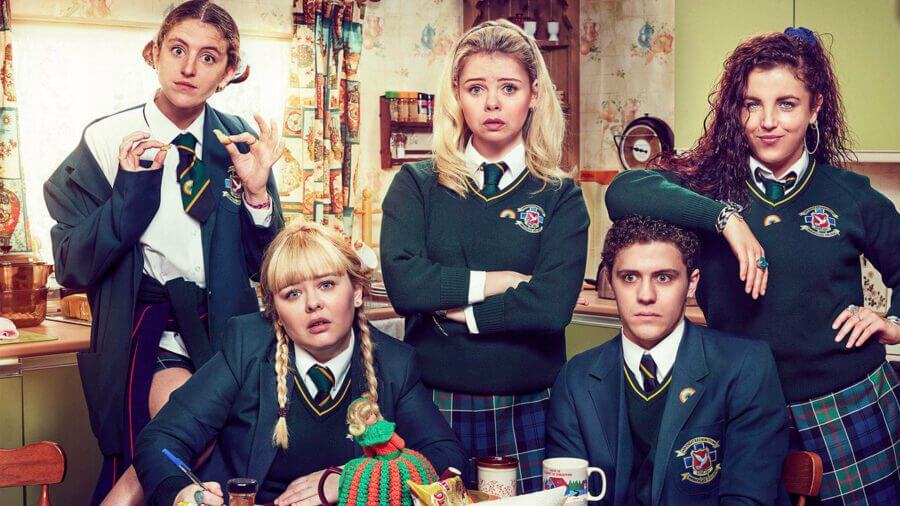 The popular British comedy series Derry Girls has already aired its second season in the UK and has now been given its Netflix international release date. Here's what you need to know about season 2 of Derry Girls coming to Netflix on August 2nd, 2019.
The highly-rated comedy comes from Northern Ireland and is written by Lisa McGee and explores a group of friends growing up in an all-girls Catholic girls school.
Netflix first picked up Derry Girls last year and distributes it as a Netflix Original in the majority of regions. The United Kingdom doesn't see it as an Original title but does have the show streaming.
Once again, six episodes make up season 2 of Derry Girls.  Season 2 kicks off with the girls attending an outdoor pursuits weekend. We also see the girls hoping to see Take That in Belfast, a 50s style prom and a Christmas episode.
Season 2 ran on channel 4 in the UK between March and April 2019.
A busy August is expected on Netflix with Ask the Storybots S3 arriving on the same day as Derry Girls S2 as well as big titles returning throughout the month including Mindhunter and GLOW.
When will Netflix UK get Derry Girls season 2?
Netflix UK won't be getting the next season of Derry Girls in August. Season 1 is due to release on Netflix UK in July 2019 and we probably shouldn't expect season 2 to arrive until at least 2020.
When will season 3 of Derry Girls be on Netflix?
We've got good news regarding the future of Derry Girls on Netflix too. Season 3 has already been commissioned and although no release date has been announced yet, its easy to make an assumption it should be available sometime in 2020.
https://twitter.com/Channel4/status/1115714248406175746
Are you looking forward to watching season 2 of Derry Girls coming to Netflix on August 2nd? Let us know in the comments down below.