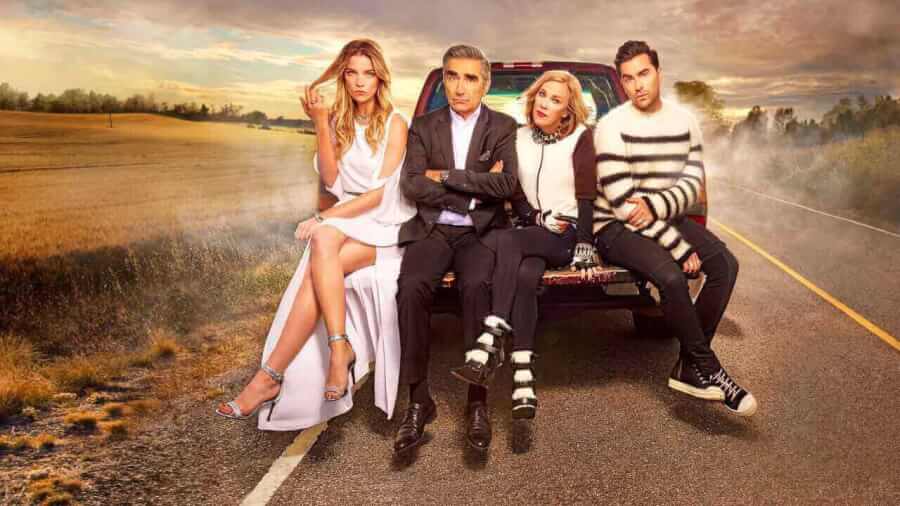 Schitt's Creek is coming back for a fifth season in 2019 and will eventually be heading to Netflix. Because the show airs first in Canada, many won't be familiar with its TV schedule. As a result, we're here to give you the complete lowdown on when the next season will air plus when you'll be streaming on Netflix depending on where you live. 
As you all probably know by now, Schitt's Creek is one of the hottest comedies right now. It airs in Canada on CBC and for most Netflixers, including those in the United Kingdom, the United States and Australia, Netflix is your only way to watch. It stars Eugene Levy (seen in American Pie), Catherine O'Hara, Dan Levvy and Annie Murphy. Together, they play a family who's losing everything financially.
Has Season 5 been announced?
Let's start off with the good news, season 5 has been renewed although it's a little way out. As of right now, no specific air date has been given although we do know it'll be early 2019. If we were betting on it, you can guarantee that it'll start airing in January like the previous four seasons.
Season 5 Netflix US Release Date
As of right now, America is pretty slow at picking up new seasons. Season 4 is expected to land on Netflix in October 2018 so that would mean season 5 is added a year later in October 2019. That's a long wait but beyond using VoD, it's your only choice.
Netflix UK and Australia Release Date
For those in both the United Kingdom and Australia, for the past several years, Netflix has released new seasons in the same month.
Assuming the series does air in January and last up until April, Netflix should once again be getting the new season come May. That means season 5 of Schitt's Creek will be on Netflix in those two regions in May 2019.
Other Netflix regions such as South Africa and Ireland will also be receiving the new season but we don't have definite dates.
Are you glad Schitt's Creek is coming back for season 5? Let us know down below.